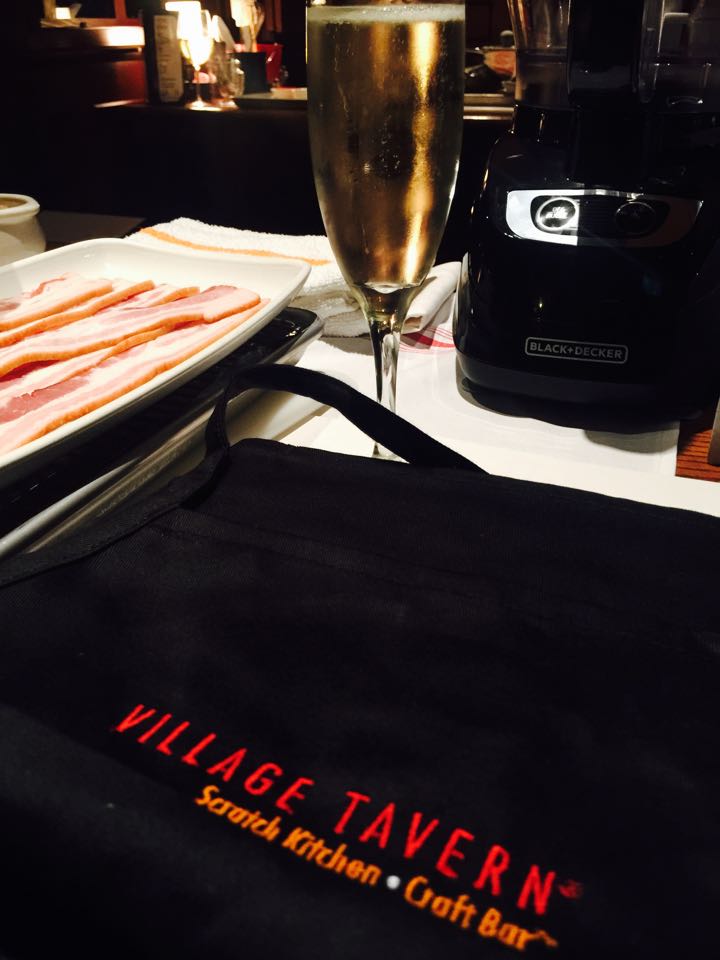 This evening I had a great time dining at Village Tavern in Alpharetta.  I am always delighted to explore new places, especially located outside of the Perimeter.  I was thrilled to join one of my favorite bloggers, Luisa, of Peaches to Pearls, for this foodie adventure.
I loved the atmosphere of Village Tavern, and it was one of the first things I noticed when I arrived.  It was very welcoming and extremely cozy.  It gives you a cabin-like feel with the inviting fireplace buring and the smell of the woodfire grill.  My dining experience at this eatery was very unique.  I dine at restaurants all of the time; however, this was the first time I was cooking my own appetizer.
When I arrived, there was an apron and a set up for me to get cooking.  I was the sous chef for the amazing Mary Grace Viado.  She has the most upbeat and positive energy which meant that she was a blast to work with.  She is currently based in Birmingham, and she drove all the way to Atlanta to enjoy dinner with us!  Mary Grace has been with Village Tavern since 2002.  She's extremely talented and her passion for her craft is undeniable.  She was honored with many awards and scholarships including a prestigious James Beard Foundation Scholarship.
We created a duo dip appetizer and pimento cheese deviled egg, which, surprisingly, was easy to create.  I am not going to lie, I was super nervous.  However, the duo appetizers and deviled eggs came out perfect!  Village Tavern takes the cake for most unique food blogger experiences.  It was an awesome experience and a unique twist on my dining experience which I loved.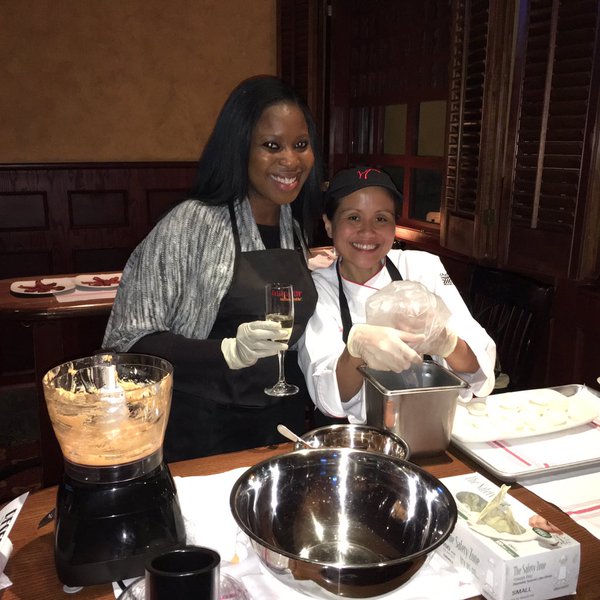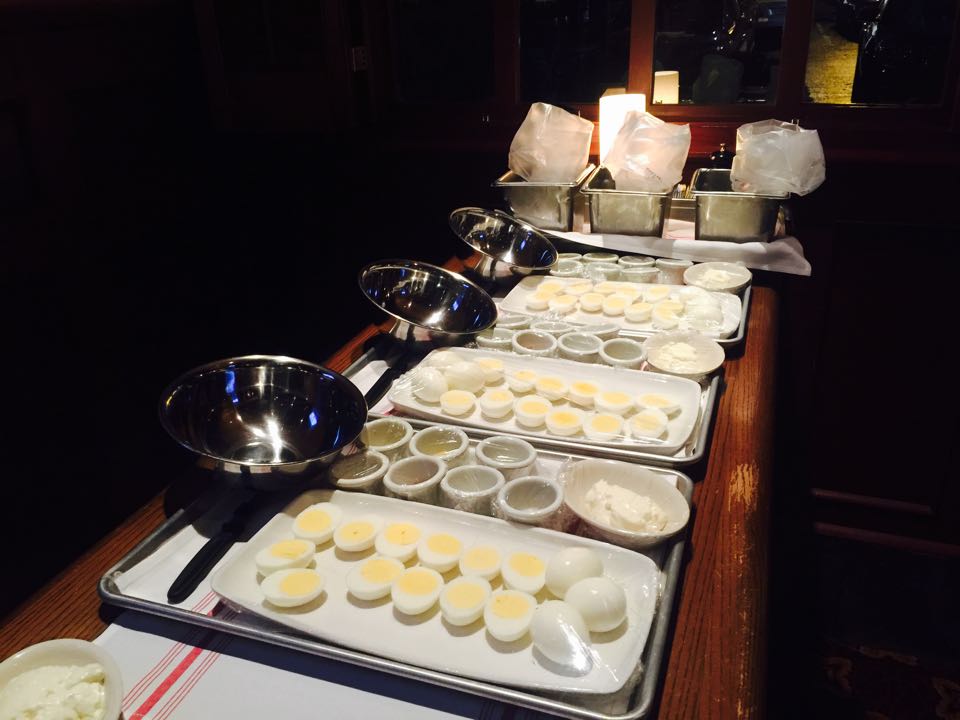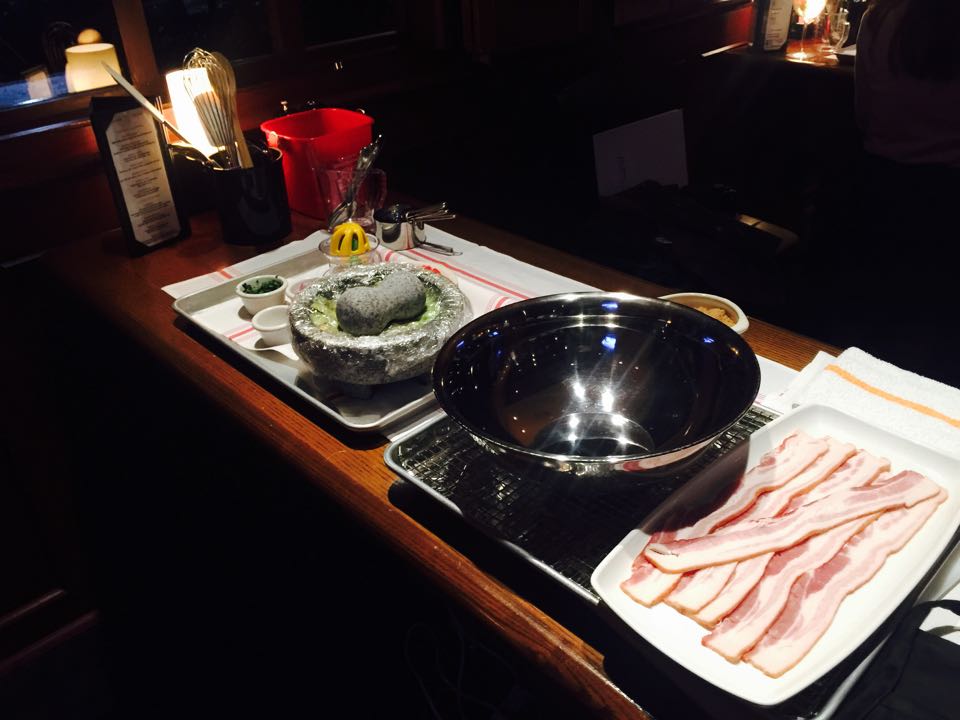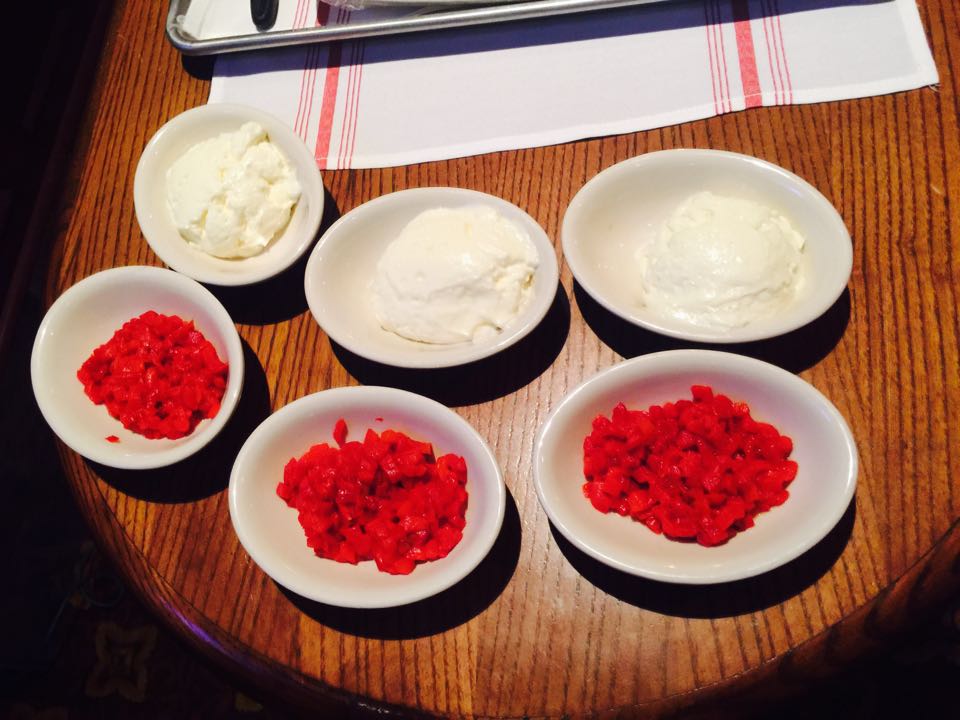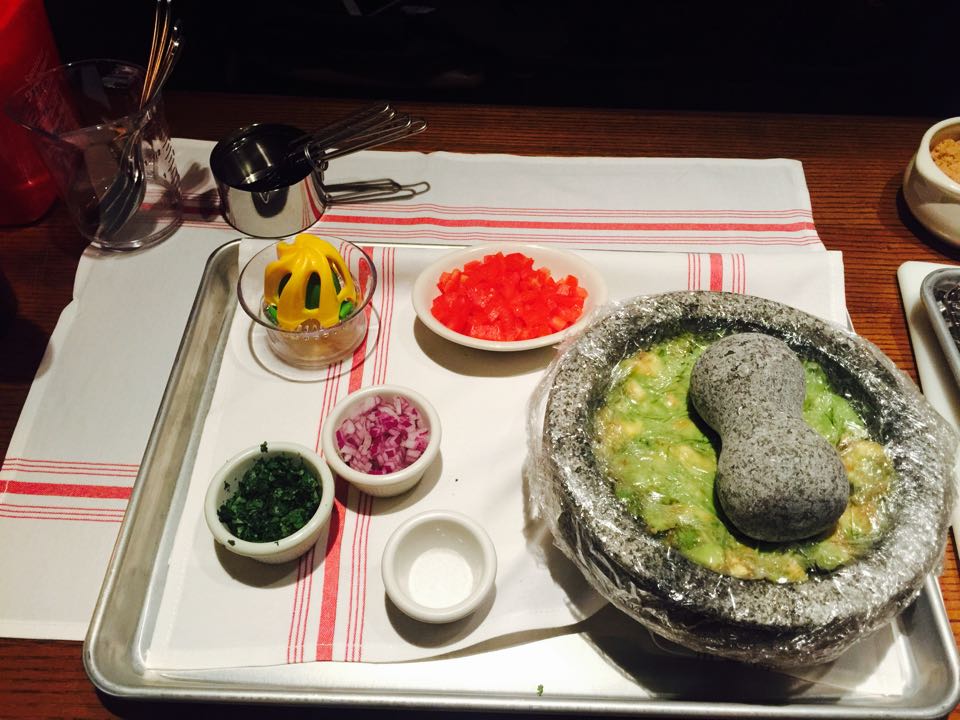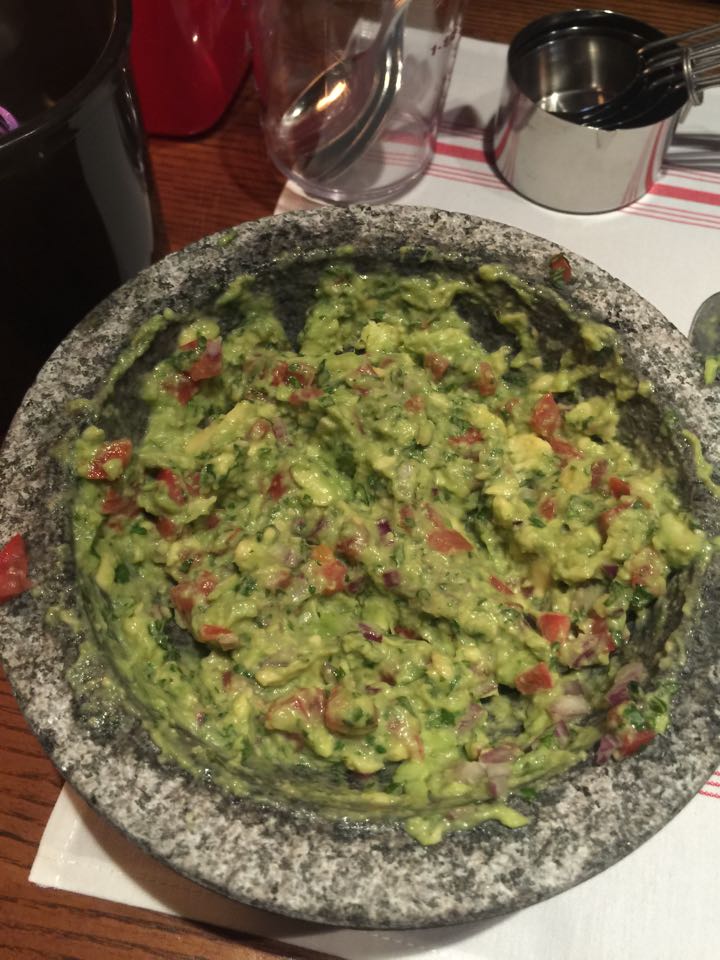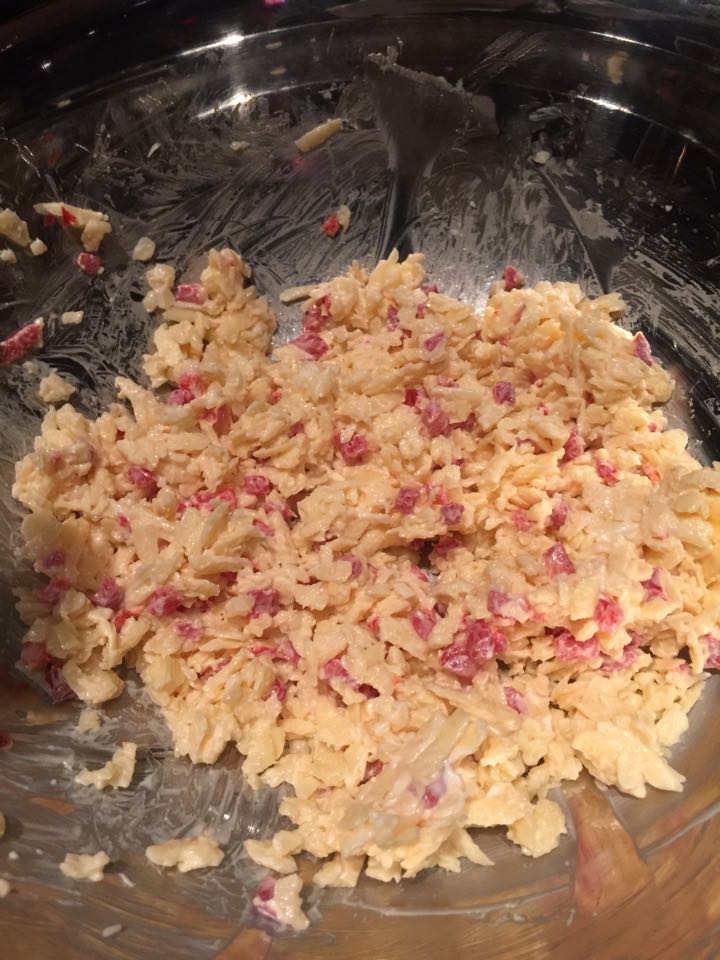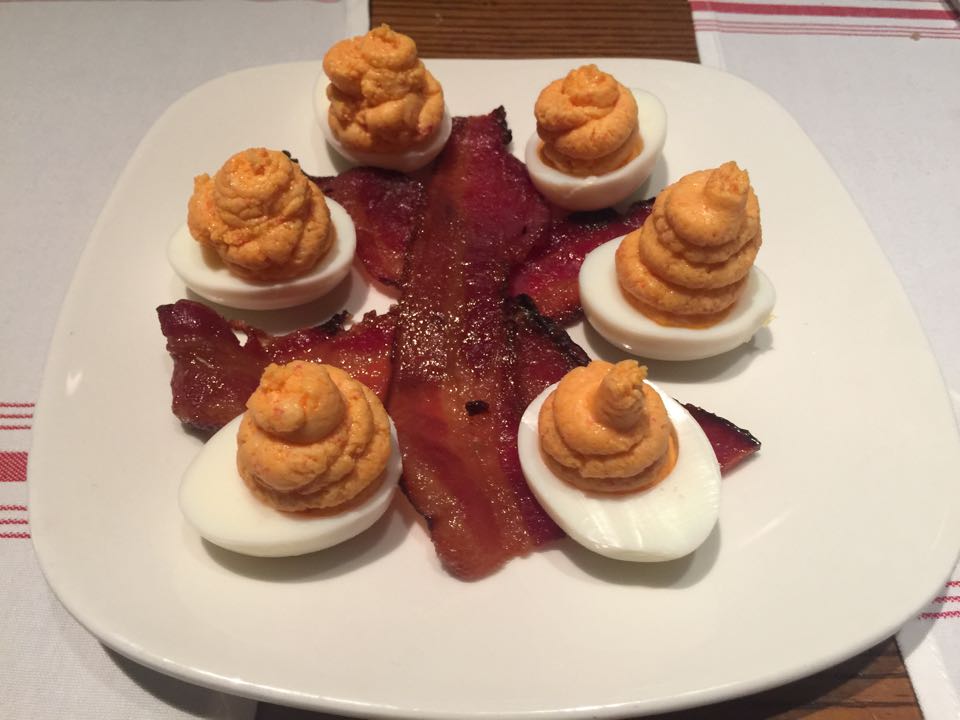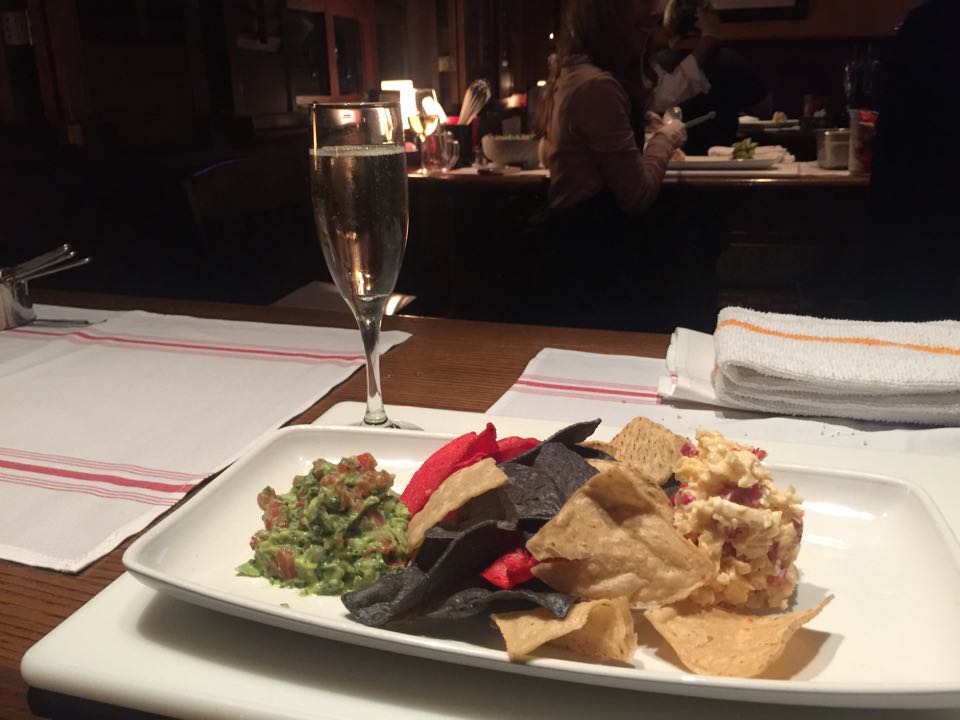 When we dined, it was more than enough food.  It was a smorgasbord of 13 courses, and every course brought something new to my taste buds.  When you dine at Village Tavern, these are my suggestions that you must try.  Whatever dish you decide to try, I assure you that you won't be disappointed with your choice.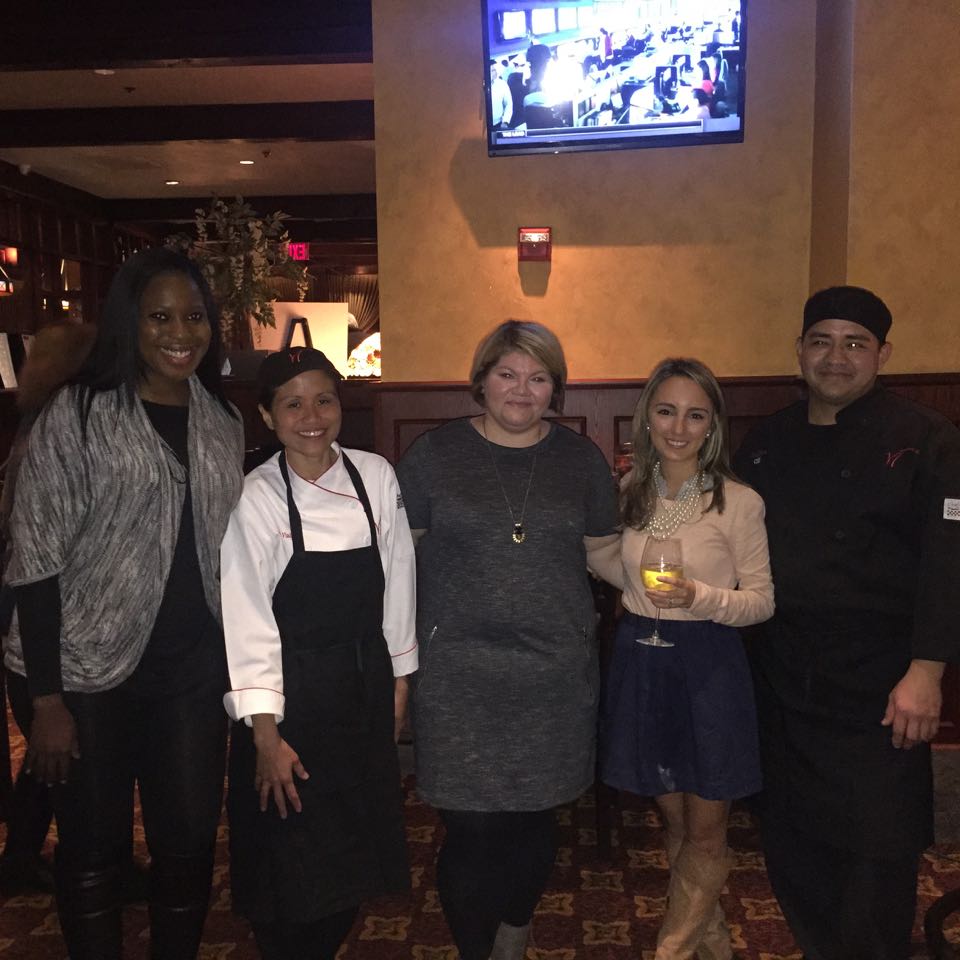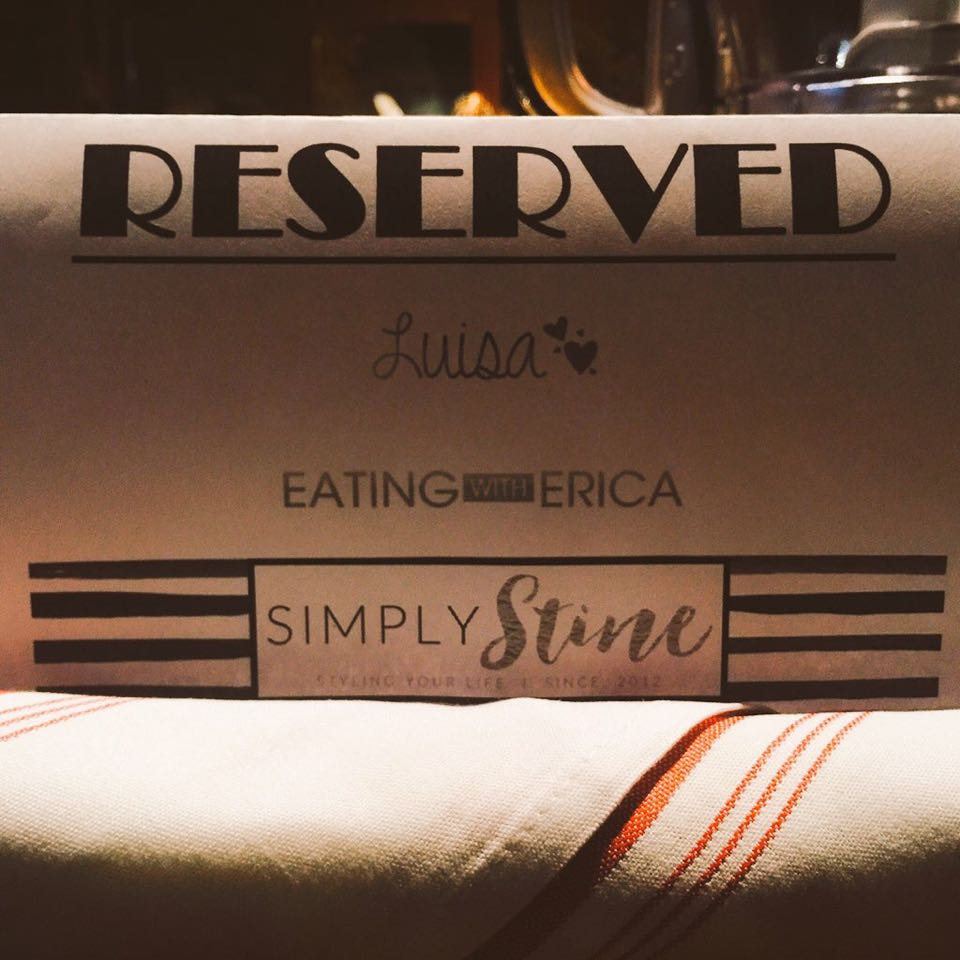 Dip Duo- homemade guacamole and pimiento cheese- I love guacamole.  This recipe was so easy that I have been creating it at least once a week.  It was very fresh and has now become a family favorite.  The pimento cheese dip was so delicious.  I was surprised at how flavorful it was.  Leave a comment, and I will provide the recipe.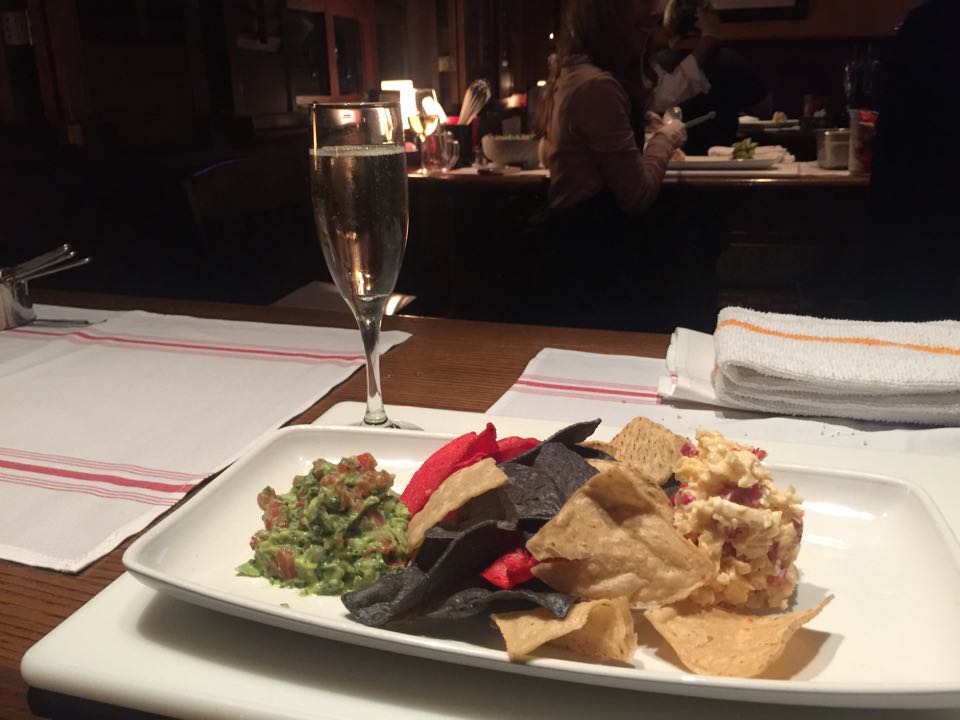 Pimento cheese deviled eggs –Talk about Heaven!  I was premature with an ingredient, which made my eggs orange.  However, they tasted really good.  l am using this recipe for Thanksgiving.  The sugar-cured bacon was the cherry on top.  I always say, "You can never trust anyone who doesn't love bacon."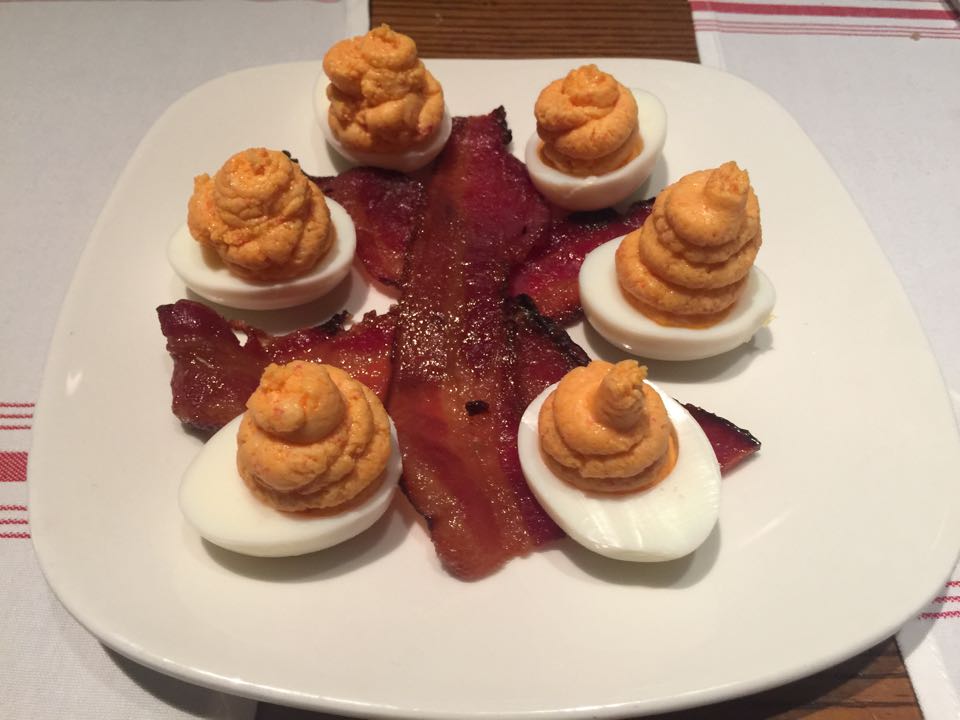 Habana Mexican-Style Grilled Corn-This is favorite type of corn: street corn. This grilled corn topped with parmesan cheese with a sprinkle of fresh lime juice made for a happy Erica.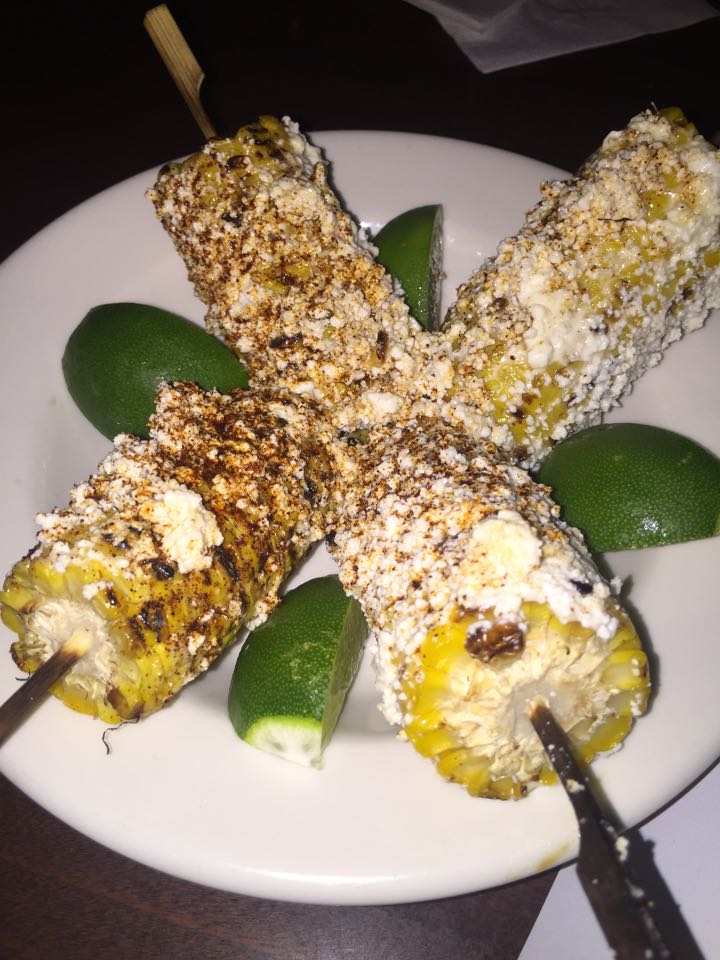 Mushroom and Goat Cheese Flatbread-Everyone knows that goat cheese is the key to my heart.  So when I saw this on the menu, I was elated.  This flatbread was so soft and full of flavor, and it was light.  This definitely is on my list of favorites.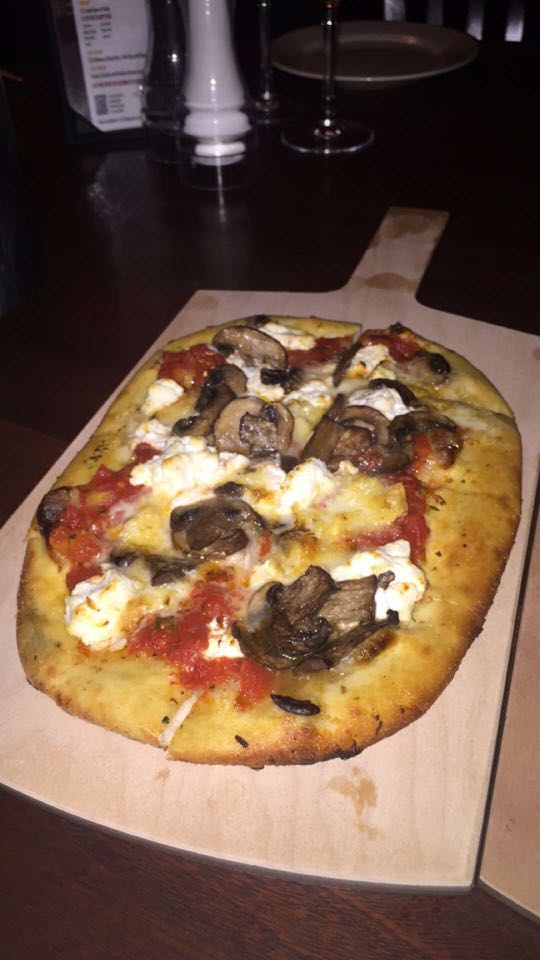 Grilled Seabass and Jasmine Rice-Looking for a healthy and enjoyable dish?  Look no further than this home-run.
The sea-bass was flaky and extremely fresh and perfect match with the jasmine rice and spinach.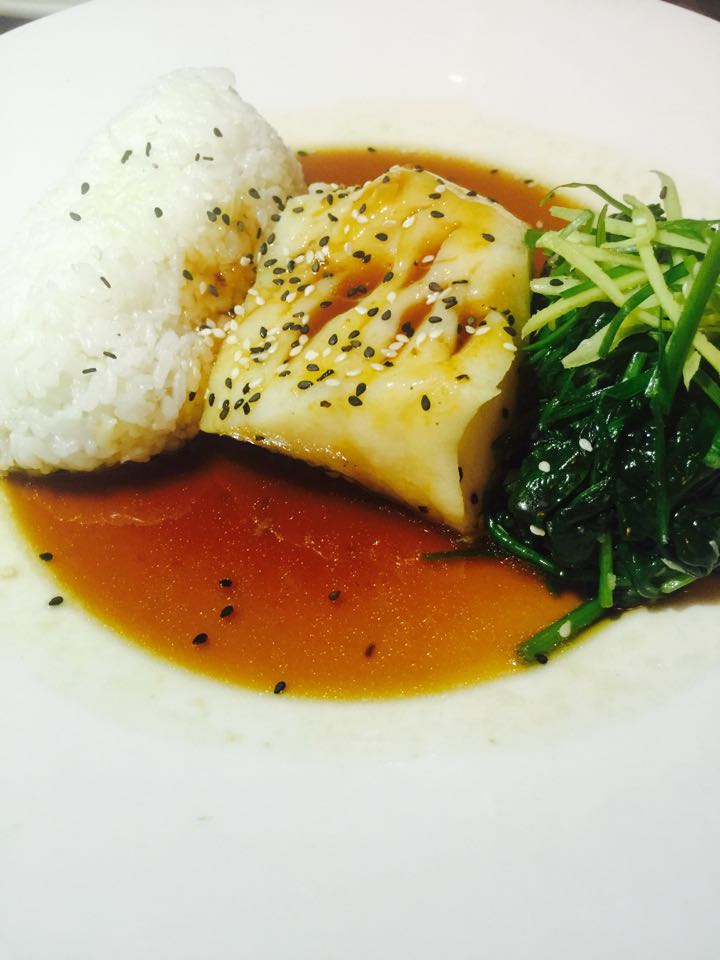 Bacon-Wrapped Scallops-Bacon-Wrapped Scallops –Fresh, grilled sea scallops wrapped with bacon was so delightful and very filling. It was simply amazing!  If you want a dish that's light, this definitely is for you.  Also, this dish would be ideal with a caesar salad.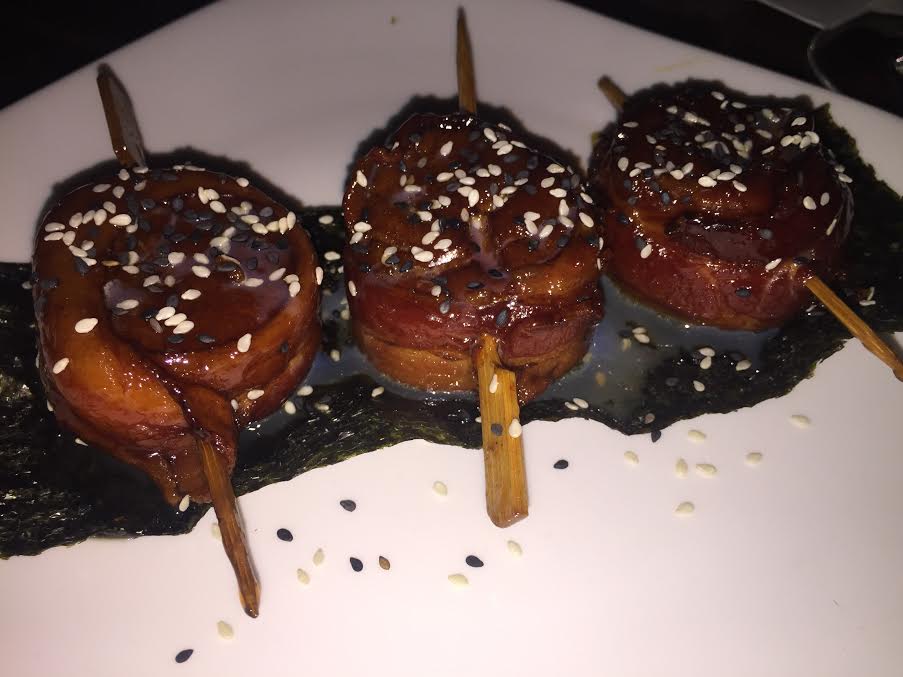 Warm Butter Cake-This is a MUST-TRY!!  This warm butter cake was served warm with strawberries and blueberries.  Topped with ice cream, this cake reminded me of a pound cake with its soft texture and sweet flavor.  It was my favorite dessert of the evening.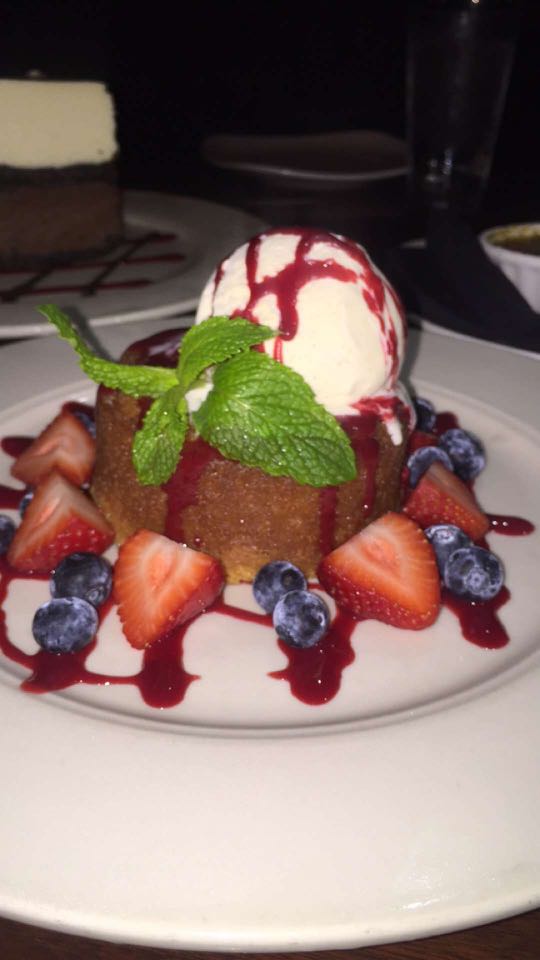 At the end of the evening, we were presented with a gift box.  Talk about pulling out all the stops.  Inside, we were presented with everything to recreate pimento cheese eggs.  There was also chocolate and a thank you card.  I was beyond shocked and flattered.  This darling restaurant offers delicious food, genuine people who enjoy their careers and who really believe in the company, and not to mention, a great menu.
I would say to add this restaurant to your bucket list.  Village Tavern is available for private parties, and it's ideal for a date night or special occasion.  Everyday this restaurant offers a new special for guests to enjoy.  I can't wait to return, because next time, I will highlight Village Tavern's brunch!