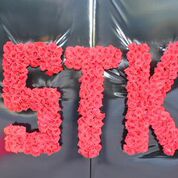 This evening, I had a chance to attend STK's birthday!  Celebrating three years, this dapper event was themed "Bright Lights in the Big City."  What's better than beautiful people, drinks flowing, and enjoyable bites off of the spring menu created by executive chef, Mark Albas!  I couldn't imagine a better way to spend a Thursday evening.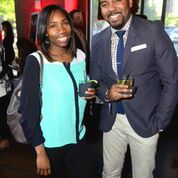 Atlanta Food Bloggers Milla Williams(Happily Eating)  and Chris Watkins (Eat.Drink.Repeat)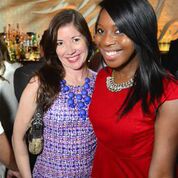 Atlanta Food Bloggers Lauren Patrick (Pretty Southern) and Erica Key (Eating With Erica)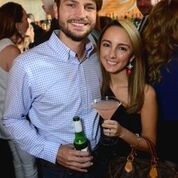 Drew and Luisa Hammett (Peaches To Pearls)
If you have never dined at STK, you may want to add this chic steakhouse to your places to dine bucket list.  When you walk in, the feel is sleek, sexy, and refined.  As anticipated, steak is the main attraction.  Their menu features small, medium, and large cuts of meat as well as naturally-raised options and market fish entrees. Whenever I dine at STK, I always have a great time.  On this particular evening, the restaurant was so different.  Drag queens were twirling throughout the evening, crystal chandeliers were sparkling, the DJ kept the hits spinnin', and an open bar meant that I was a very happy Erica!  After dinner, STK treated guests to a bottle of champagne and a trio of desserts.  Needless to say, I had a great time.
Happy birthday, STK!  I can't wait to see what next year brings!