This post is sponosred by Kroger. All thoughts and opinions in this blog post are my own.
Because I don't make boring salads, I absolutely love them! I also love how there are so many ingredients that you can use to keep salads fun and tasty. Today I am sharing one of my favourite salad recipes! I mean, who doesn't like a salad with cranberries, walnuts, red onion, bacon, and Gorgonzola cheese? Your tastebuds will be jumping for joy at all of the wonderful flavors in this salad, and you will thank me after you taste the honey bourbon walnuts. Be sure that you use the freshest of ingredients, which can be purchased at your local Kroger. This super simple summer salad is a great start to any meal or you can add a protein to make it an entree. If you do so, I suggest adding shrimp and/or chicken. Let's get started!
Recipe: Cranberry, Walnut, Red Onion, Bacon, and Gorgonzola Salad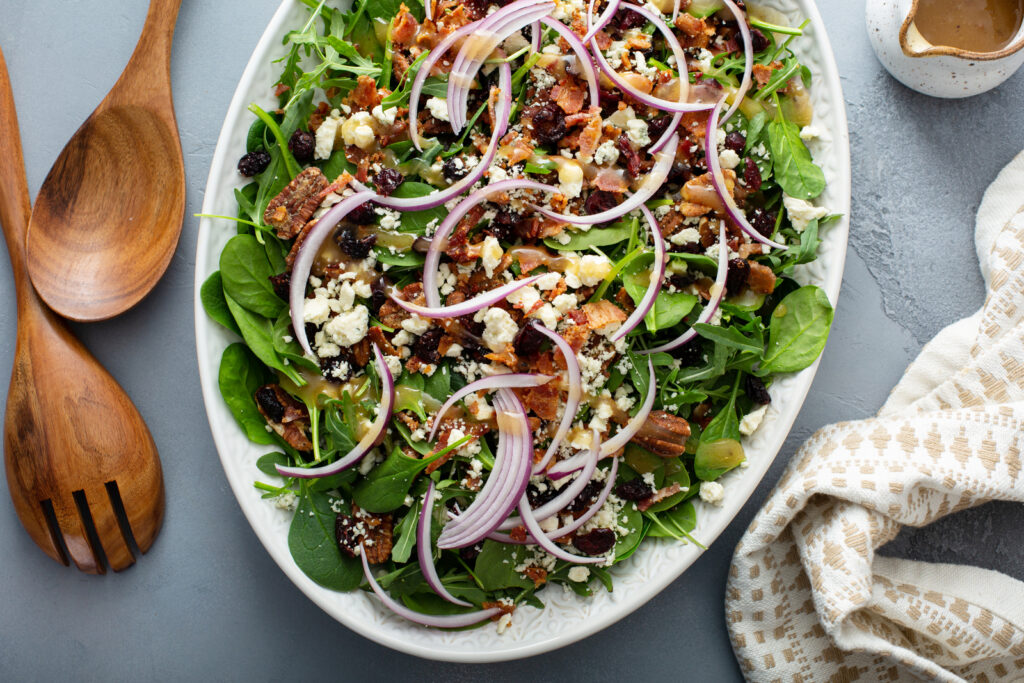 Ingredients
1⁄4 cup Kroger dried cranberries
1 package of spinach
1 package of arugula
1 cup of Gorgonzola cheese
5 pieces of crumbled cooked bacon
3 tablespoons of apple harvest vinaigrette
1⁄2 cup of honey bourbon walnuts
1⁄2 sliced red onion

Directions
1. Slice red onion. Set aside. 2. Combine cranberries, pecans, spinach, arugula, red onion, and bacon in a bowl.
3. Add apple harvest vinaigrette mixture, then toss.
4. Top with Gorgonzola cheese5. Serve and enjoy!

Check out my podcast, 'Owning Her Seat': https://eatingwitherica.com/owning-her-seat-podcast
DM me and let me know what you think of this blog post on Instagram: https://www.instagram.com/eatingwitherica/