If you follow me on Instagram, you may have noticed that I love making yogurt bowls in the morning. They are simple, healthy, and most importantly, fail-proof.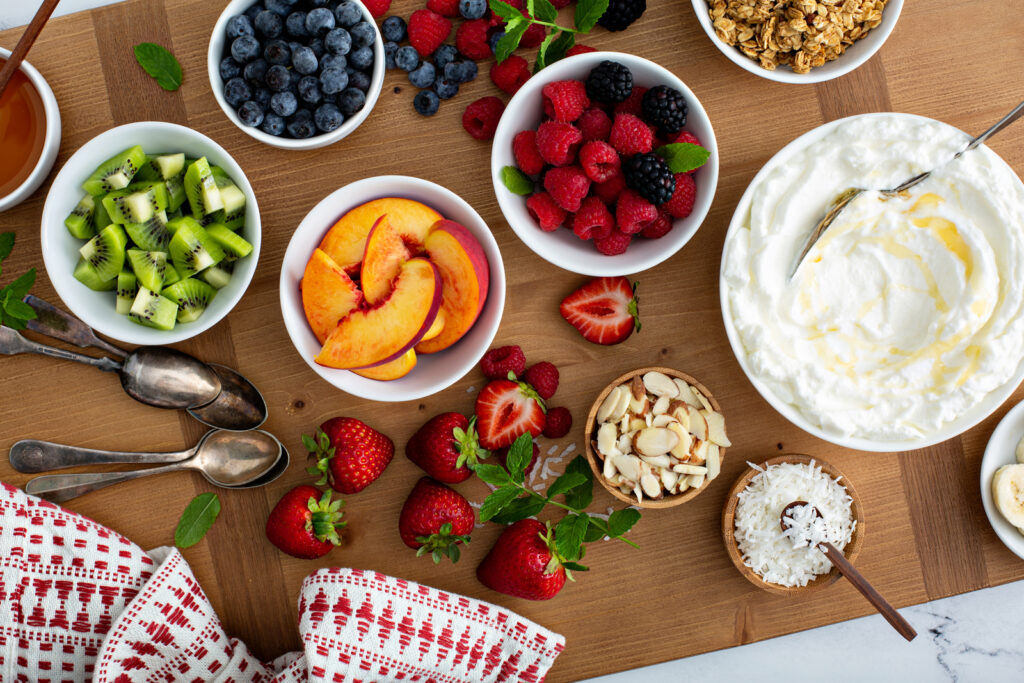 My marriage nuptials are fastly approaching, and I have been eating breakfast every day. My biggest issue with breakfast is that it gets boring. I have noticed a huge difference in my day and how much more energy I have since I've been eating breakfast each morning. I have also noticed that when I don't eat breakfast, I tend to snack more throughout the day. Breakfast kick-starts your metabolism and helps you burn more calories throughout your day. If your body doesn't get that fuel from food, you may feel zapped of energy, and you'll be more likely to overeat later in the day. Personally, I am trying to stay out of the refrigerator.
When I make my yogurt bowls, I prefer to use Greek yogurt, for several reasons. Greek yogurt is lower in sugar than regular yogurt. It's also protein-rich so that you will feel fuller for a longer period of time.
If you are like me, you like to change up what you eat every day.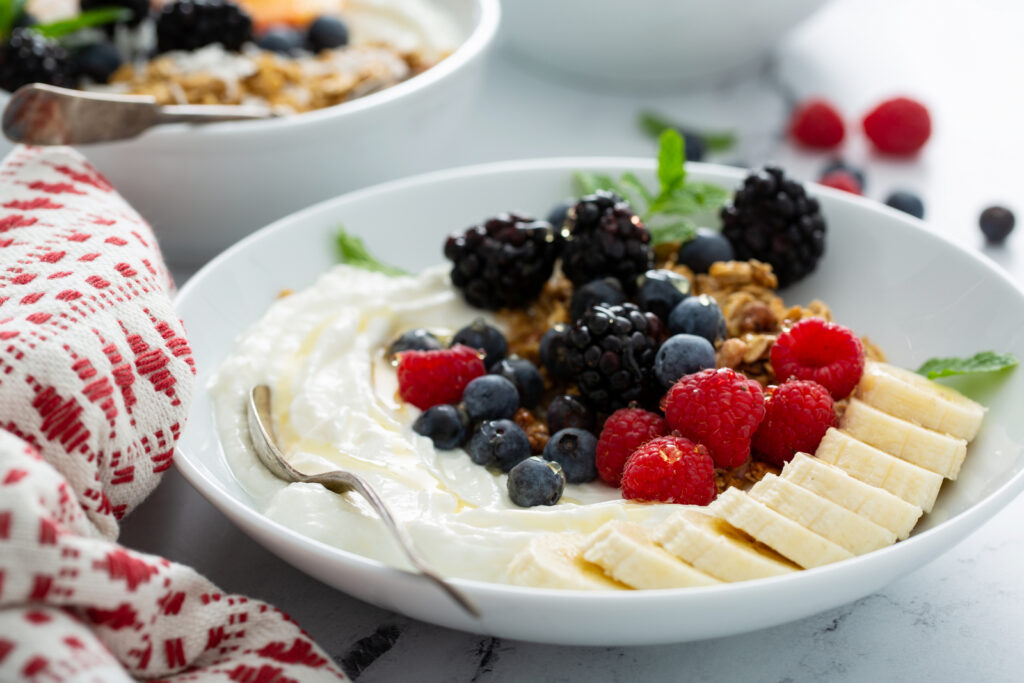 What I love about these yogurt bowls is that you have endless possibilities because you can create your bowl with various toppings. I make sure to change my toppings regularly. I love adding bananas and a variety of berries. Sometimes I have a sweet tooth. so I'll add honey as a topping.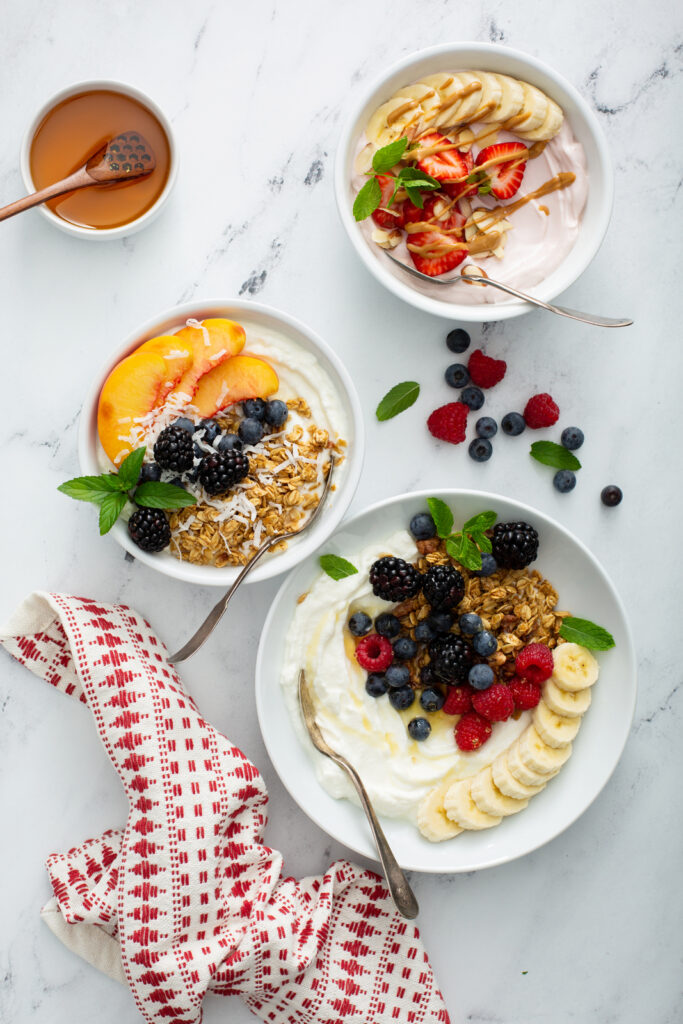 A few of my favorite bowl combinations are:
Strawberries, peanut butter, bananas, and strawberry Greek yogurt
Blueberries, blackberries, raspberries, granola, bananas, and honey Greek yogurt
Peaches, shredded coconut, granola, blueberries, and blackberries
If you're entertaining, yogurt bowls are a great idea to have for your guests. They can serve themselves, and you can leave out the bowls, the yogurt, and all the toppings. The most important thing when entertaining is the type of board you select. I prefer to use my boards because it's easier clean-up and less room for things to get knocked over.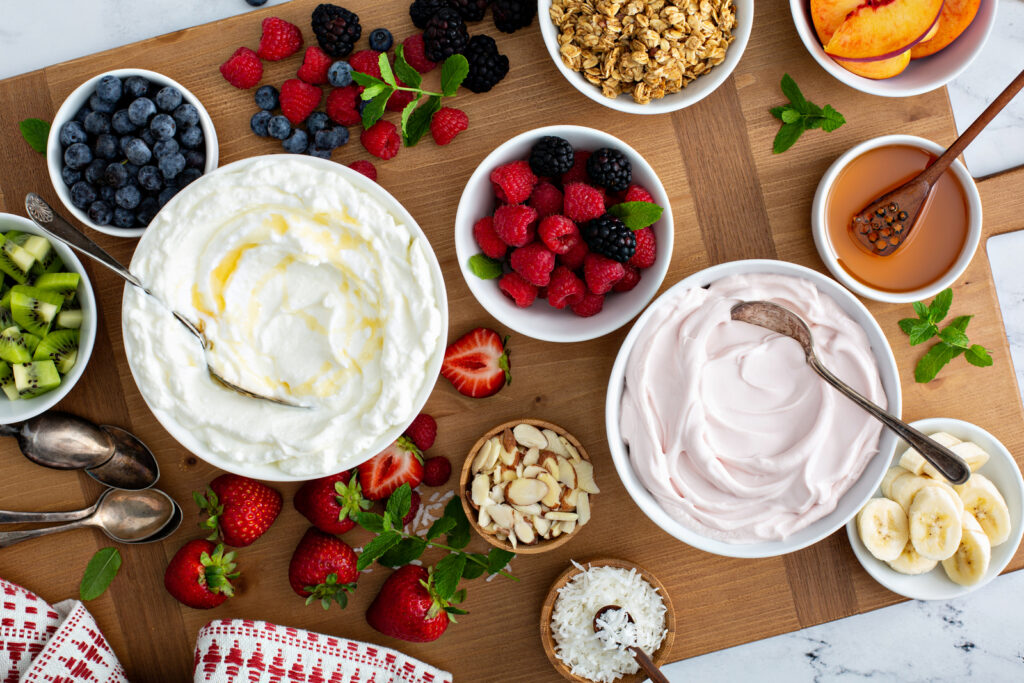 The board that I used is from ETU Home, and I simply love it! The board is large enough to hold everything, and it has a rustic touch to it. ETU Home is my newest obsession. I love their large boards, lazy Susans, and cutting boards, which all come in a variety of colors and styles.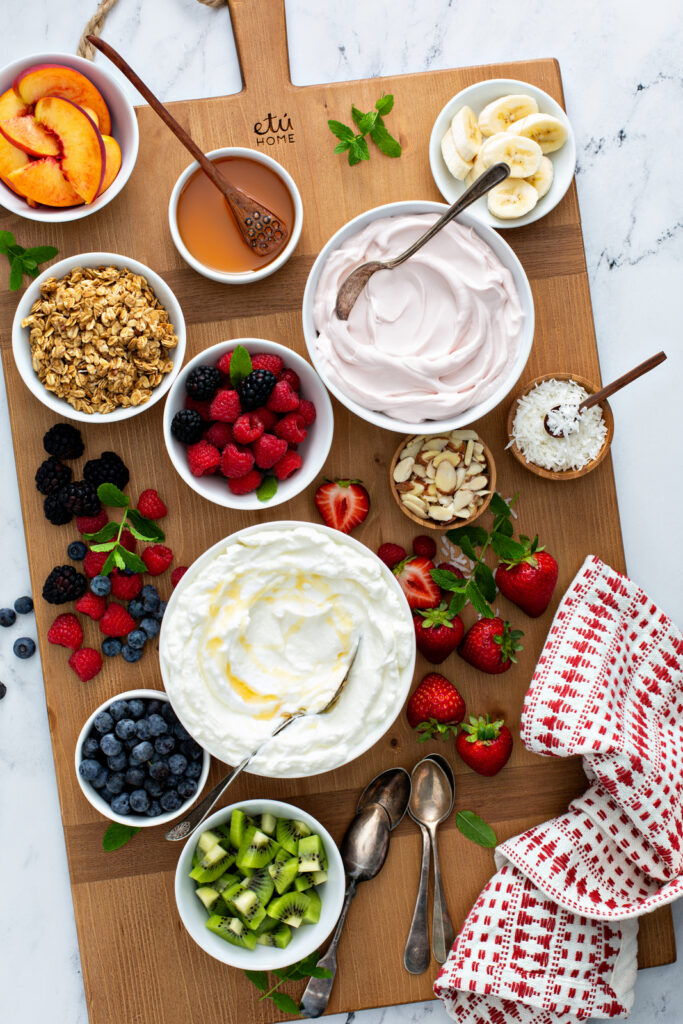 I hope that you enjoy creating your yogurt bowls. I can't wait to see your creations. Tag me: @eatingwitherica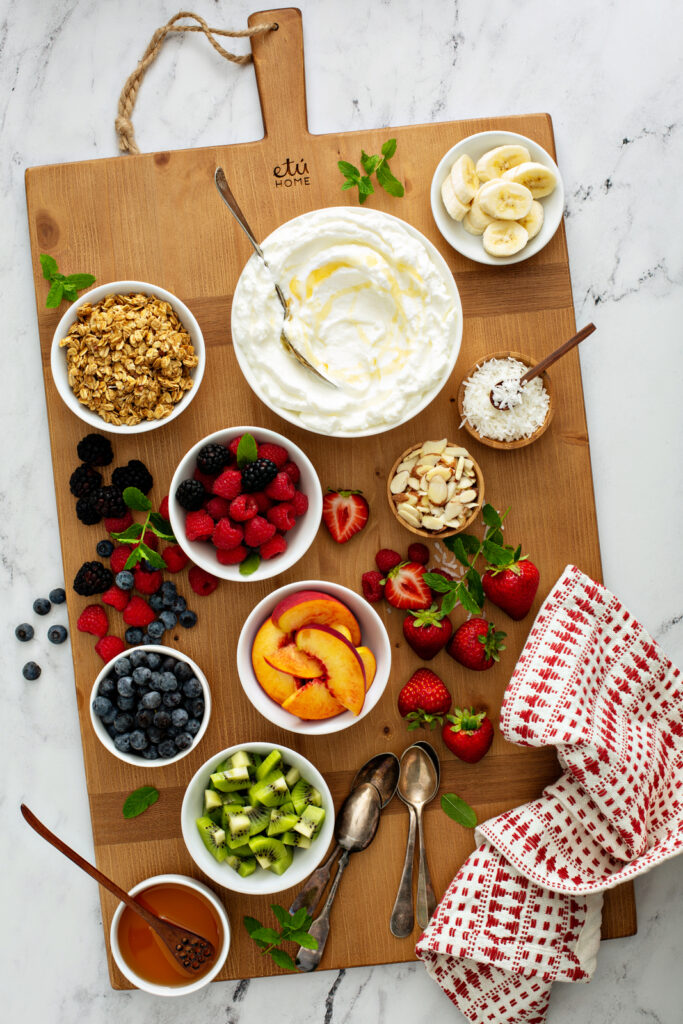 Greek Yogurt Bowls
Ingredients
Greek Yogurt
Honey Greek Yogurt
Strawberry Greek Yogurt

Fruit
Blueberries
Blackberries
Peaches
Strawberries
Bananas
Raspberries
Kiwi

Add Ons
Almonds
Granola
Honey
Peanut Butter
Shredded Coconut
Directions
Add Greek yogurt to the bowl
Add honey
Top with desired fruit and add-ons
Don't forget to take a picture and tag me.
Enjoy your bowl!