With the weather warming up and spring 2018 being in its infancy stage, there is nothing more that I'm looking forward to than hosting  picnics!
My good friend, Monica, of Awed by Monica, joined me for my first spring picnic of the season at Château Élan.  We definitely had a blast.  Since not all picnics are created equal, I am going to share my 5 Tips for the Perfect Picnic!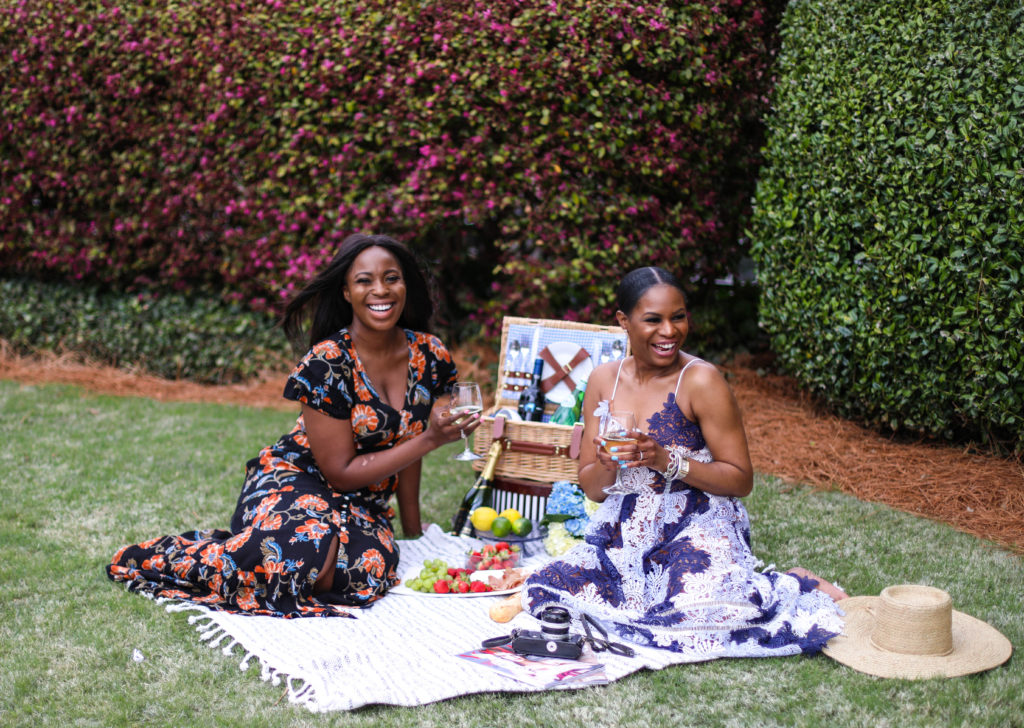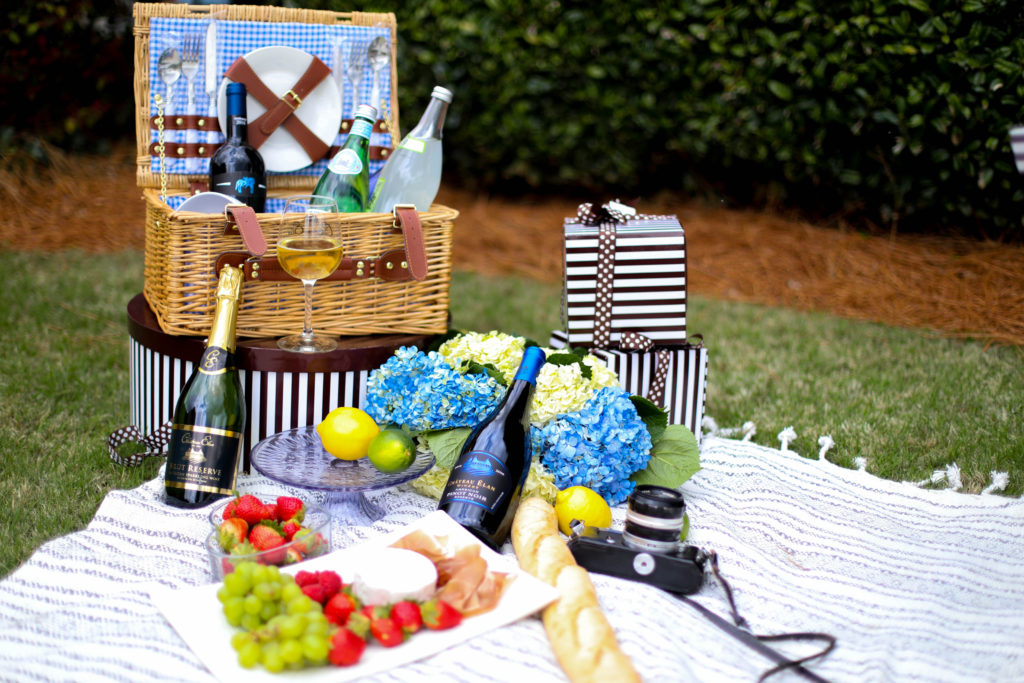 1. Picnic basket:  Your picnic basket is the star of the show.  I recently purchased my new spring picnic basket, and I must say that I did a lovely job picking it out because I am so in love with it!  What I love most about my basket is the size.  It's a basket that's ideal for two or three guests.  It comes fully equipped with plastic silverware, plates, plastic wine glasses, salt and pepper shakers, and a picnic blanket.  There's also plenty of space to add additional items.  The basket was under $50, and it was worth every penny.  Make sure when selecting a picnic basket that it's durable.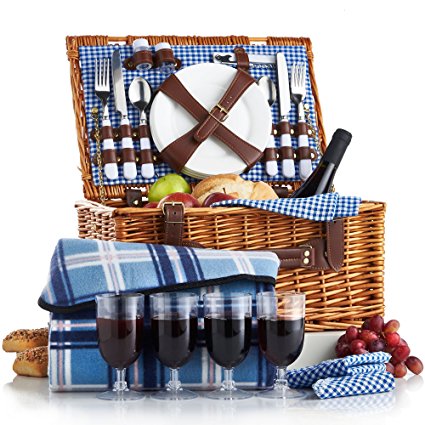 You can purchase a similar one here: Picnic Basket Set for 4 Person | Picnic Hamper Set | Folding Picnic Blanket | Picnic Table Set | Picnic Plates | Picnic Supplies | Summer Picnic Kit | Picnic Utensils | Picnic Cutlery Set Flatware Set
2. Menu:  When I am dining outside, I always like packing things that are simple to prepare, yet delicious.  I like food that will last in the hot weather, food that's easy to transport, and food that will be enjoyable while being chilled.  Some of my picnic favorites are caprese sandwiches, charcuterie & cheese boards, and, of course, a variety of fruit, pastries, grapes, berries, and oranges.  Make sure you don't select items that will melt.  And don't forget the beverages.  I love sparkling water and wine!  So since it's spring, a sparkling rosé or Sauvignon blanc would be ideal.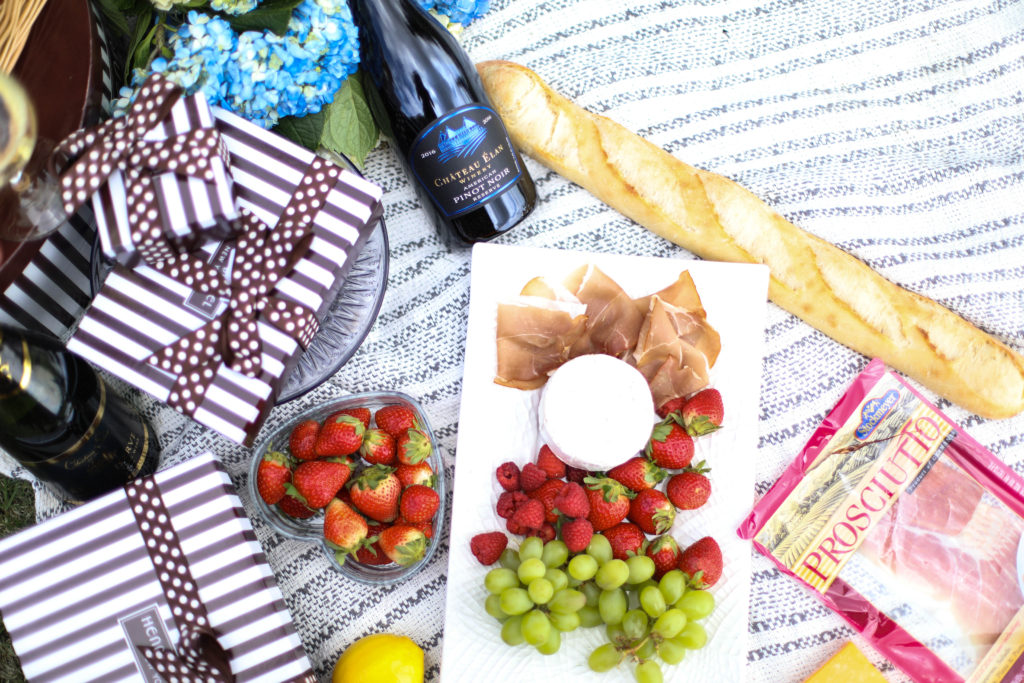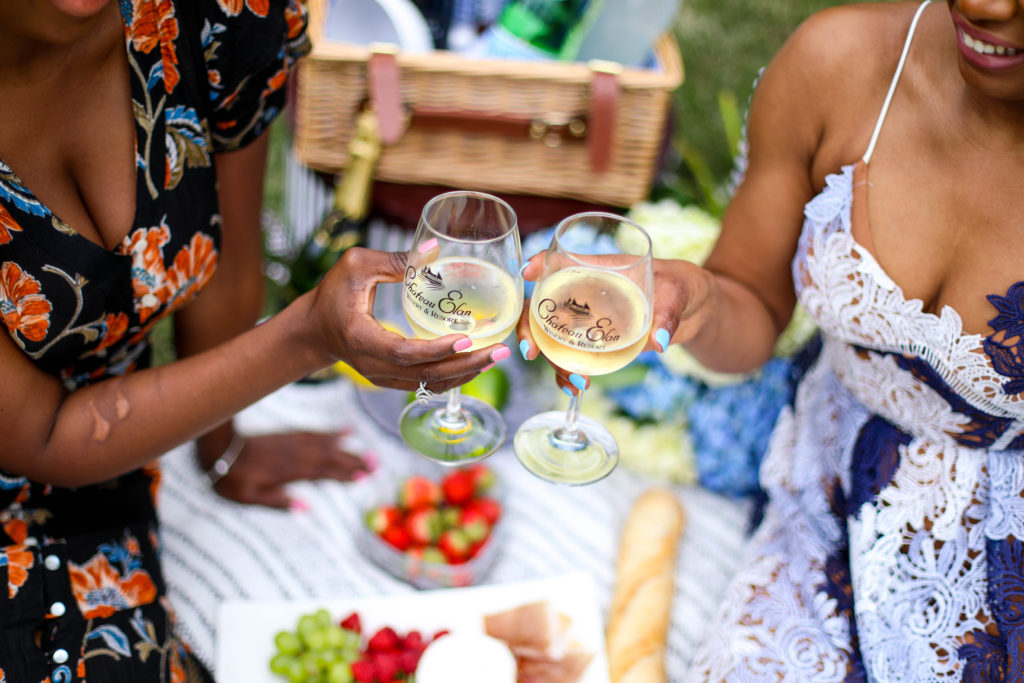 3. Bring a friend:  Picnics are better with friends.  It takes the stress away from planning the entire picnic.  When you pick up all the essentials, that is the perfect opportunity to catch up with a friend you haven't seen in awhile.  I had a great time with Monica.  We spent the afternoon drinking wine along with some awesome girl chit-chat.  Shockingly, neither one us reached for our phone.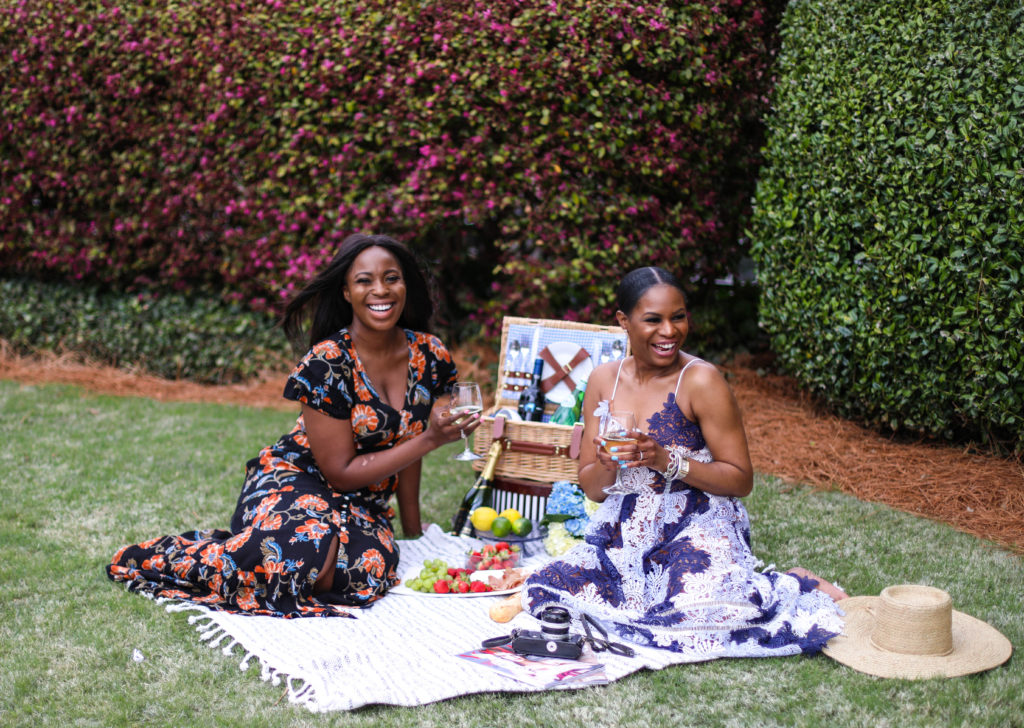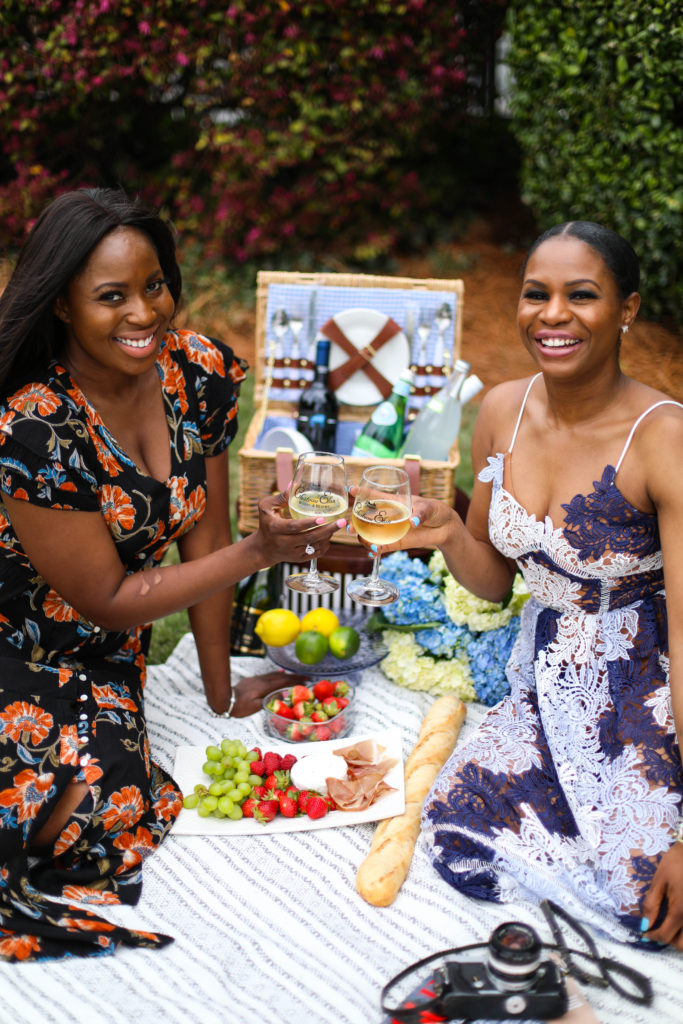 4. Location, Location, Location: Although I held my picnic at Château Élan, Atlanta has so many awesome parks to host your picnic.  Make sure you choose a spot that's somewhat secluded and not directly in the sun.
Some of my favorite places for picnics are: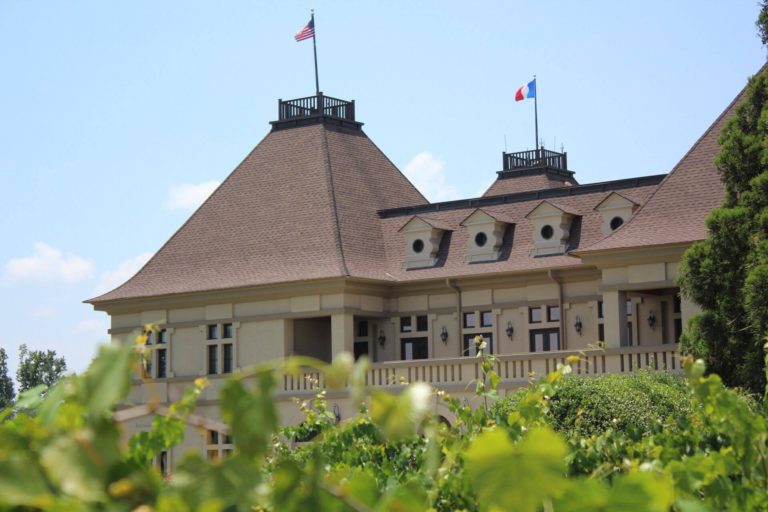 5. Plan for the worst: The saying in Atlanta is, If you don't like the weather today, wait until tomorrow.  The weather is so unpredictable.  Make sure that you check the weather the day before your picnic and the morning that you wake up before you head out for the day.  Have a backup plan just in case spring showers joins your picnic as well.
Make sure to pack the following:
Picnic basket
Picnic blanket
Bug spray
A citronella candle
Lighter
Hand sanitizer
Sunscreen
Wine opener
Trash bags
Paper towels
Utensils
Plates
Ice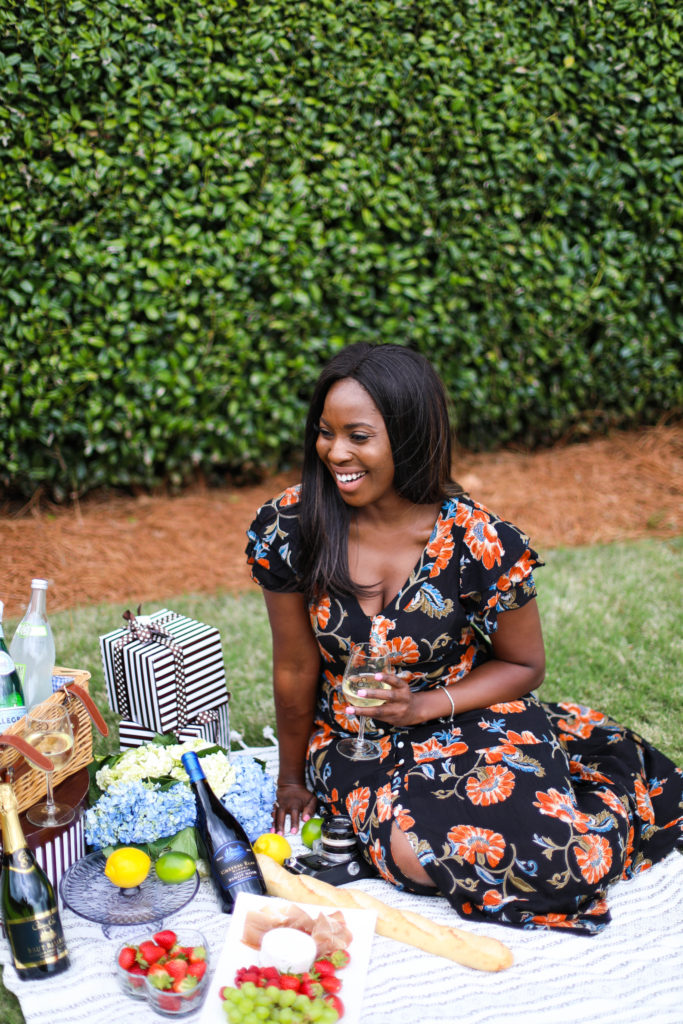 Enjoy and happy spring!