Earlier this year I discovered Nikolai's Roof.  Nikolai's Roof Fall Italian Wine Dinner was a-must that I attended. Nikolai's Roof is an upscale, sophisticated French-Russian restaurant with spectacular views of the city.  Located in Downtown Atlanta on the 30th floor of the Hilton Hotel, you will come to find yourself falling in love with this restaurant.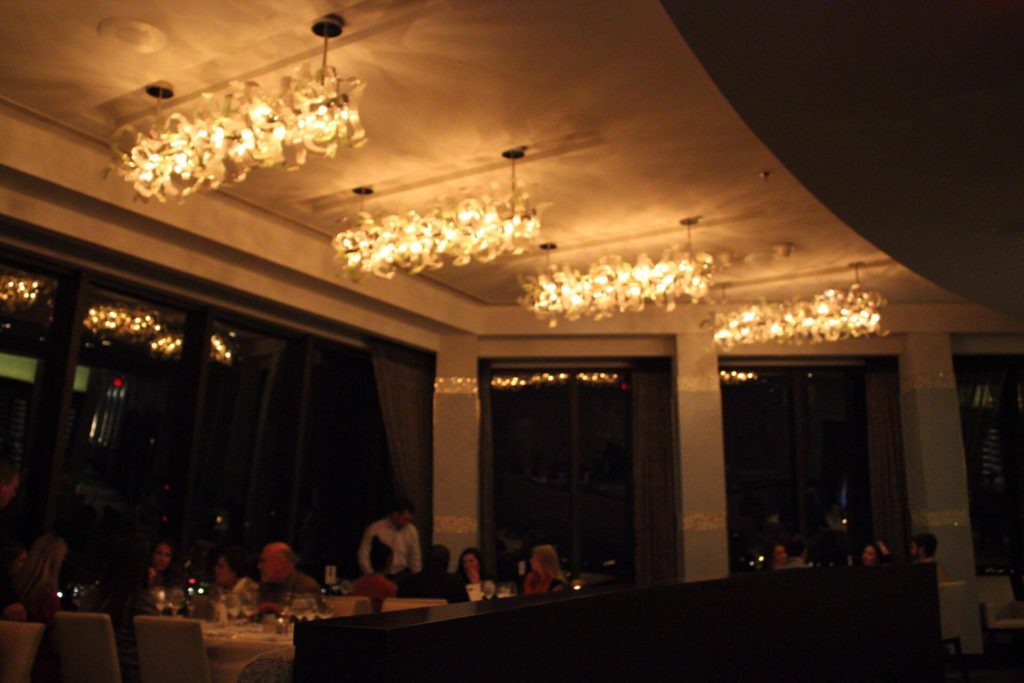 I always have a great time dining at restaurants, but I LOVE wine dinners, which are my favorite type of dining experiences.  I mean, who doesn't love wine?  But there is nothing better than meeting new people, trying new wines, and experiencing how creative the chefs are when creating delectable food pairings with wine.  On this night, there were featured wines by Ornellaia Vineyards and Folio Fine Wines.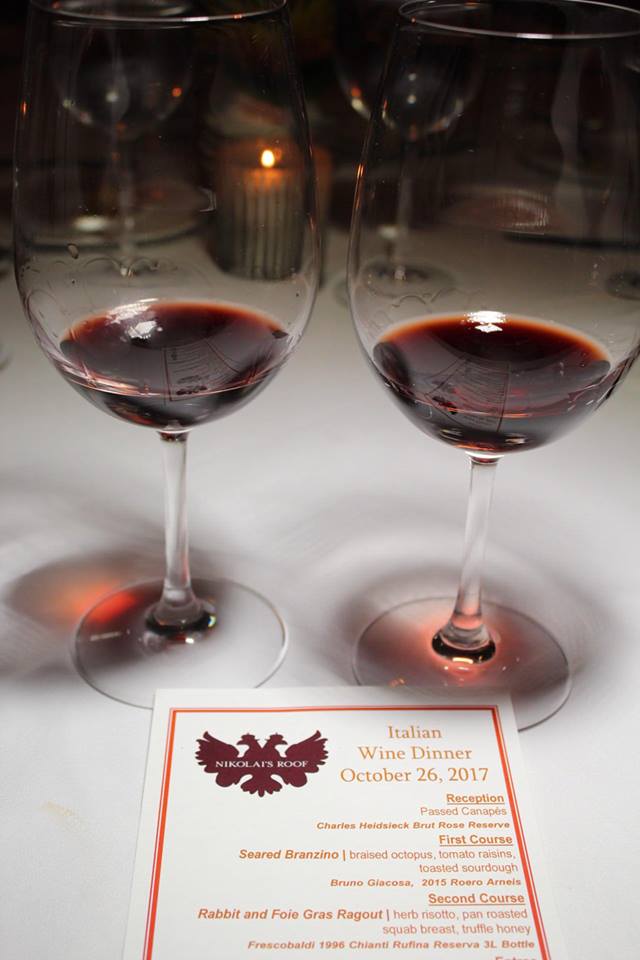 As each course presented itself, the charming representative of Folio, Daniele Sbordi, explained the history of each wine and why it paired perfectly with each course.  Did you know that in 1851 the first bottle of champagne was brought to this country?
Chef Stephanie Alderete curated the dinner menu.  She has been a member of the Hilton Atlanta team for seven years.  She has worked her way through the ranks, serving as sous chef and chef of the in-room dining program before joining Nikolai's Roof as chef de partie.  She's so talented and so creative.  We started our meal with passed canapés (A canapé is a type of hors d'œuvre, a small, prepared and usually decorative food, consisting of a small piece of bread or puff pastry or a cracker topped with some savory food, held in the fingers and often eaten in one bit).  The canapé were paired with Charles Heidsieck Brut Rose Reserve.  After engaging with other attendees, we were taken to our table to begin dining.  Our dinner featured:
First Course 
Seared Branzino
Braised Octopus, tomato raisins, toasted sourdough
Wine Paired: Bruno Glacosa 2015 Roero Arneis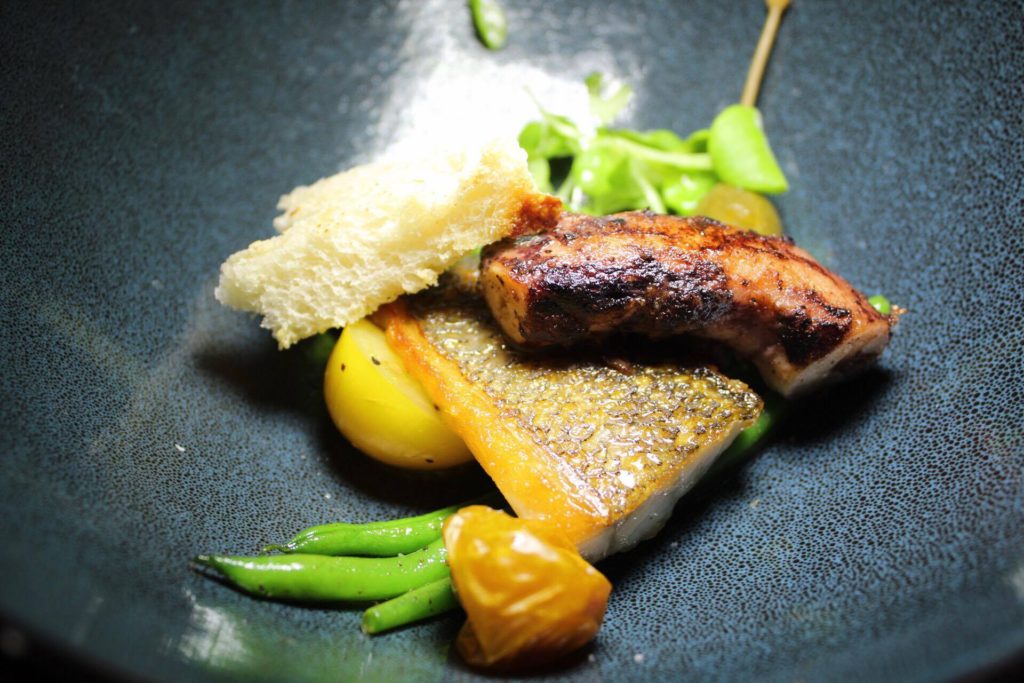 Branzino and Octopus — what a treat!  My first course was the best of both worlds.  Octopus is one of my favorite foods; however, I don't like when it's too fishy or too charred.  My octopus was braised to perfection, and the Branzino was the ideal fish to pair with the octopus given that its flavor wasn't overpowering.  It was the best compliment to the dish.
Second Course 
Rabbit and Foie Gras Ragout
Herb Risotto, Pan Roasted Squab Breast,Truffle Honey
Wine Paired: Frescobaldi 1996 Chianti Rufina Reserve 3L Bottle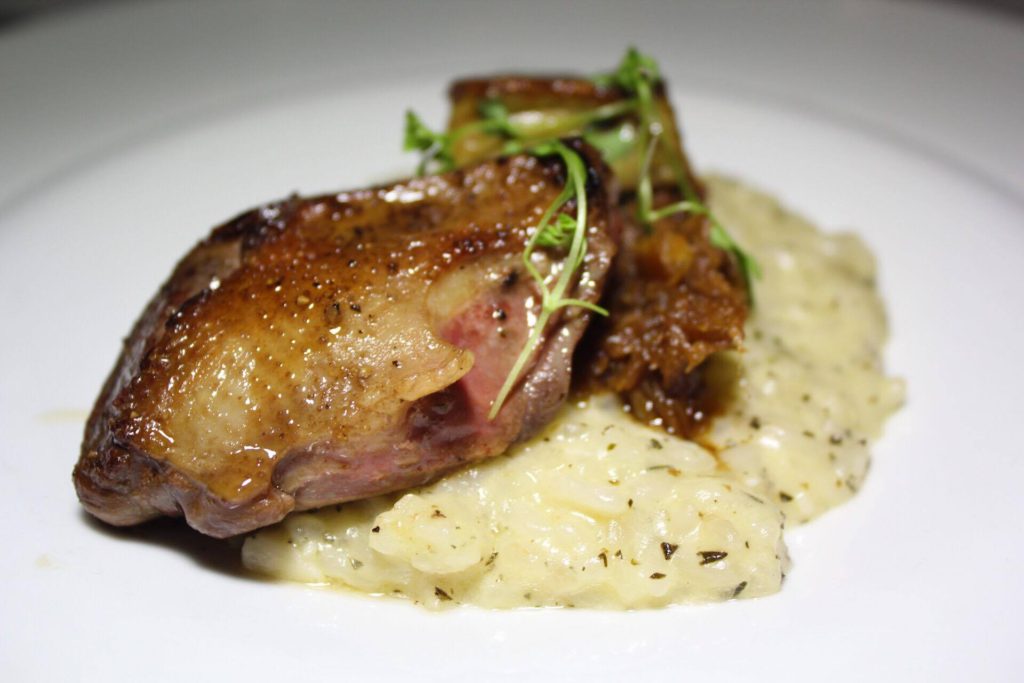 This was one of my favorite courses of the evening. This dish was rich, succulent, and toothsome. The rabbit was absolutely incredible.  The rabbit was served on top of herb risotto.  If you have never tried rabbit, the best way that I can describe it is that it tastes a bit like chicken.  The texture and flavor have similarities.
Entree
Slow Roasted Waygu Short Rib
Salsify & Truffle Variations
Fresh Autumns Truffles
Wine Paired: Ornellaia Bolgheri Superiore DOC 2003 
Wine Paired: Ornellaia Bolgheri Superiore DOC 2000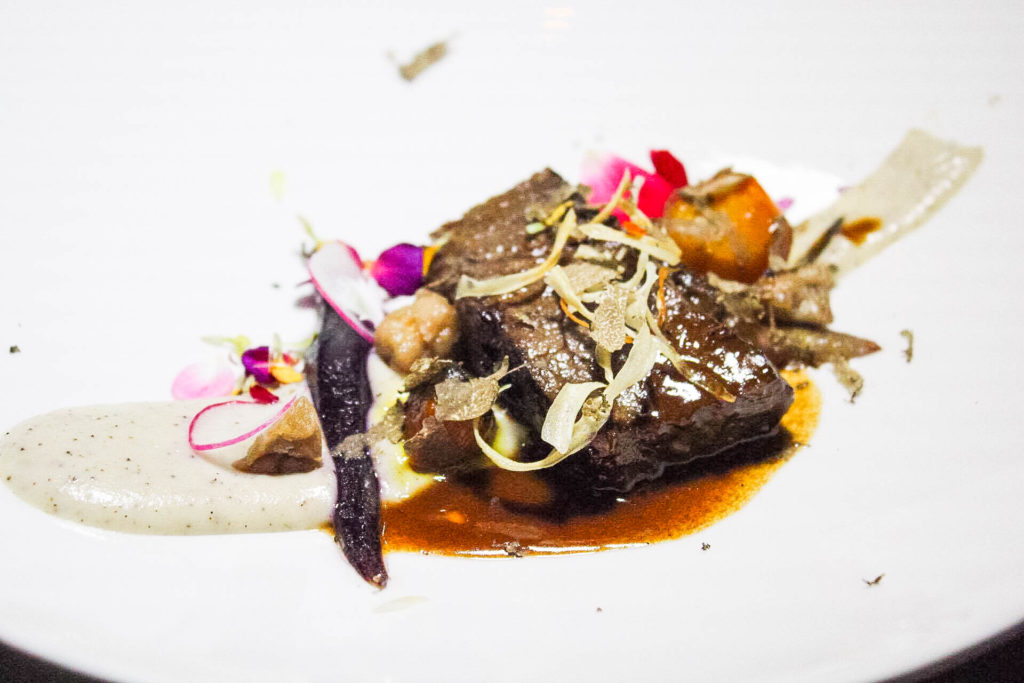 This Waygu was so rich and savory and a perfect introduction to winter.  The chef explained this Waygu was slow roasted for over three hours.  It was so tender and the truffles were the perfect addition to this incredible entree.  And we were treated to two glasses of wine with this course.  My favorite was Ornellaia Bolgheri Superiore DOC 2000.
Cheese
Select of Italian Artisanal Cheese
Ornellaia Bolgheri Superiore DOC 2013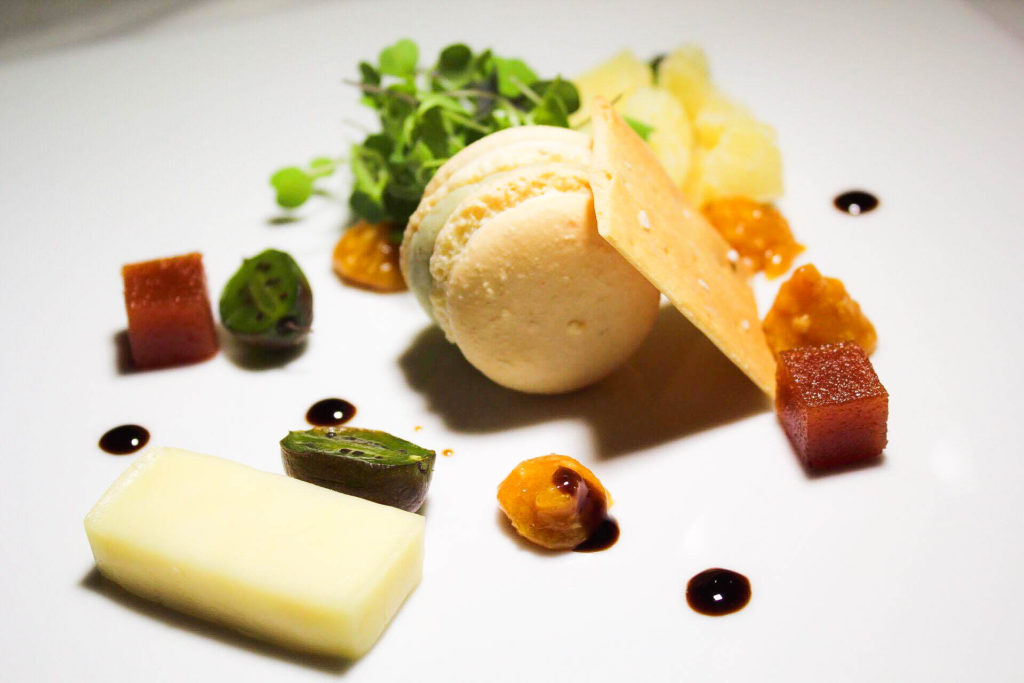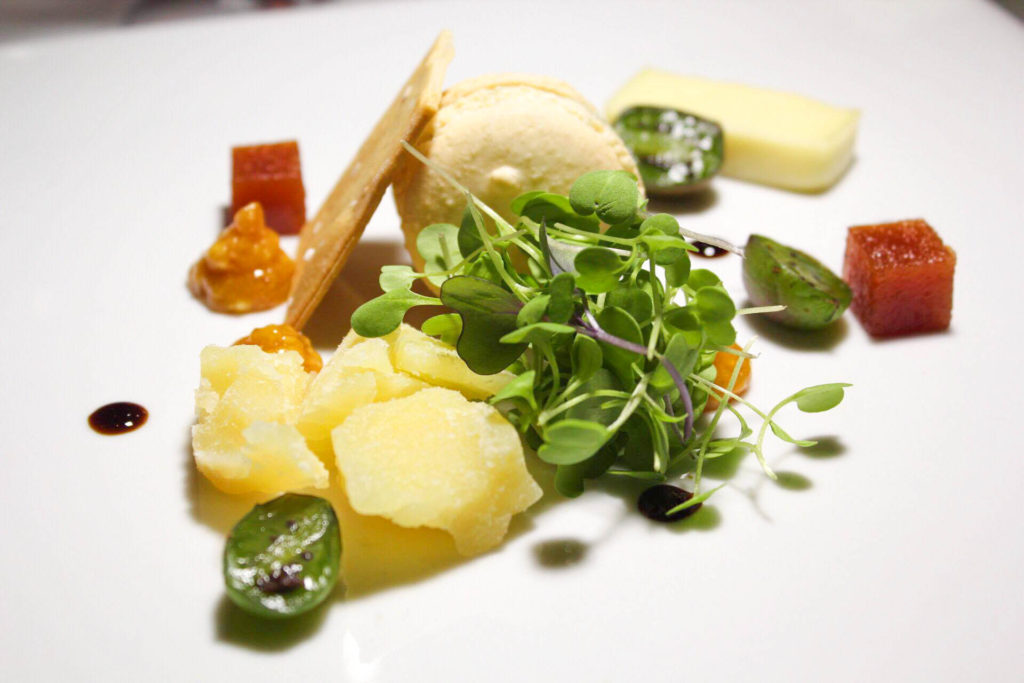 The presentation for this was course very impressive. The cheeses were served with pistachio, macaroon, and dried fruit.  I was very happy with the selection of cheese for dessert because it wasn't too rich.  Even the more introductory cheese eater could appreciate this.  If you aren't a fan of cheese, you will like the macaroons.
If you have the opportunity to visit Nikolai's Roof for a wine dinner, I would highly recommend it.  I really like how each course gradually got heavier.  The portions were sized perfectly which was enough to give you a taste but not too heavy that you couldn't enjoy more food.  At the end of my meal, I was stuffed.  Nikolai's Roof offer these fabulous wine dinners twice a year.  I  would suggest visiting this establishment for dinner. You won't regret it.  When you visit on Wednesday, you will receive 1/2 off bottles of wine.