It was an absolute blast visiting the Establishment in Midtown. The mood in the restaurant is lighthearted and old-fashioned with a modern twist. The food is absolutely incredible. We were able to try samples of creative Chef favorites.
First was the Big Boy Grilled Cheese, filled with grilled peaches, fresh mozzarella, basil, and balsamic reduction. It was warm, cheesy, and had the perfect amount of sweetness from the grilled peaches.
Of course, what is any good dinner without some greens? Establishment's Kale Caesar was absolutely delicious, with a house made Caesar dressing and crunchy roasted garlic croutons. The dressing was creamy and the kale was a baby kale, so it was light and easy to chew. The salad was absolutely delicious.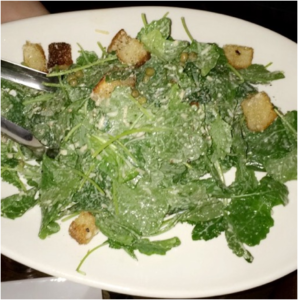 The lemon braised chicken and the steak were both served together. These two delicious meats were melt-in-your-mouth good with tons of flavor brimming from every corner.
Is it even a meal in Georgia without macaroni and cheese? Establishment's macaroni is an exception above all others, it was creamy with the flavor of so many different types of cheeses. It was served directly out of a cast iron skillet with breadcrumbs and herbs covering the top. This combination of crunch from the breadcrumbs and creamy from the cheese made a combination that any macaroni and cheese love would appreciate.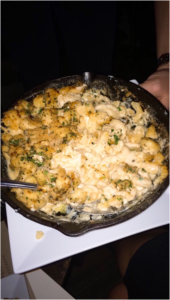 For dessert was their chocolate cake that had a chocolate frosting on top. Surrounding the cake was raspberry compote syrup, blueberries, and homemade, fresh whipped cream.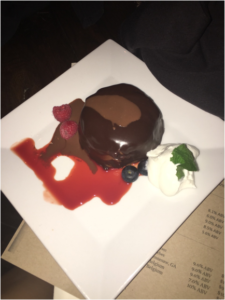 Dinner would not be anything without a round or two of drinks. We were fortunate enough to chat with one of Establishment's beer guys. He explained that they serve a selection of beers at different temperatures in order to maintain the full flavor that each customer deserves from the beverage. He explained that while beers are always served extremely cold, they do not give the drinker the full enjoyment from the essence of the beer.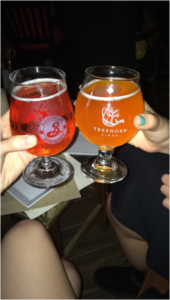 Overall, the evening at Establishment was beyond amazing. The food was incredible, the service was great, and the atmosphere was a blast.
"Chelsea Barbee is a third year student at Georgia State University. As a child, she loved to help her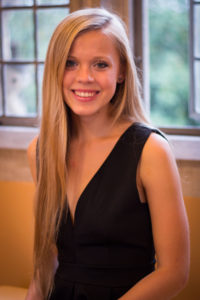 mom in the kitchen, whether it was sautéing mushrooms or baking chocolate chip cookies. After being diagnosed with hyperthyroidism in 2009, Chelsea began her true exploration into the world of food. Throughout the years, her food exploration slowly became her passion and is presently what makes her world spin. Now a resident of the ever-evolving foodie city of Atlanta, Georgia, Chelsea has the opportunity to make each day taste incredible. She enjoys learning and eating her way through the Atlanta food scene, one bite, crunch, and sip at a time. She spends her free time practicing yoga, eating way too much sushi, and wandering around Trader Joe's for hours on end."