J. Christopher's is a breakfast/brunch/lunch restaurant that features traditional home-style and healthy breakfast options. J. Christopher's first opened 20 years ago and has 20 locations in Georgia. They are open from 7 A.M.-2 P.M for breakfast and lunch. I went to the Kennesaw location at 2700 Town Center Drive for Sunday brunch with my boyfriend. J. Christopher's vibe is very homey and comfortable. Pictures and paintings that decorate the walls of the restaurant feature local artists. Their menu is full of variety of classic breakfast options with a different twist like with their skillet served options.
We started our brunch with coffee and a simple everything bagel with cream cheese. Tables have creamers and flavored jellies for convenient use. I got a classic black coffee and added my own milk and sugar. The coffee was lacking a little strength, but wasn't disappointing. Although I wouldn't go just for the coffee. The bagel was toasted nicely and had the perfect crunch when spread with soft cream cheese.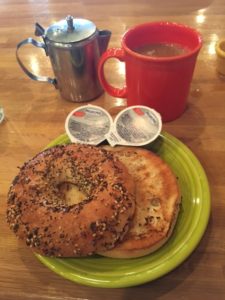 I ordered the Traditional off of the Morning Star section of the menu. The Morning Star section has 8 options and are all served with J. Christopher's signature oven-roasted potatoes or grits. The Traditional includes two eggs, thick-sliced bacon, roasted potatoes and your choice of an English muffin or biscuit. The potatoes were perfectly cooked, soft on the inside with the perfect crispiness on the outside. The biscuit was soft and flaky like grandma makes and delicious when topped with some butter and strawberry jelly. I had my eggs poached with no runniness and crispy bacon. All aspects of the dish complimented each other the way a traditional breakfast is supposed to and really hit the spot!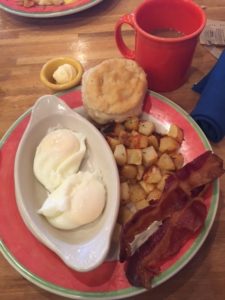 My boyfriend chose the Just Bubba, another option off of the Morning Star menu. It includes two buttermilk biscuits smothered in sausage gravy and served with cheddar scrambled eggs and roasted potatoes or grits. The biscuits were soft and perfect when drowned in the sausage gravy. The creamy gravy had the classic aspects of homemade sausage gravy: sweet, sausage and seasoned but not too spicy. The scrambled eggs had a great consistency and cheesiness, but we still needed to add some salt and pepper.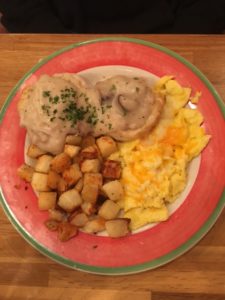 J. Christopher's has great service and very friendly staff. Next time I go I'd like to try more of their lunch menu items like the Savory Chicken Crepe or one of J's Premium Grilled Burgers. Overall, J. Christopher's is yummy family-friendly place for brunch and can satisfy all your breakfast and lunch needs when you're in the mood for some home-style traditional food.
For more information and to find a J. Christopher's near you check out their website:
Marcelle is currently a sophomore pursing a degree in Journalism and Art Photography at the University of Alabama. She graduated in 2014 from Kell High School in Marietta, Georgia, where she was the sports editor and photojournalist of her high school magazine, the Ink Well. Marcelle is currently working as an intern for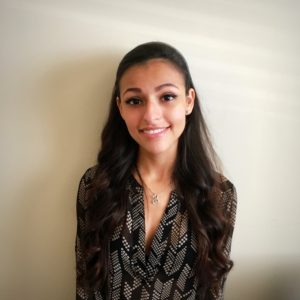 Limitless Peak, a winter sports company based in Colorado, her work can be seen on the company's blog The Peak. When she is not writing or eating she enjoys watching Netflix, playing piano and snuggling with her cat Vinny.