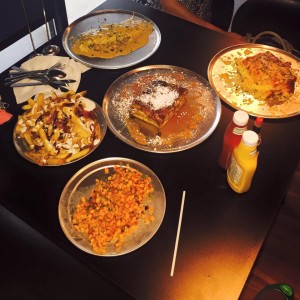 Overindulgent Yumminess is exactly what I indulged in when I stopped by !OY for brunch this weekend. !OY, which is short for Overindulgent Yumminess, is located in Vinings. This little piece of heaven just opened in July, but I am certain they will be open for decades. Husband and wife Adam and Allie Jaffe opened this restaurant with the idea that BIGGER is BETTER. The reason why I think this concept is pure genius is because NO ONE ELSE is doing this in Atlanta! Which I love! !OY takes classic brunches breakfast and lunch but makes the portions huge! Not to mention, breakfast is served all day! I was so lucky while I was dining because I had a chance to meet Mama Sherry Habif. Mama Habif's 30-year-old recipes are used on the menu and have really inspired the restaurant. For catering and event planning, Mama Habif is your go-to choice. When I was dining, I kept saying that the food was made with love—which means that it didn't take like restaurant food but truly tasted like a home-cooked meal. Everything here is made to order. Typically, you have your food brought to you within 10-12 minutes, which is pretty quick considering the portion sizes. I mean, the pancakes cover a 14-inch pizza pan  (and yes it's served on a pizza pan), the omelettes are GIANT (they are made using six eggs) and the French toast casserole and challah and egg souffle are about 8 inches apiece, and they are all DELISH. I was chatting with Allie, and I said that I can totally see !OY being featured on Man Versus Food or Diners, Drive-Ins, and Dives because their restaurant is so unique. Talented Chefs Tony Sharpe and Chris Johnson are kicking butt in the kitchen—they each have over 15 years of experience, and they are graduates of Le Cordon Bleu.
When I dined at !OY, I enjoyed:
Bacon and Bleu Fries:These fries were hot and crispy. They are 3/4 of a pound. And they are VERY generous with the toppings. You can never have too much bacon.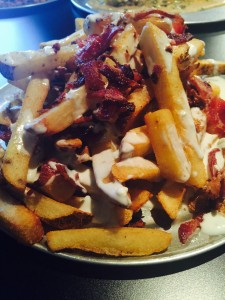 Sweet Potato Hash: Instead of hash browns, try the sweet potato hash. Baked with just enough sweetness with onions and green peppers. Delish.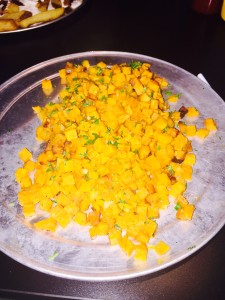 Decadent Challah French Toast Casserole: This was SO good especially because I had a STRONG sweet tooth the morning I dined. It was warm challah French toast smothered and covered, casserole style. It was really good and large. I had French toast topped with warm syrup. It was perfect a few hours later with some coffee before bed. YUMMY.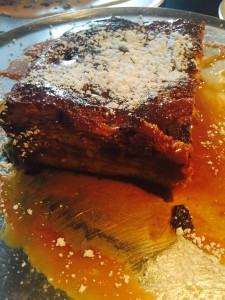 Philly Cheese Omelette: I love Philly cheesesteaks, so I had to try this GIANT omelette. I was not disappointed. This omelette contains 6 eggs, certified ground Angus steak, hot sauteed onions, spicy sauteed bell peppers, and it's topped with queso cheese dip. I was only able to eat half of the omelette. Other tasty omelettes on the menu are the Bacon Cheeseburger Giant 6 Egg Omelette, Stairmaster Giant 6 Egg Omelette, and the Picasso Giant 6 Egg Omelette.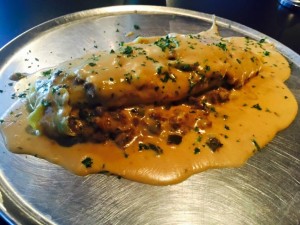 Juicy Lucy:Fun Fact About Me: I grew up in Eagan, Minnesota, about 25 minutes from Minneapolis. Growing up, I LOVED juicy lucys. So I was thrilled to see this classic on the menu. A juicy lucy is a cheeseburger that has the cheese inside the meat patty in addition to on top. A piece of cheese is surrounded by raw meat and grilled, resulting in a melted core of cheese within the patty. And really, how can you go wrong with a SIGNATURE COMBO OF BRISKET, SHORT RIB, AND CERTIFIED ANGUS BEEF?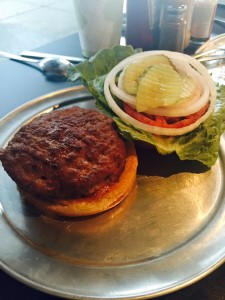 Blueberry Pancakes. Not only is this pancake hot, buttery, and sweet, but it's topped with blueberries. And there are blueberries throughout the entire pancake. In addition to blueberries, they also offer bacon pancakes, red velvet, and triple chocolate pancakes. This pancake is served on a 14-inch pan so it's plenty to share.
If you can manage, make sure to try the triple chocolate chunk cookies made from scratch. Or one of their GIANT chocolate and peanut butter squares that are TO DIE FOR.
This is one of my new favorites for brunch. I think it's awesome—I could easily take 2 girl friends with me, and we could eat 3 of anything together and still have plenty left over. Looking for a place to take your family? !OY is ideal for families because the portions are so large. Don't forget that they offer catering, so contact !OY for your next event.