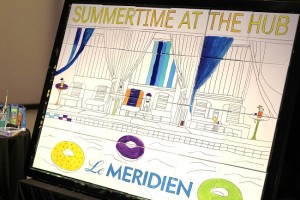 I had a great time hosting a June event at The Hub at Le Méridien Atlanta Perimeter Hotel.  Of course, it wasn't a party without my gal-pals, Allison Crawley from 'Peachfully Chic', and Kelly Boring from 'Kale Me Kelly'.  I knew it was going to be a great night when I saw that Kelly decided to wear a black dress. Why?  Because I, too, had on a black dress!  Great minds think alike; right?
We enjoyed great music compliments of one of my favorite DJs, Dj Hand
Of Grace, a create-your-own bourbon station, and delectable bites.  We gathered some of your favorite Atlanta bloggers and publicists for great laughs in a sophisticated environment.
After speaking with the chef, he decided the menu for the evening was going to be summer.  The menu was awesome, but the visuals of the food was jawdropping.  While at The Hub, we enjoyed such deliciousness.
The tomato was the main ingredient of the display, so we had the following: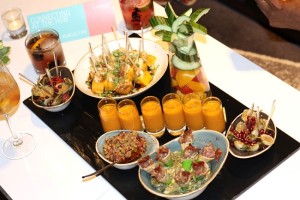 Georgia heirloom tomatoes served with fresh mozzarella, honeycomb and crispy shallots, extra virgin olive oil, which was from Georgia, balsamic vinegar, and micro basil.
Roasted albino eggplant, cherry tomatoes, pomegranate oil and seed.
Tuna Tartar
Sesame cone, shallot, chive and avocado cream.
Bonito, Tomato Confit
Roasted Tomato Soup
Onion, garlic, tomato, grilled and baked, extra virgin olive oil, vegetable broth.
Tapenade
Green and black olives, roasted pepper, garlic, olive oil, and Xeres vinegar.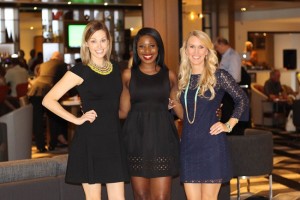 If you book a one-night stay at the Le Méridien between any Thursday and Sunday,  you will receive 20 percent off the Best Available Rates, 250 Bonus Starpoints, and a $50 credit to Portico.  That's a great deal; right?  I love the Le Méridien because the hotel's overall atmosphere is chic, trendy, and sleek.  It's definitely a really great place to have a drink.  And have you seen Portico?  Seriously, gorgeous much?
Needless, to say we had a blast. Make sure you stop by, you won't be disappointed.
Huge Thanks To Allison Crawley from 'Peachfully Chic  for the amazing photos in this post.