Max's Wine Dive
Address: 77 12th St Ne, Atlanta, GA 30309
Phone Number:(404) 249-0445
Hours: Mon-Thu 4pm-12:00am,Fri-Sat 11am-1am,Sun 11:00am-11:00pm
Website: http://www.maxswinedive.com/
Facebook: https://www.facebook.com/MWDAtlanta
Twitter:@maxswinedive
Fried Chicken and Champagne?. . .Why the hell not?!   Who wouldn't be intrigued by that slogan?  Located in Midtown, MAX's Wine Dive isn't your typical wine bar.  It truly is a step above the rest.  They have the option for outside dining and a bar with plenty of space.  They also have very unique photos throughout the restaurant with various mugshots of celebrities.  They also have a juke box to listen to some tunes.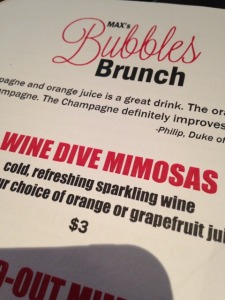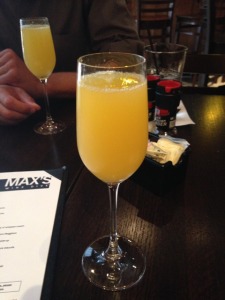 Freshness is a must at this restaurant.  Everything is made in-house daily except for the ketchup.  Your server will open any bottle for you.  No matter which bottle of champagne or wine, the price doesn't matter just as long as you purchase two glasses of the bottle selected.
I love fried chicken, but I love champagne more!  It's the best of both worlds, and a match made in food heaven.
The six things that I love about MAX's Wine Dive:
1. Brunch is offered Friday through Sunday.
2. Who doesn't love a glass of bubbly champagne?  MAX's Wine Dive has over 20 options of champagne and wine to choose from.
3.  For your friends that eat gluten-free foods only, they, too, will have a great time because this restaurant offers several gluten-free options.
4. The service!  Each time that I walk in, everyone is so lovely with smiles that will brighten your day!  They enjoy their job, and you can tell by the way they accommodate all visitors.  I simply love it!
5. If comfort food is your thing, this is the place!  From fried chicken to collard greens, you're going to gain some weight, but it will be totally worth it.
6. The restaurant's name means something.  It is named after the owner's oldest son, Max.  How cute is that?!
7. Who doesnt love Mimosa's Specials? Max's offers $3 mimosas on Sunday!
Must Try's:
1. Fried Chicken-Jalapeño-buttermilk marinated chicken with home fries, collard greens and Texas toast. Make sure you request the chipotle honey…It's AWESOME! This Famous Fried Chicken is marinated in the signature jalapeño-buttermilk and deep-fried "slow and low" at 250oF in order to keep its juiciness and rosy color.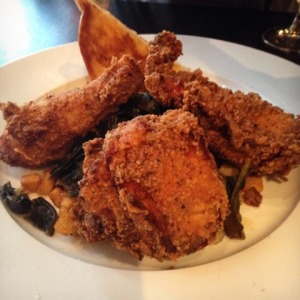 2.  Chicken Biscuits & Gravy- Fried Chicken tenders, Southern-style biscuits, and country gravy. The biscuit was so fluffy and the crispy chicken with the warm syrup made my brunch a little better!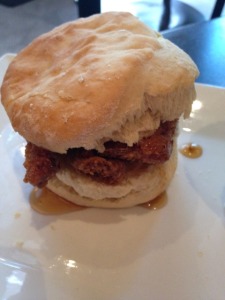 3. Hangover Fries- French fries, layered with country gravy, white cheddar, scallions, and two eggs sunny-side-up. I preferred my eggs scrambled, but this is my FAVORITE dish on the brunch menu!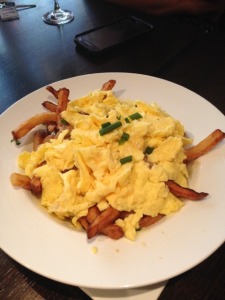 4.Fried Gulf Coast- Oysters on wonton "chips" with garlic aioli, habanero salsa and cilantro.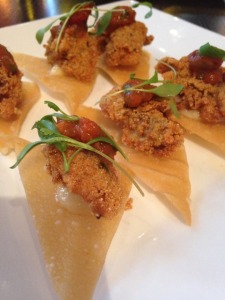 5. When I viewed the menu and read house-made beignets dusted with brown sugar, bacon and cinnamon my diet went out the door. So sweet and scrumptious!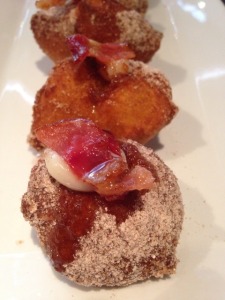 6. Who doesn't love Bagel and Lox? Espeically mini's!!! These Bagel & Lox minis are served with smoked salmon, everything bagel, cream cheese schmear, red onions, and capers.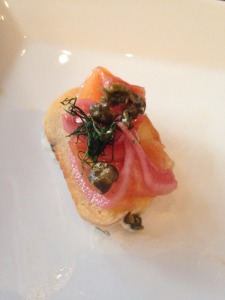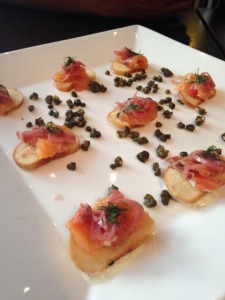 This concept is one in a million, and I cannot think of a more perfect pair than fried chicken and champagne.  Make sure you stop by and have yourself a glass of bubbly and some hot fried chicken!  You will thank me later.