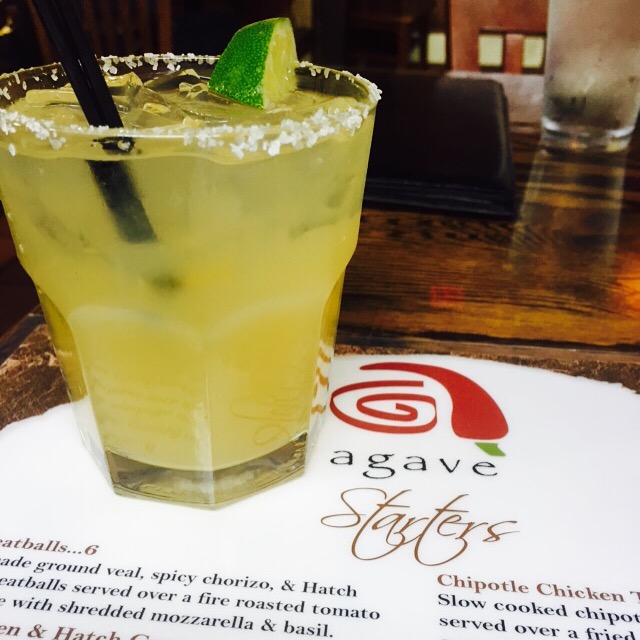 Being a foodie, everyone expects you to know every fabulous restaurant, every awesome chef, and virtually every hot spot.  Talk about the pressure!  Well, I'm a little disappointed in myself that I had no idea about Agave!  Known as an eclectic southwestern eatery and tequila bar, it's been a hot spot in Atlanta for over 15 years!  Crazy; right! During this foodie adventure I invited some of my favorite bloggers Peachfully Chic, Happily Eating, and A Taste Of Our City to join me!
Well, since I found out about this awesome eatery, I have been back twice.  Located in Cabbagetown, Agave has a fantastic southwestern menu with quality food, not to mention their pricing is very reasonable.  It offers a very unique menu along with award-winning margaritas.  You also have the option to pick from 100 wines and 100 tequilas from the bar.  You will never run out of options at Agave!
They have won tons of awards and various accolades for their award-winning cuisine such as "Top 20 Restaurants in Atlanta" and "Atlanta Cuisine Top 50 Restaurants in Atlanta" featured in Jezebel Magazine.
The food is every bit as tasty as the menu descriptions, and the menu descriptions?  Well, they promise spicy and savory southwestern flair of all variety.  There are no microwaves or freezers on sight.  If it's not fresh, Agave doesn't serve it!
Agave Chopped Salad
Mixed greens, black beans, mango, tomato, avocado, corn, red bell peppers, & applewood smoked bacon tossed in green chile vinaigrette and a spicy ranch drizzle served with crispy corn tortillas.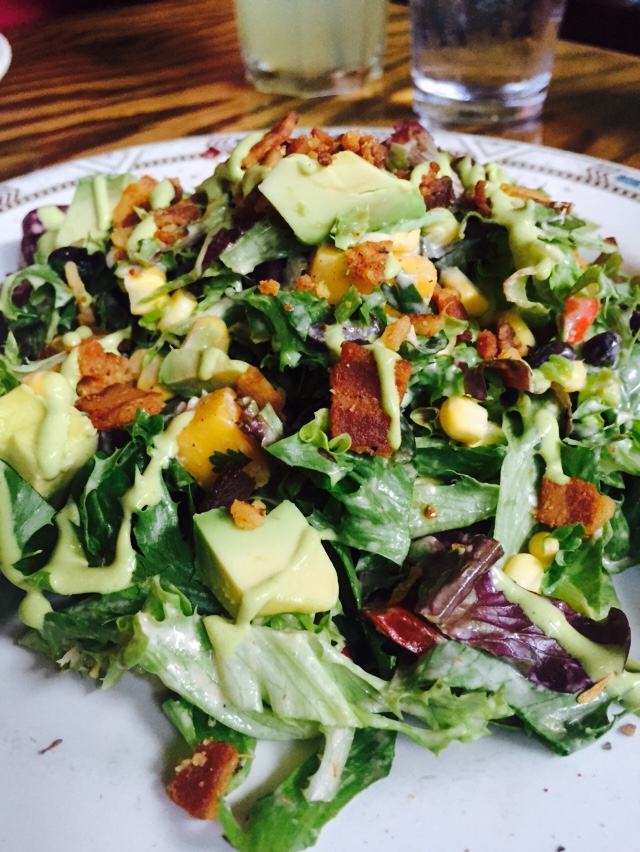 Spicy Serrano Tuna Crudo
Chile crusted rare sashimi tuna, serrano & cucumbers with aji chile & a citrus soy sauce.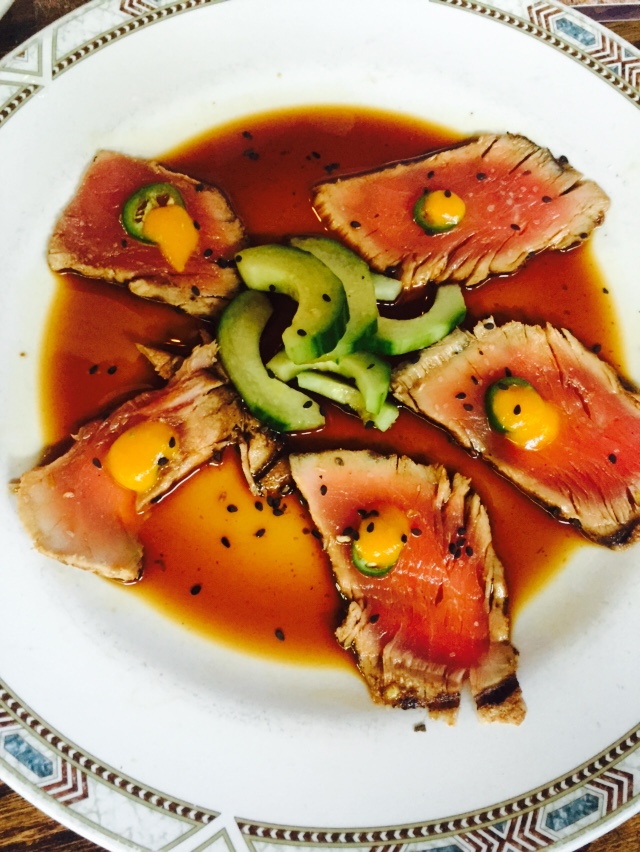 Salmon a Las Brasas 
Hickory wood smoked salmon dip with jalapeno cream fraiche & fresh squeezed lime served on crispy yellow corn tortillas.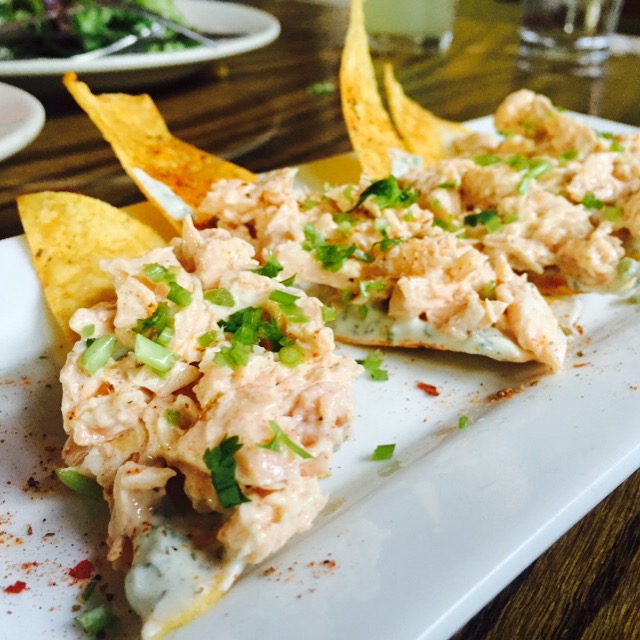 Meatballs
These meat balls were like no other. The meatballs were Two homemade meatballs
with ground veal, spicy chorizo, & Hatch green chile meatballs served over a fire roasted tomato
& serrano sauce with shredded mozzarella & basil. They were so good but slightly light to be
Meatballs. I didn't have a heavy feeling after eating this appetizer.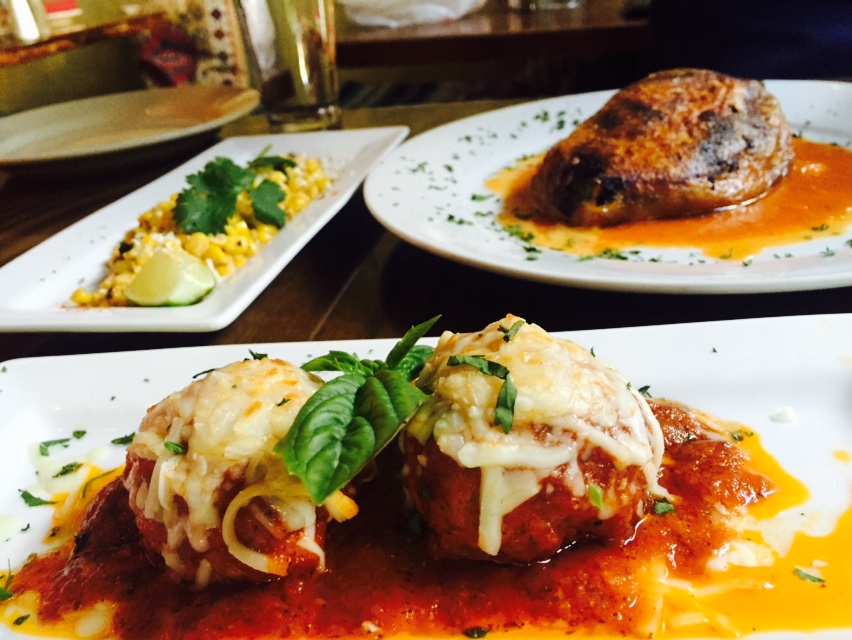 Relleno
This pepper was incredible. First they take a large roasted poblano chile and stuffed it
with tender pieces of strip steak, mixed peppers & white Mexican cheese. Then they
pan seared and then baked over a fire roasted tomato & serrano pepper puree. Pure perfection!
Make sure you try it! You won't regret it!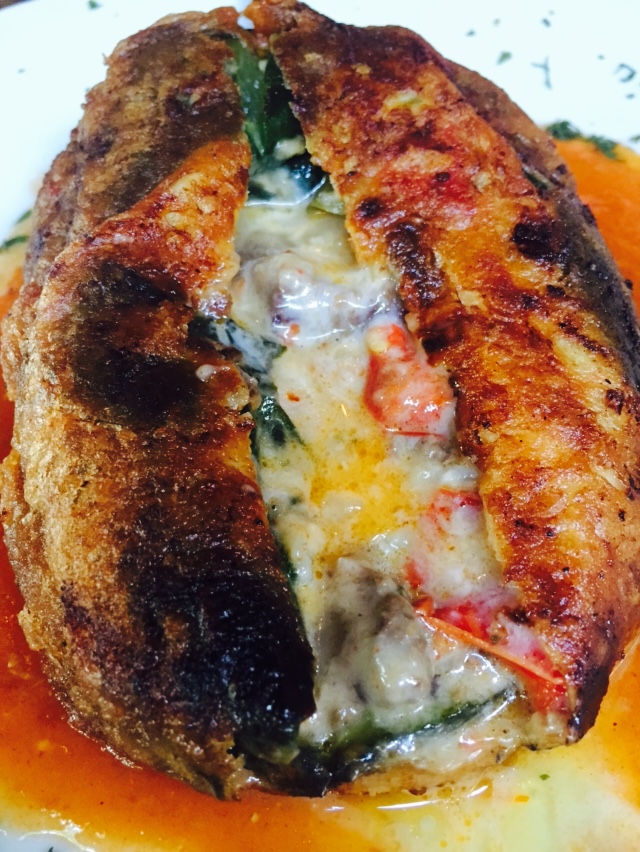 Slow Braised Beef Shortribs
Boneless angus beef shortribs marinated in herbs & chiles and slow braised topped with an ancho chile veal demi glaze accompanies with Yukon gold mashed potatoes & grilled asparagus.
Ceviche Martini
Chopped gulf shrimp & sashimi tuna over organic greens marinated in lime, oil, serranos & cider vinegar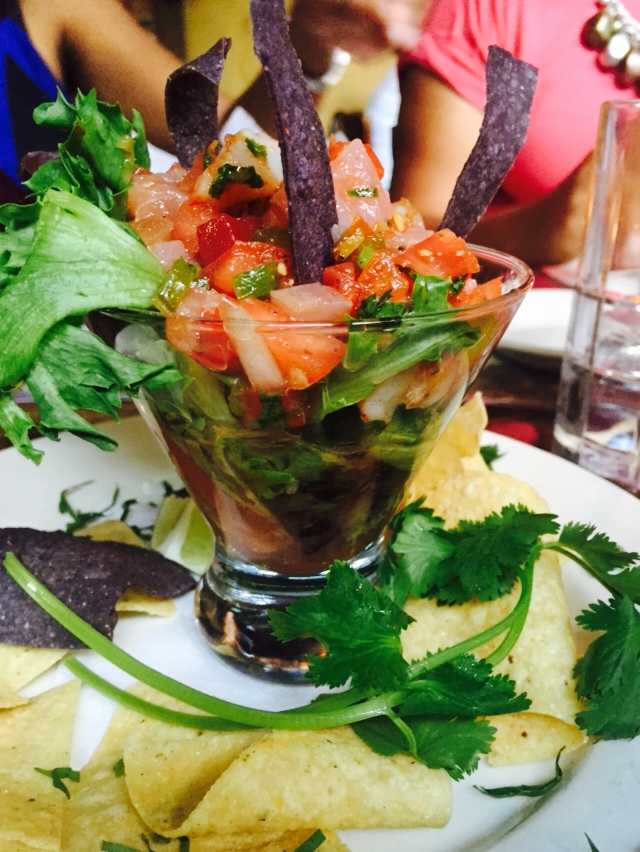 Grilled Sweet Corn
Sweet yellow corn on the cob chargrilled and topped with spicy roasted garlic butter, citrus crema & queso fresco.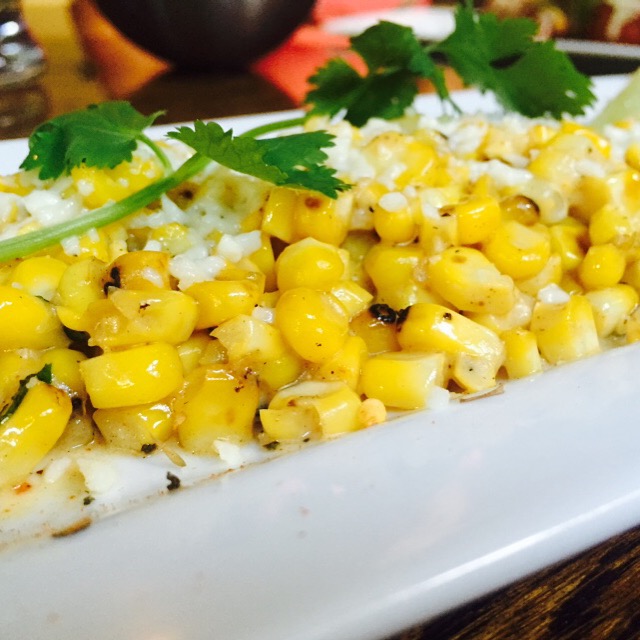 Spicy Peanut Butter Mousse Pie with a Spiced Pecan Brittle