The Optimist
Address: 914 Howell Mill Road, Atlanta, GA 30318
Phone Number:(404) 477-6260
Website: http://theoptimistrestaurant.com/
Twitter: https://twitter.com/theoptimistatl
Instagram: http://instagram.com/theoptimistatl
On a nice Tuesday afternoon, a good friend and I decided to enjoy a great lobster roll and cocktails. I was going to stop by Tin Can Fish House & Oyster Bar, but they did not open until 5 p.m. So she and I decided to visit The Optimist located on Howell Mill Road. I have always enjoyed dining at the The Optimist, but it was my first time dining there for lunch. I sat at the bar, which was perfect because the bar offers free W-Fi.
Lunch was just as enjoyable as dinner. This particular afternoon I wanted a little bit of everything. I was starving, and my friend was late, so I enjoyed a few East Coast oysters and a cocktail. The East Coast oysters were served with raspberry point pei, and they were simply amazing. The raspberry point pei was an excellent compliment. The Winter On Cape Cod cocktail was a mixed cocktail with citrus infused vodka, cranberry juice, Avissi prosecco, poached cranberries, and rosemary. It wasn't too sweet, but it was a perfect blend with the citrus vodka and the cranberry. It was very smooth and quite enjoyable. When my friend arrived, she and I tried the chowder fries. Let me tell you: They were pure perfection. The fries were topped with clams, white cheddar cheese, and plenty of bacon. I mean, who doesn't love plenty of bacon?! For it to be an appetizer, it was quite filling.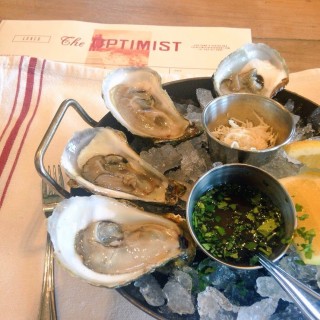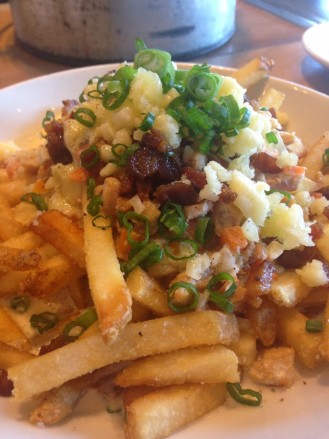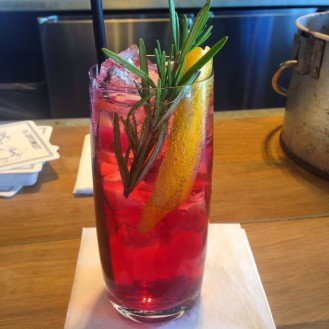 For our entrees, we split our sandwiches. We enjoyed the shrimp burger with shoestring fries in which they were flavored with malt vinegar aioli, and, of course, lobster roll. This shrimp burger was extremely filling, and the shrimp was very abundant. The lobster roll had tons of lobster meat. Typically, I prefer my lobster rolls served warm with butter. This roll was served chilled, but it was really good with the hot toasted bread
.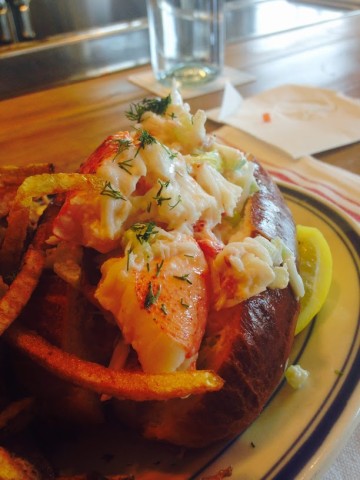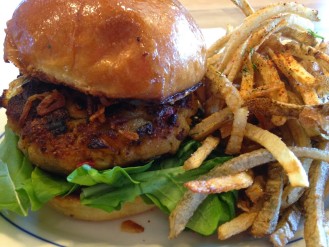 Lunch at The Optimist was delish, and I shall return!