Va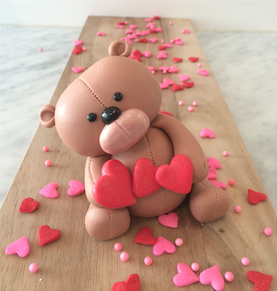 lentine's Day Decorating Class at Mae's Bakery with Atlanta's Master Cake Decorator to the Celebrities 
On Friday, Feb. 13, aspiring cake artists are invited to learn trade secrets from the best in Atlanta.  Mae's Bakery is inviting guests to an exclusive Valentine's decorating class with its lead cake artist, Marian Rescigno, who designs unique and memorable creations for the likes of Usher, Chevy Chase, the cast of "Walking Dead" and many others.
During the class, from 7-10 p.m., each attendee will receive:
Step by step instruction and demonstration from Marian on how to create a Valentine's fondant teddy-bear topper
All supplies and tools need to create the topper
A jumbo cupcake on which to place the topper
Complimentary snacks and coffee from the bakery, and one complimentary glass of wine
Marian Rescigno leads the custom cake program at Mae's Bakery, and Mary Hosch leads the wedding cake program.  The duo has led cake programs together across the city, including previously creating masterpieces at Highland Bakery.  The two are known for their ability to bring anything to life as a cake, from a garden gnome statue to a gravity-defying carafe pouring a cup of coffee.
Cost for this event is $75 per ticket. To register and payfor the class, please call Mae's Bakery at (404) 565-0938.  Only 20 seats available, so register soon!
When:        Friday, February 13, 2015, 7-10 p.m.
 Where:         Mae's Bakery, 2770 Lenox Road B4, Atlanta, GA 30324, (404) 565-0938
About Mae's Bakery 
From the intimate birthday celebration to the large corporate event, Mae's is happy to fulfill all of your baking needs. Specializing in cookies, cupcakes, whoopie pies, and dessert bars, Mae's bakes all of its treats fresh from scratch using the finest natural ingredients. At Mae's you can also find mouth-watering muffins, croissants, and savory rolls, as well as top-quality Counter Culture Coffee. From tasty time-tested treats like chocolate-chip cookies, to unique seasonal creations throughout the year, Mae's guarantees to make your life sweeter with every bite. Mae's also offers a wide variety of gluten-free and vegan treats. For more information about Mae's Bakery, please visit http://maesbakeryatl.com/ or Mae's Facebook page https://www.facebook.com/maesbakeryatl