An Atlanta-based personal chef, Willis is a culinary graduate boasting over 12 years of restaurant hospitality experience. She's been a part of the Atlanta culinary scene for 6 years now and has a particular passion for globally influenced cuisine.
Her talent doesn't stop at just her culinary experience – Willis is also a TV/media personality. Relatively new to the spotlight, she has recently appeared on The Today Show, Hallmark Channel: Home & Family, Food Network's Cooks vs. Cons, and more. 
Now, let's get to know Chef Willis…
Why did you decide to become a chef?
With any passion or career path, it's all about the WHY. Over the years and as my career and brand have developed I've changed my answer so many times and I believe that's because of the growth in my career. Currently, this is what I do know – I became a chef simply because I was curious about food, the flavour profiles and how it brings people together through celebrations, and the hard times. It's become such a huge outlet for people to share their unique story around a dinner table. With that said, I've fallen in love with how food unites a community and it has the ability to touch every soul.
What has been your most fulfilling moment as a chef?
I grew up in the restaurant industry from the age of 15. I jumped head first into a world full of valuable life lessons that only the restaurant industry could teach. I think the food scene and community of chefs that are in this share a common understanding of what it takes to do what we do every day. It's the pure grind and hustle- you have to truly love it to thrive. There's absolutely no greater feeling than perfect food every time.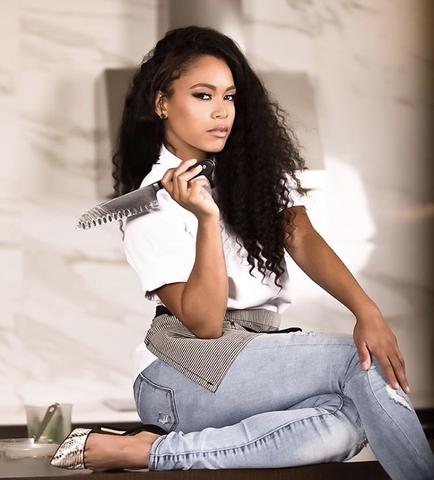 How is it being a woman in a male dominated industry?
The truth is yes, there are some disadvantages like the struggle for equal pay, sexism, competition and workplace harassment. However, it's not about the disadvantages. Being a woman in the kitchen or in any industry comes with so many more advantages and we should celebrate that! Naturally in the kitchen, we're caretakers, teachers and mentors but also we have the ability to multitask. These skills are something that I believe should be capitalized more. At the end of the day when I walk into any kitchen, my goal is to always cook to the best of my ability and be recognized as a great chef regardless of my gender.
What make or break moment has shaped you into the person you today?
I have so many of these but a few, in particular, come to mind – in 2017 my dad passed away from heart failure. He was one of my biggest supporters and I was crushed and completely devastated when I had to live a "new normal" of life without his guidance and advice. But because he invested so much time into my career and life, I can't give up on my dreams – he truly keeps me going when I'm ready to throw the towel down and walk away. I owe it to him to keep going every time I look at the mixing bowls, cutting board, and other various kitchen equipments he gifted me for those are the small reminders to keep going.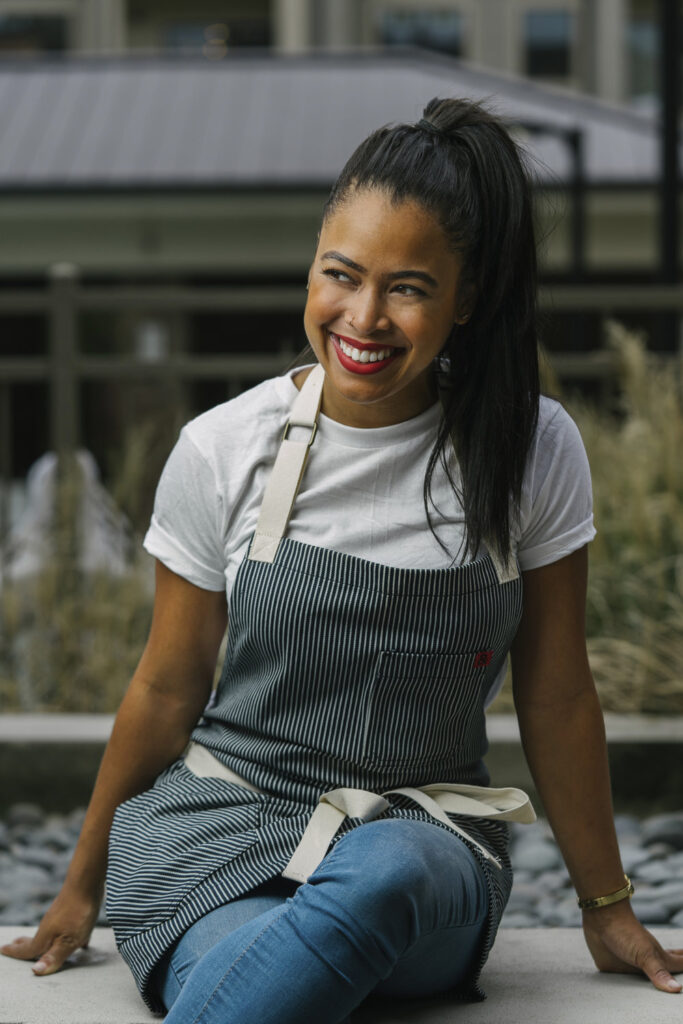 What advice would you give to an up-and-coming chef?
1. Be multifaceted – don't let yourself get put in a box. it's so easy to be labeled and put into a box of a certain culinary style. When that's done it's hard to break out of that when you're growing and expanding your band / career so be mindful of that.
2. Take risks and really stretch your potential. It's extremely important that you take on
challenges that will get you out of your comfort zone – in exchange these will be the building blocks of your career!
3. Build your confidence! It's okay to not know everything but walk into these situations with an open mind, don't give up, and focus on learning to put one foot in front of the other.
What do you do to stay current with food trends?
Travel! That's the best way to immerse yourself with food and how people are creating amazing dishes and sharing their food culture to the world.
How are you handling the impact of COVID-19, to the culinary industry?
It's been a challenge yet I've been changing my approach. Adapting to using my platform on social media to give people hope and somehow teach a new cooking skill along the way! Also, it's allowed me to reset, be selfless and take this opportunity to re-think how the food industry will change.
What is your favorite cuisine to prepare and why?
Mediterranean Cuisine is my favorite. Clean ingredients and there's so much love put into every dish. Making pasta with the best and finest 0f flour is my favorite thing to make. The time it takes to make the pasta dough and roll it out is very special.
What is your favorite quote & why?
James 1:2: Consider it pure joy, my brothers and sisters, whenever you face trials of many kinds, because you know the testing of your faith produces perseverance.
This is so important to my life right now because the glory is in the grind and tough times but we must embrace them during the process.
What can we expect from you in 2020?
Expect more live tv cooking segments, how-to cooking demos on social media, and a few brand ambassador opportunities coming soon! I'm also so excited to be working with Pinterest when they come to Atlanta in August for a live stage cooking demo! 2020 has been an encouraging year and I'm ready to see what the rest of the year reveals!