Let me be blunt– The Alden should be filled, with a waiting list, every night that it's open. It's easily one of the Atlanta area's best restaurants, and yet neither Erica nor I had been there (and I'd never heard of it) before our recent chef's table dining experience. Since then, I have yet to stop witnessing to people about the works of art Chef Jared Huck is creating in his chosen medium of food.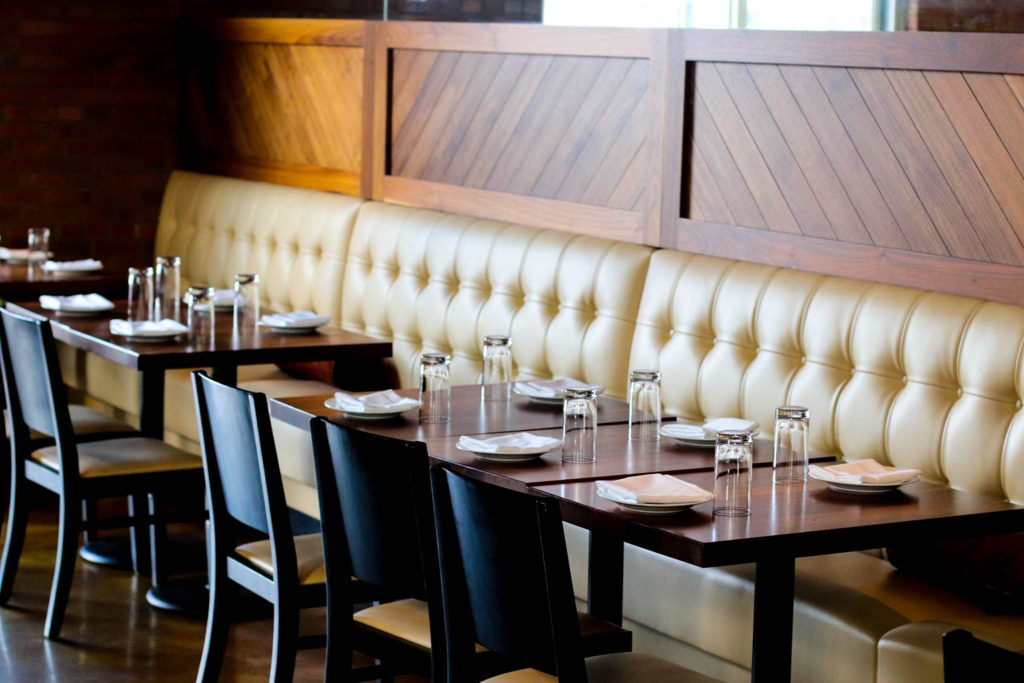 After graduating from the French Culinary Institute and cooking on five continents in some of the world's best restaurants, I would say Chef Jared boasts an impressive pedigree, but this Atlanta native is so humble and kind, the word "boast" has no place near him. After seeing the world and experiencing its flavors, he decided to come home to his Chamblee neighborhood and share his love language with his community.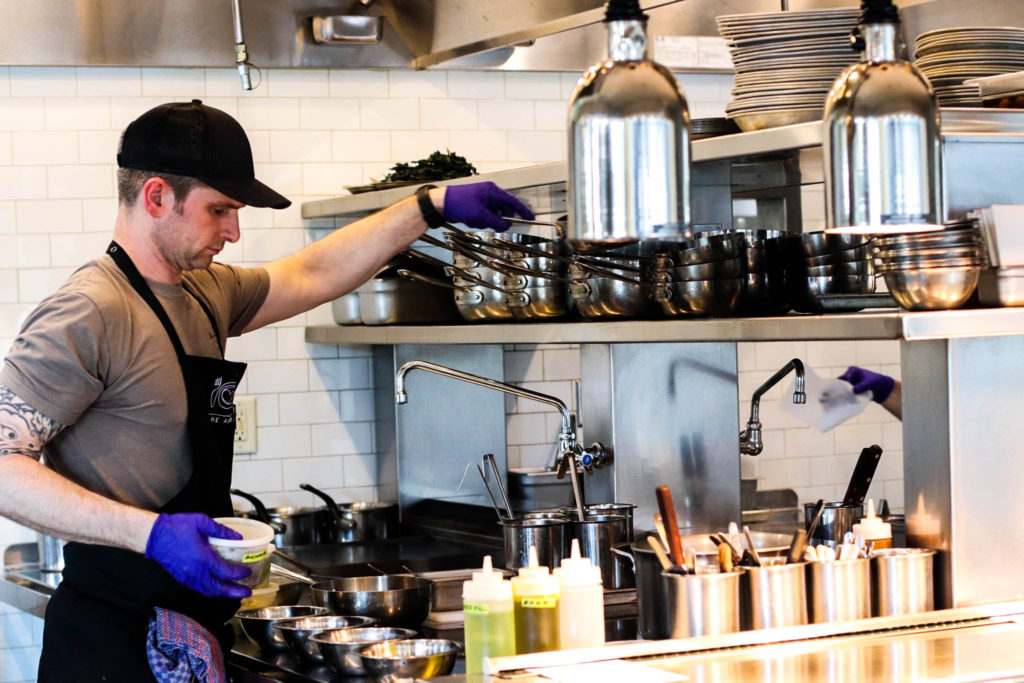 As I've been telling people about this incredible dining experience, I keep describing it as a memoir where the story is written by food. The base element of almost every dish on The Alden menu has Southern DNA, but shows Chef Jared's journey around the world. It was truly a pleasure to sit at the bar overlooking the cleanest kitchen in Atlanta and watch art come to life.
First Course: Cheese Plate with Sourdough, Paired with Dog Point Sauvignon Blanc, 2017 (New Zealand)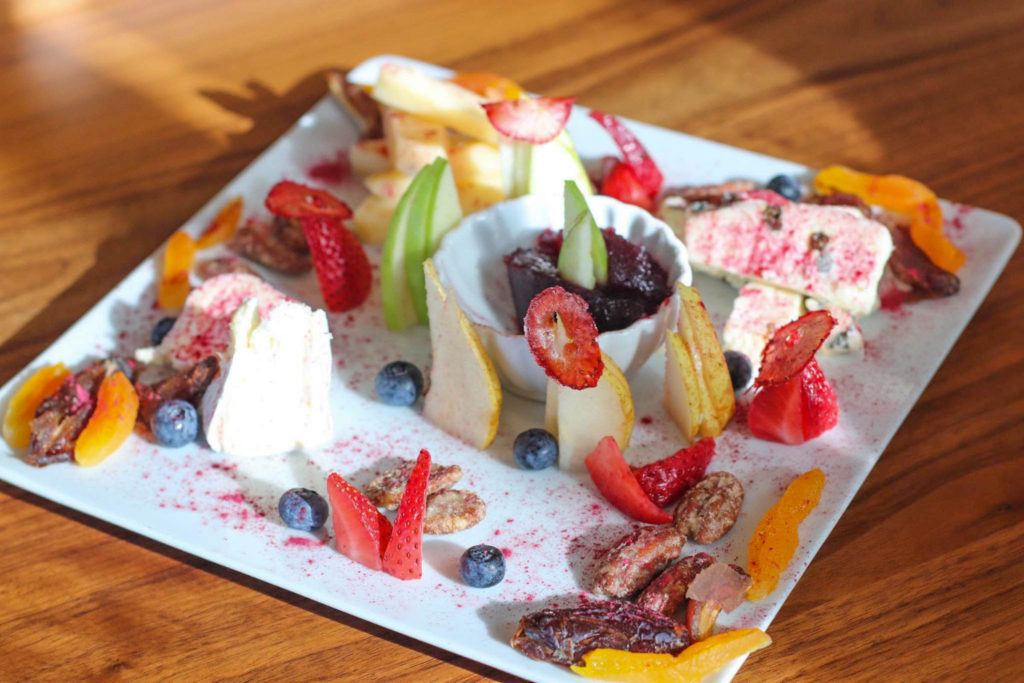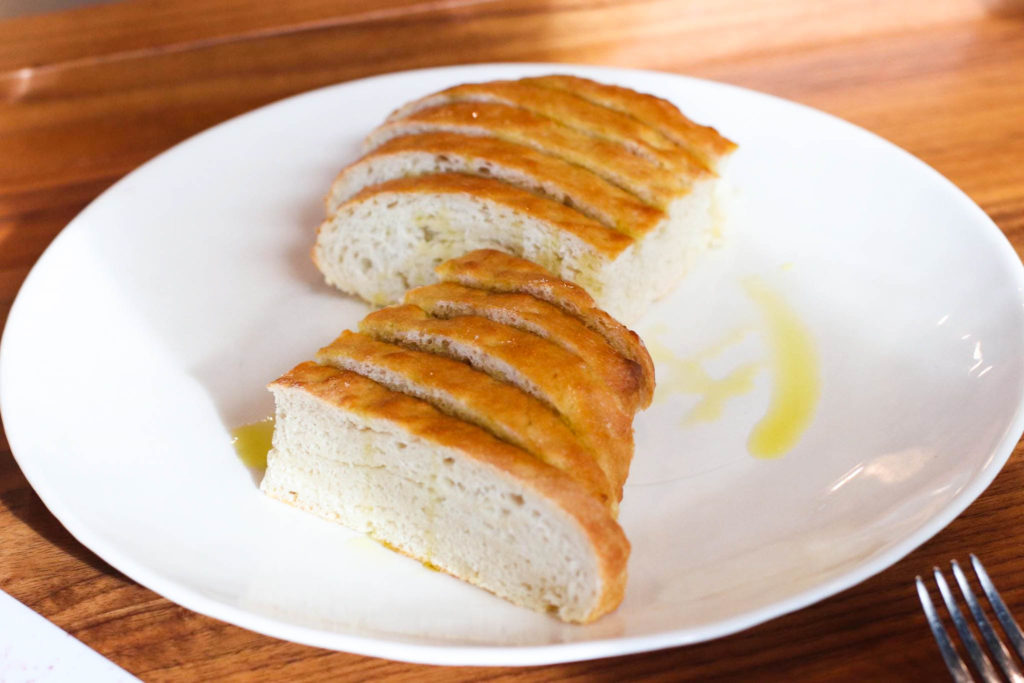 This dream cheese plate features rotating cheeses, but on the evening we dined, There was a St. Steven Triple Cream, Blue Jay Blue Cheese, and a North Carolina Gold Lady Gouda. Accompanied by red wine jelly, gooseberries, Bartlett pears, Granny Smith apples, and a variety of seasonal fruits, this plate paired perfectly with the house-made sourdough (baked fresh throughout the day) and the beautiful Sauvignon Blanc. I'm not ashamed to say Erica and I ate the entire thing.
Second Course: Pan-Asian Egg, Paired with Christophe Cordier Bourgogne Blanc, 2016 (France)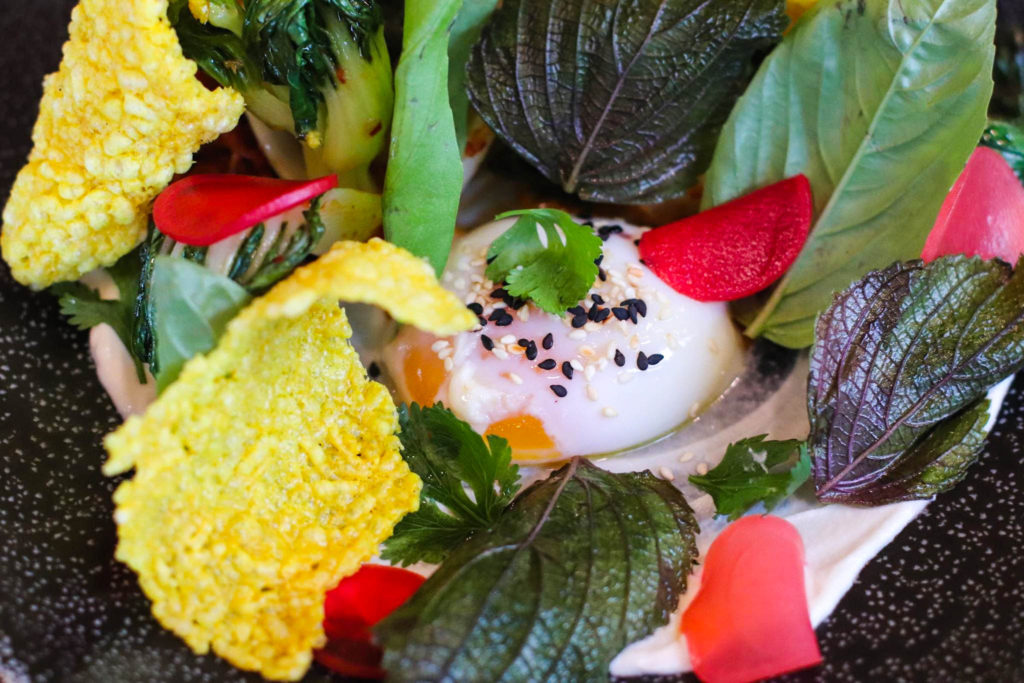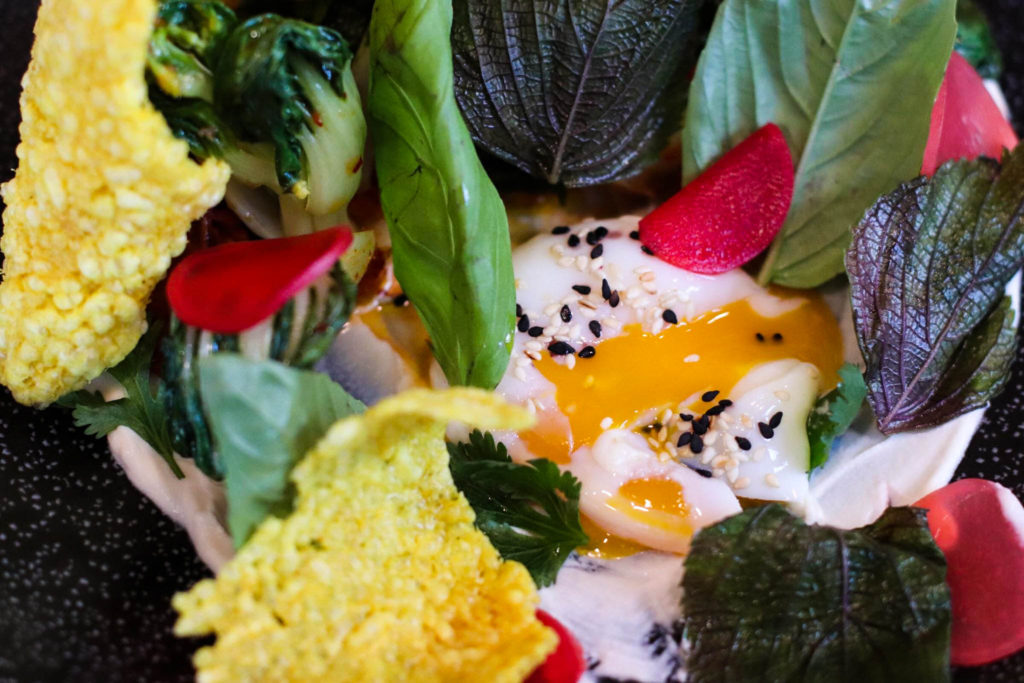 While this looks like one of the least-Southern dishes on the menu, every ingredient is local and chosen with care. A beautiful sous vide egg tops a salad of thin radishes and house-made kimich (aged six months) and creates its own beautiful, runny sauce that gets perfect texture from the rice crackers. If you're a savory breakfast person, this dish would be perfect three meals a day.
Third Course: Sorghum-Glazed Cheshire Pork Belly, Paired with DuMol Sonoma Coast Chardonnay, 2015 (Sonoma County, California)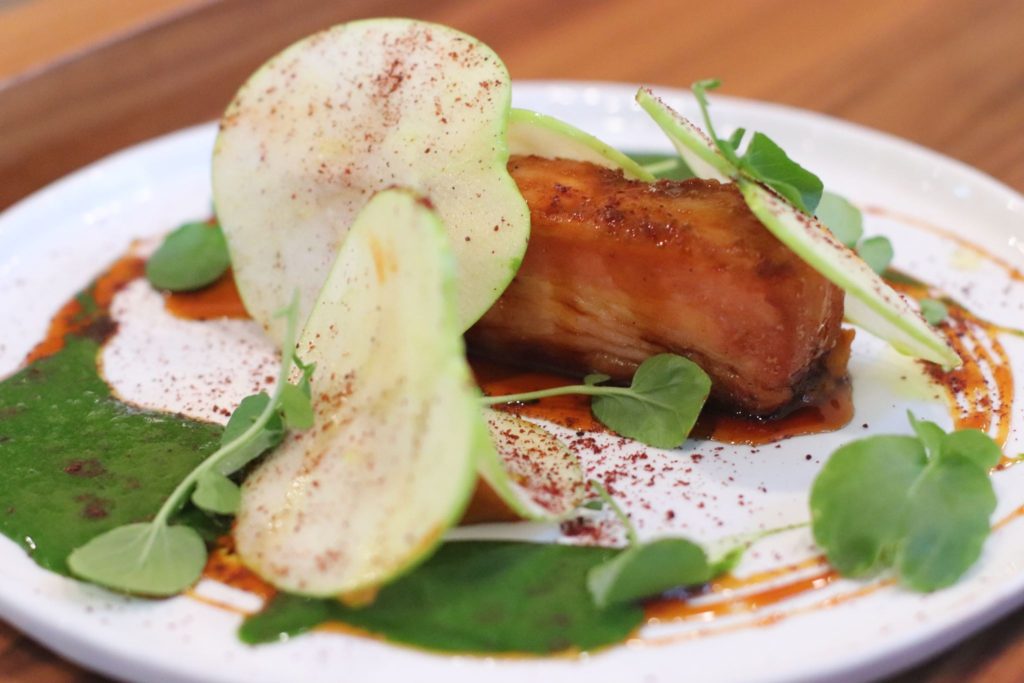 This was easily my favorite dish of the night. With sorghum, sweet potatoes, and kale, you'd think this pork belly dish would be too heavy for a summer menu, but this homage to fall flavors was actually extremely light. This dish is a great example of Chef Jared's skill because it takes a true master of his craft to understand how to marry the proportion and balance a dish like this requires. The chardonnay was a perfect choice as it had enough heft to stand up to the richness of the pork without killing all the other flavors on the plate.
Fourth Course: Blackened Red Snapper, Paired with Not One IOTA Pinot Noir, 2015 (Willamette Valley, Oregon)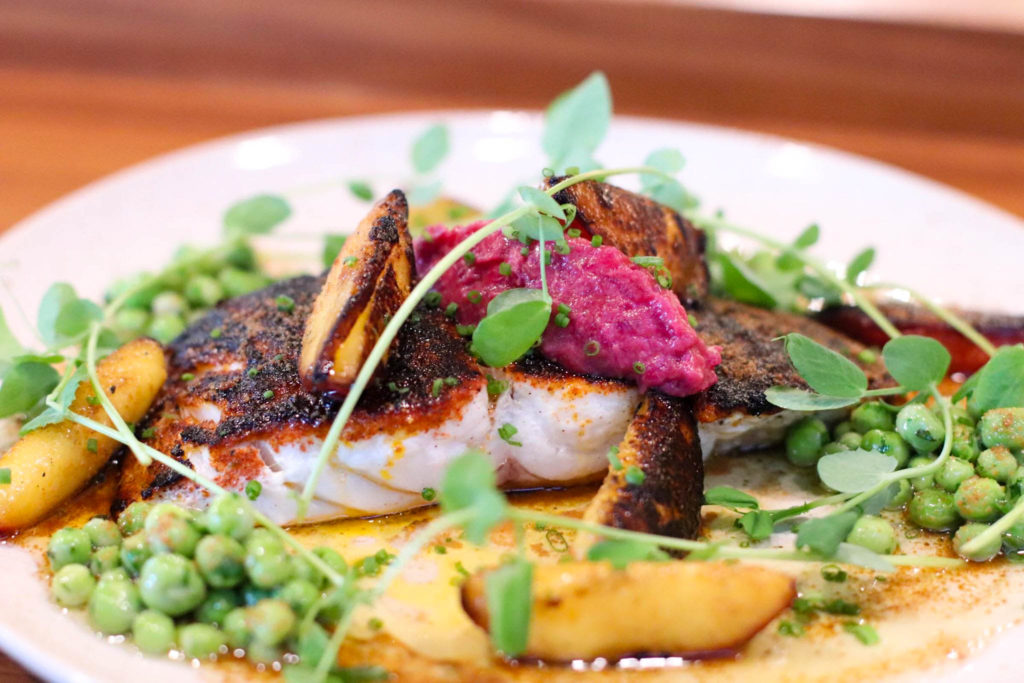 In a way, it's a shame this was my first experience eating red snapper because it was so incredibly delicious, I don't think any other red snapper dish will ever compare. The snapper was perfectly cooked, its meaty skin moist and the blackened skin added a necessary texture to the fixture. It was accompanied by perfectly crisp-tender English peas and roasted Georgia peaches, which helped create an elegant, but approachable, dish. The pinot noir ended up being an excellent choice for the meaty fish and I don't believe a white wine would have served it as well.
Dessert Course: Buttermilk Vanilla Panna Cotta, Georgia Strawberry Crepes
Erica and I ended our meal with two desserts that celebrate summer flavors. First we had the Georgia Strawberry Crepes with a red wine reduction and house-made chocolate gelato with cocoa nibs. It was a fantastic mix of flavors with the sweetness of the crepes and whipped cream balanced by the acidity of red wine and bitterness of the gelato. The nibs in the gelato also added some needed crunch and texture to the dish.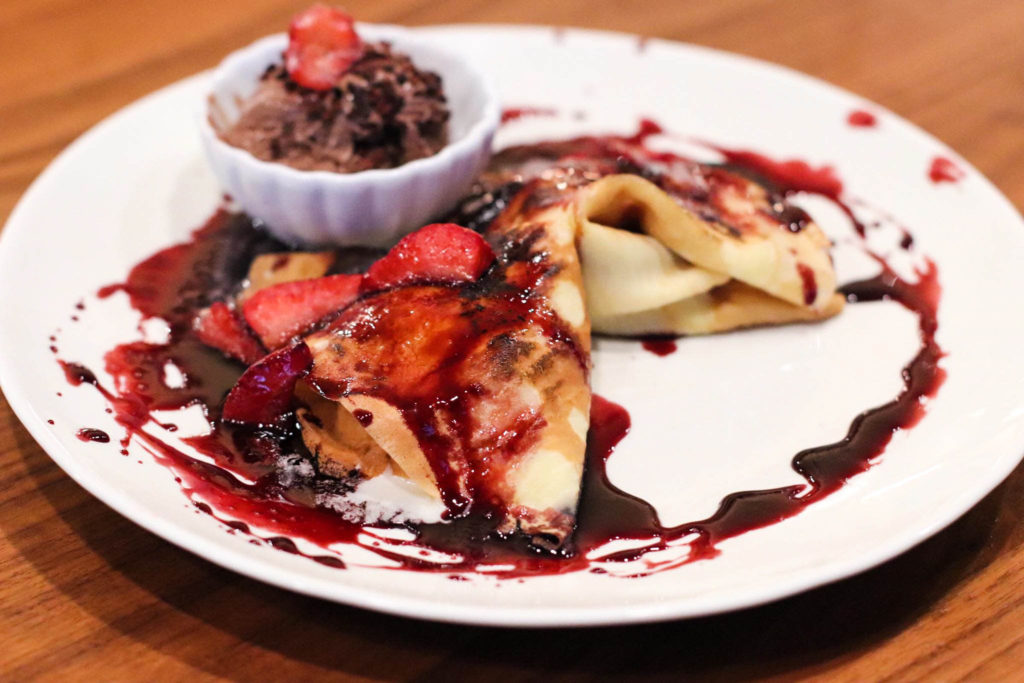 However, the panna cotta won my heart by a slim margin. It was silky and firm, and topped with a lovely peach caramel, and local honey. How local you ask? It's from Chef's Jared's own bee hives! But what pushed this dessert over the edge for me was the gouda crisp on top of the panna cotta. It added the perfect amount of salt to the dish, and I would have eaten a basket of them with this dessert.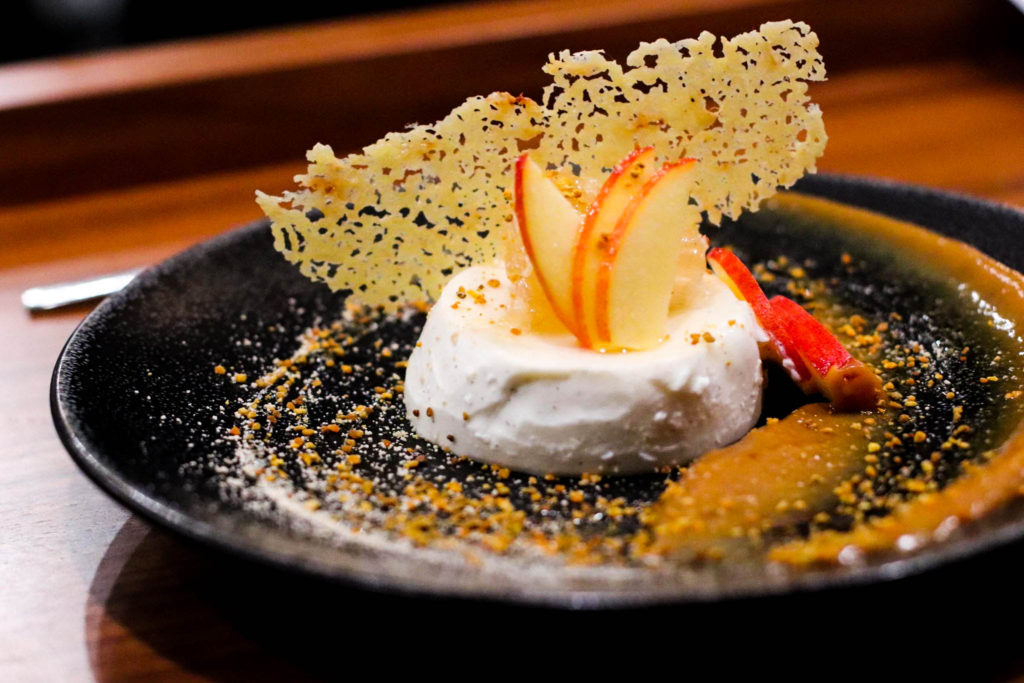 This 14-month-old restaurant is a gem in Atlanta's crown, and I still don't feel like I can adequately describe how wonderful the experience is. From the greeting at the door to the meal to the final goodbye, you're going to feel like a valued member of The Alden family… if your family happens to have the best chef you've ever met.
Follow The Alden on social media: @thealdenATL (Facebook), @thealden_atl (Twitter), @the_alden_atl (Instagram)