Recipe: Steak Crostini with Horseradish Spread
If you follow me on social media, then you know that I love shopping at The Fresh Market.  It is my favorite one-stop shop for all of my grocery needs.  And it's  close to my home.  The Fresh Market offers specialty foods with exceptional quality, the finest ingredients, and superb customer service.  You'll love their assortment of wines, an impressive cheese selection, and the freshest produce.  
Until recently, I had no idea that The Fresh Market offered butcher quality meats.  Their USDA Prime beef  is the juiciest, most tender, and flavorful beef that you can buy.  While shopping, I learned some great tips on how to cook the perfect NY Strip steak. 
1. With USDA Prime, you don't need to do much when it comes to seasoning.  Coarse salt, freshly cracked black pepper, and maybe a pat of butter.  That's it.  You should let the steak's beefy flavor speak for itself.  Flank steak is the exception because it takes beautifully to marinating.  Just be sure to pat the steak dry with paper towels before cooking, to aid the browning process.
2. Always allow the steak to rest for a few minutes before serving so that the juices, which have been moving around due to the heat, can redistribute themselves throughout the meat. 
3. For the best browning, use a very hot skillet or grill. Avoid continuously turning the steak so the crust can form.  This will also allow the steak to be flipped without sticking, as the crust will separate the meat from the cooking surface. 
4. After seasoning your steak, let it stand at room temperature for 15 to 30 minutes before cooking.  The steak does not need to completely reach room temperature, but it is good to take off the refrigerator's chill for more even cooking. 
5. As a timing rule of thumb, allow three to four minutes per side for a 1-inch-thick steak.  Make adjustments for steaks that are thicker or thinner.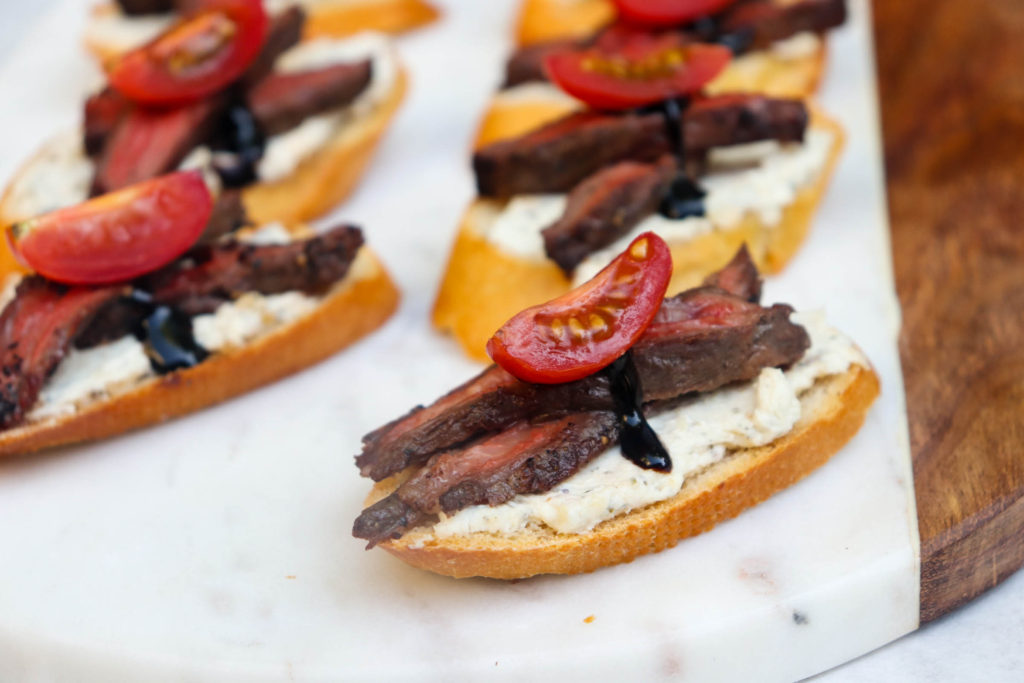 I had been wanting to curate this steak crostini with this horseradish spread recipe for a while.  I decided the NY Strip was the perfect beef for this recipe.  It was prime beef that had aged for a minimum of 14 days, which provided maximum tenderness. I made sure to slice the steak thin so that it could fit atop the crostini.  
The recipe is so simple, but yet, delicious.  It's a tasty appetizer that is ideal for entertaining or just a quick pre-dinner snack. 
Enjoy!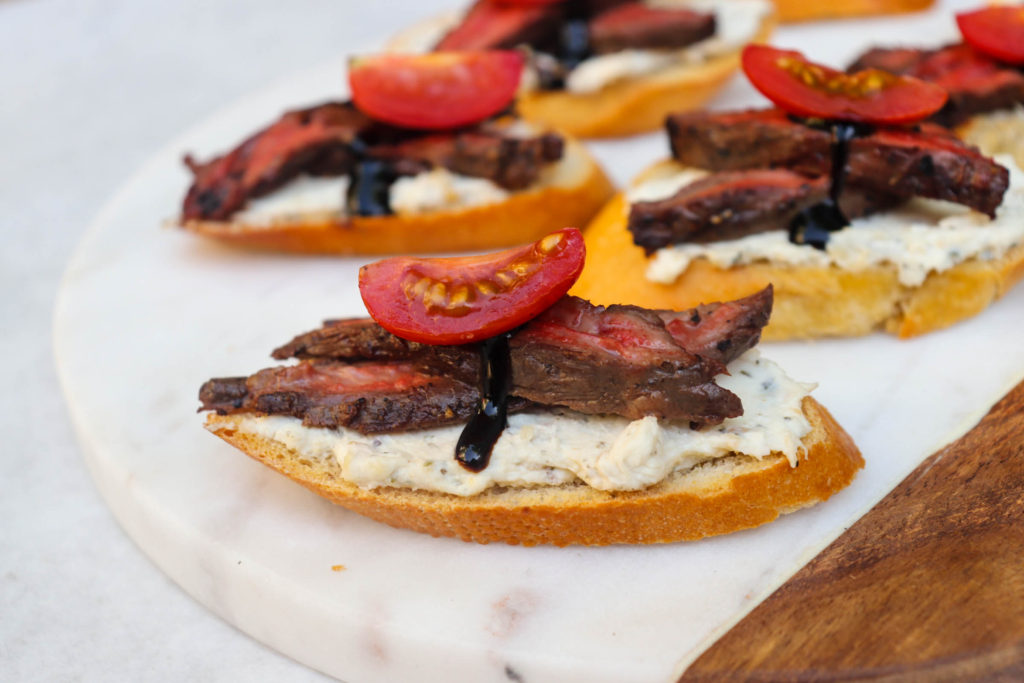 Beef Crostini with Horseradish Spread
Ingredients
1/2 pound New York Strip Steak 
2 tbsp of prepared horseradish
4 oz of goat cheese, softened
1 baguette, sliced and toasted
3 tbsp balsamic glaze
½ cup grape tomatoes, washed and halved
All Ingredients Are Purchased From The Fresh Market 
Directions
Season the skirt steak to taste with salt and pepper. Cook steak to preferred doneness. (Recommendation: as this appetizer may be sitting, medium rare to medium is ideal.) While the steak is resting, prepare the spread and crostini.
Combine the horseradish and goat cheese; season to taste with salt and pepper. Spread over each crostini. Slice the skirt steak and put two pieces on each crostini and drizzle with the balsamic glaze. Top each with half of a grape tomato.
Serves 24