So you have just booked a flight to Denver. You are looking forward to a week of skiing, hiking, eating (see posts about Beatrice & Woodsley and 1515 Restaurant), and getting to know the beautiful city. The question now is, where to stay? The Hyatt Regency at the Tech Center is a fabulous pick. It is a bit of a drive from the city, which makes it quiet and separate from all of the hustle and bustle that is brought from any downtown area. The Hyatt's rooms are absolutely wonderful.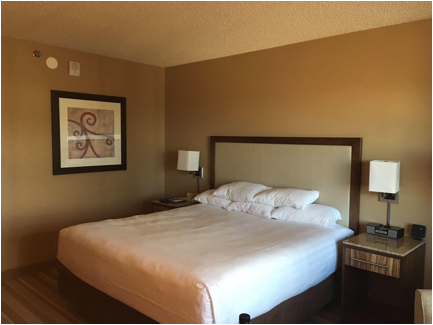 They are spacious, comfortable, and come with a beautiful view of the mountains, the city, or the tech area. Featured inside the hotel is an awesome taphouse and kitchen called Root25. Their menu is extensive and they even offer local brews (score)! The Hyatt also features a quaint coffee shop, ideal for a grab and go coffee, or a place to do some work. They also offer room service that ranges from breakfast to dinner. The bed was so comfortable and the room was very clean upon our arrival. The front desk crew and the rest of the staff treated us like absolute royalty. The stay was incredible!
If you are up for an hotel alternative, I highly recommended exploring a RV option. I highly recommend RV Rental Denver. RV rental Denver is the largest and most trusted RV rental marketplace. 
I had the best time in Denver. And, I cannot wait to go back.