Everyone knows that I'm an Instagram fanatic.  Since I'm a foodie and a visual learner, IG is my preferred social media site.  I enjoy viewing the pages of chefs who post mouthing watering photos of their food creations, their restaurants where it all goes down, and any updates about their new menu items and specials.  It definitely helps me to stay in the loop regarding the latest food trends and events .
This week my Instagram news feed was filled with hashtag kitchencray, or in IG form, #kitchencray.  Once I clicked on it, it led me to the pages @kitchencray and @mrcheffito.  I was thrilled to see all of the photos of the incredible plates of food that chefs created.  After viewing a wide variety of delectable dishes and double tapping on at least 15 pictures, I decided to add a meal to my must-try list that was inspired by Kitchen Cray.
The mission of  Kitchen Cray is to change how the world views of "The New Chef Culture".  They take five star dining experiences and recreate them to cater to your lifestyle. In addition to private dining, they offer services such as community involvement to promote culinary education among adults and youth. They are so more than your traditional chefs!
Imagine my surprise when I received an invite to the Kitchen Cray Atlanta brunch.  The brunch was hosted by Brave Williams (R&B Divas, L.A.); DeShaun Johnson (Guru of Abs); and the food was prepared by Chef JR Robinson.  This event was held at Suite Lounge, which was perfect for the sunny 73-degree weather that we had on Sunday.  Fabulous weather, a delectable brunch menu, and bottomless mimosas?  My Sunday-Funday was definitely in full effect.
The menu was as follows:
First course:
BBQ chicken deviled eggs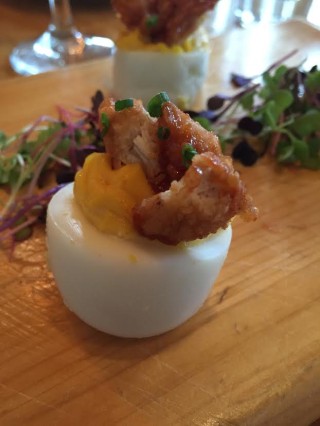 Arugula salad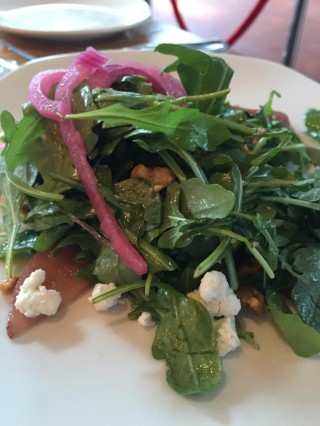 Macaroni 'n cheese croquets over a tomato basil sauce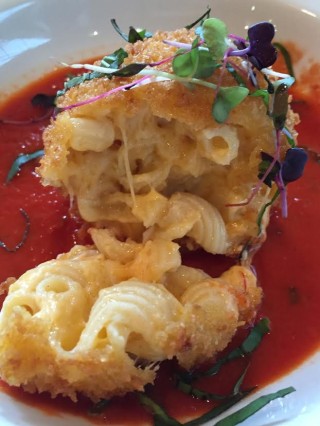 Second course:
Chicken 'n red velet waffle with bourbon syrup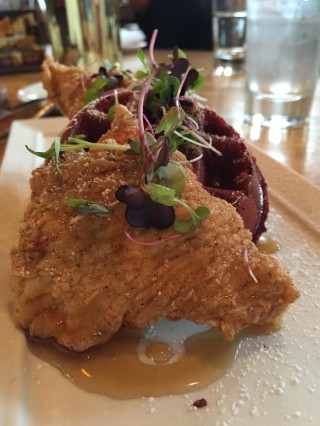 Cajun Shrimp and Cheesy Grits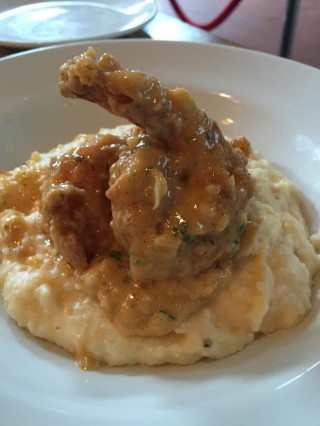 Salmon cake eggs Benedict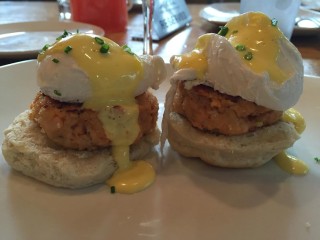 Dessert:
Deep fried bread pudding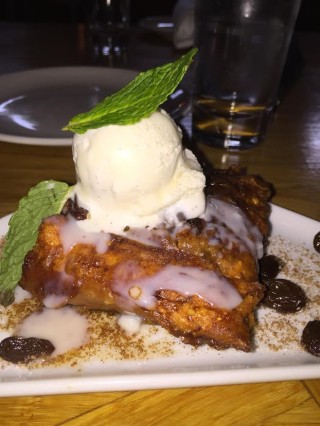 Deep fried bread pudding
The photos posted does not do the food any justice.  The food not only had an amazing presentation, but tasted even better.  I loved the innovative spin they added to their dishes.  For example, everyone makes chicken 'n waffles.  But does everyone make chicken and red velvet waffles with bourbon syrup?  I'm sure they do not!  That's what being innovative is about:  Successfully reinventing the wheel while keeping the flavor bold and your tastebuds wanting more.  I cannot wait for the next event!