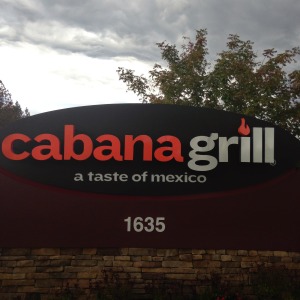 This past week, I had the pleasure of dining at Cabana Grill. The Cabana Grill is located at 1635 Scenic Highway in Snellville, and the location of Cabana Grill is the first in Georgia. Being a Lawerenceville native, I am always excited about new restaurants opening near my hometown, so I was thrilled to stop by the Cabana Grill. The Cabana Grill opened in Snellville in April 2014. Based out of San Antonio, Texas, this authentic Mexican restaurant is one of the Snellville's most successful eatery. Cabana Grill is a chef driven, fast casual restaurant that provides an affordable authentic dining experience. The restaurant is about 3,700 square feet, with an open kitchen showcasing the concept's signature flame grill and tortilla-making station, a relaxing indoor/outdoor patio. Guest can listen to a proprietary music list developed specifically for the Cabana Grill. The music catalog includes a Spanish-language classic rock and pop tunes sourced directly from Mexico. How cook is that? All of the dishes are made from scratch. The menu at Cabana Grill focuses on tacos, quesadillas, tostadas, and taco salads. I was super excited to dine during the hours of 4 p.m. and 7 p.m. because the Cabana Grill features 10 ounce tequila margaritas for an amazing $1.50! Yup! You read that correctly: $1.50! After viewing the menu, I decided to try the caritas taco salad.
Carnitas Taco Salad At Cabana Grill
Taste Dessert At Cabana Grill
You must try the $5 Fiesta
The menu has several options for any diet along with topping options for the shrimp or chicken carnitas. They also have a tasty salsa bar to match! I decided to try a taco salad. My favorite thing about this taco salad was that the salad was layered perfectly! It was fresh, crisp, and the carnitas was full of zesty flavor. Although I was enjoying my taco, I couldn't wait to try my tasty margarita. And for the awesome discounted price of $1.50, who wouldn't want an add this fabulous cocktail to their meal? For great food, fresh ingredients, and a great dining experience, make sure to visit Cabana Grill! Make sure to follow Cabana Grill on twitter, facebook, and instagram @thecabanagrill.