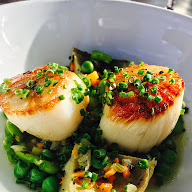 There's nothing like dining outside in the spring and summer when the weather is perfect!  In my opinion, perfect weather is 75 degrees with not too much sun, and a light wind blowing.  Today while dining at Woodstock's gem, Century House Tavern, the weather was perfect for an outdoors chef's table spring menu launch.
On this particular afternoon, some of your favorite Atlanta food writers gathered anxiously to try Chef Daniel Porubiansky's new spring menu.  We were definitely in for a treat.  The menu was paired with surperb wine and delightful conversation.  There really was nothing more that we could ask for.
The food, weather, and atmosphere was nothing short of incredible.
While dining we enjoyed the following: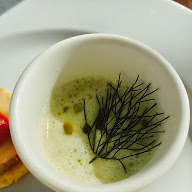 Foie Gras Torchon on Brioche
Astoria Prosecco Vento Italy NV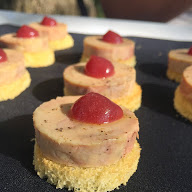 Jumbo Green Asparagus
Rockin S Farm Soft
Poached bantam chicken egg
Bacon Lardons croutons
Ritual Sauvignon Blac Casablanca Valley chile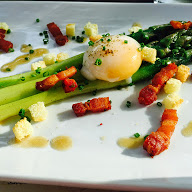 Seared sea scallops
Braised artichokes English peas and favs beans
Water brook Pinot Gris Columbia Valley Washington 2013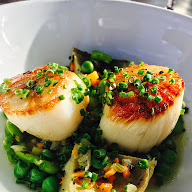 Sous Vide and grilled beef tenderloin
German style fingering potato salad
Fingering potato chips
Red wine sauce
Roskam Bordeaux Blend Bordeaux France 2012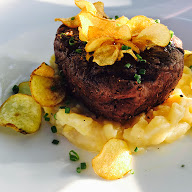 Creme Caramel
Georgia strawberry compote
Candied orange zest
Prague aria white port Napa valley California 2010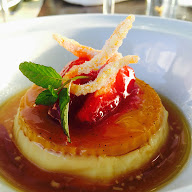 The food was pure perfection!
Huge Thanks to Liz Porter of Buckeye Creek Farm;  Will Womble of Will's Farm Fresh Produce;  Bill and Renee Yoder of Yoder Family Farm;  Tim and Nichelle Stewart Rockin S Farm; and Richard  Eller of Woodstock for providing the best and  freshest ingredients for the Century House Tavern seasonal menu.
Please follow and like us: