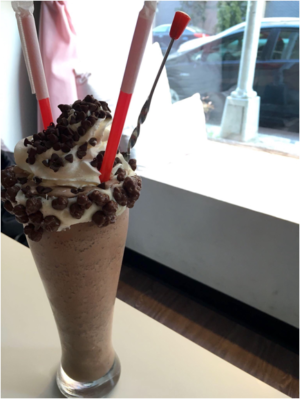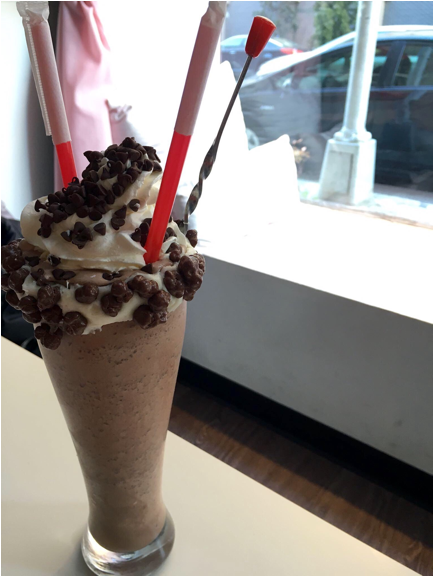 My Fair Sweets, located in Downtown Atlanta, is offering up an array of fresh sweets, including cupcakes in a jar, single cupcakes, cake pops, as well as an array of lunch items. They are also offering milkshakes of all flavors. When speaking of milkshakes, it is easy to picture a simple shake in a simple cup, but that is not how My Fair Sweets likes to serve them – and that is totally okay. Today was a day for the Craving Chocolate milkshake, who could possibly go wrong with chocolate?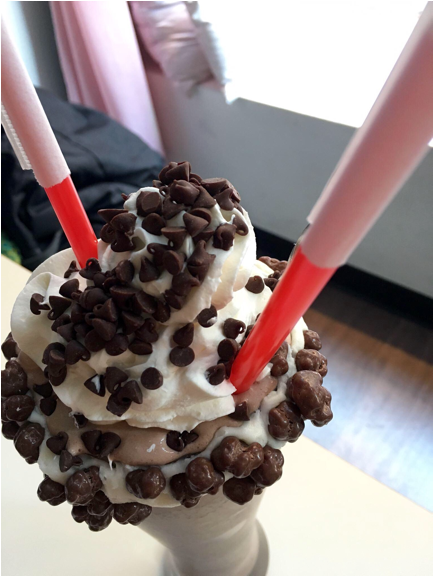 The shake had a smooth consistency with bits of mini chocolate chunks inside. On top of the shake was a large amount of homemade whipped cream with mini chocolate chips on top. The favorite part of all: the "magic" on the sides, as one of the employees put it. This magic was likely a type of icing with chocolate crunch pushed inside, but we will agree with the genuine employee in saying this combination was definitely a work of magic.
If you find yourself on the southwest side of Atlanta soon, make sure you check out My Fair Treats. You will not be disappointed.
By: Chelsea Barbee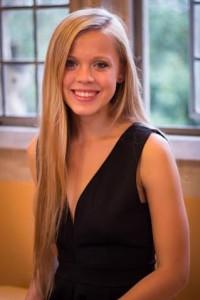 Chelsea Barbee is a third year student at Georgia State University. As a child, she loved to help her mom in the kitchen, whether it was sautéing mushrooms or baking chocolate chip cookies. After being diagnosed with hyperthyroidism in 2009, Chelsea began her true exploration into the world of food. Throughout the years, her food exploration slowly became her passion and is presently what makes her world spin. Now a resident of the ever-evolving foodie city of Atlanta, Georgia, Chelsea has the opportunity to make each day taste incredible. She enjoys learning and eating her way through the Atlanta food scene, one bite, crunch, and sip at a time. She spends her free time practicing yoga, eating way too much sushi, and wandering around Trader Joe's for hours on end. Follow Chelsea On Social Media @chelseabarbee13
Please follow and like us: