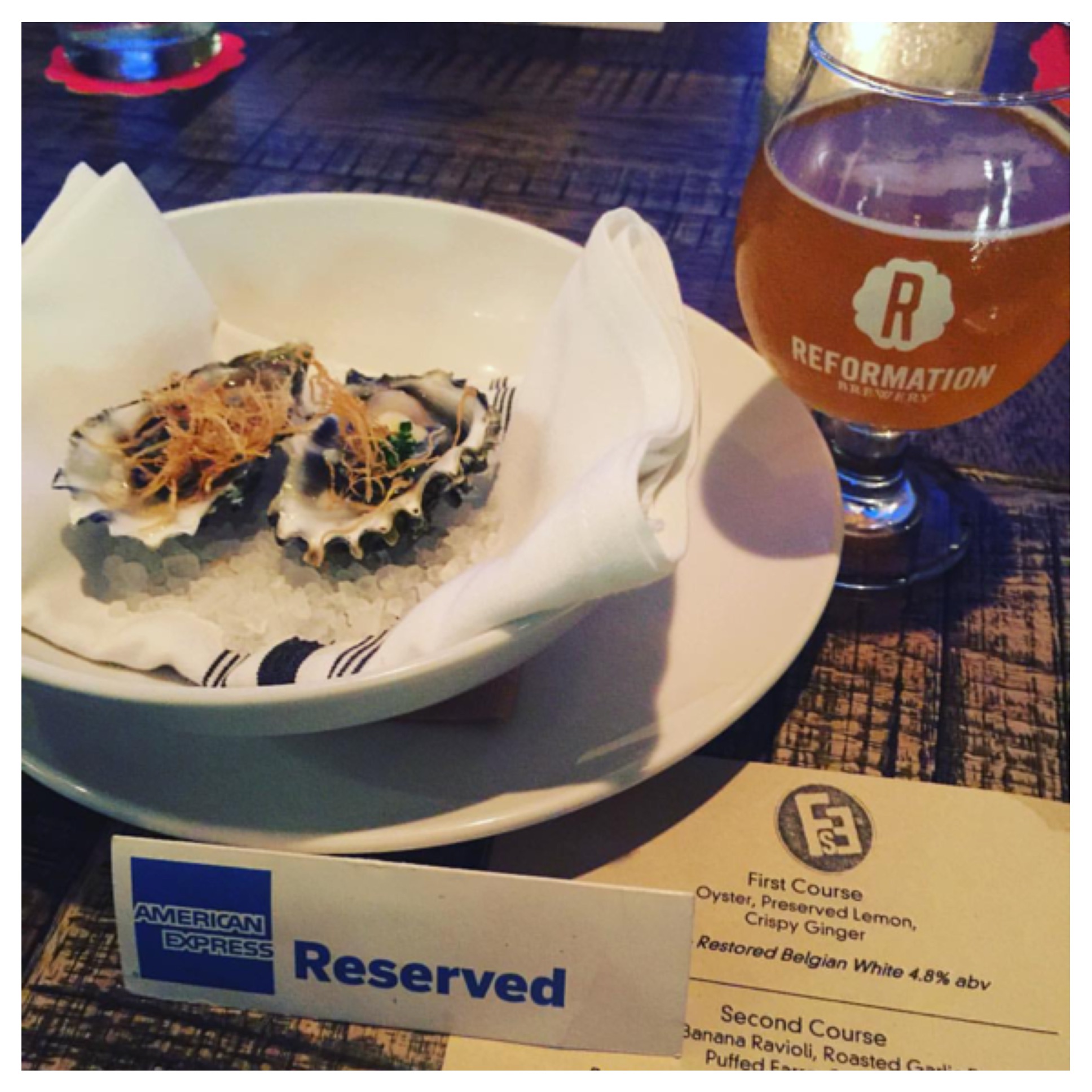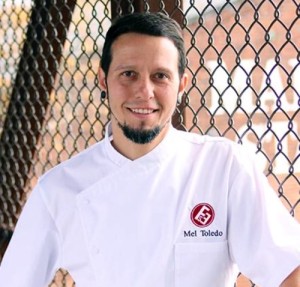 When I drink, I am known for drinking three alcoholic beverages: champagne, wine, and vodka tonic.  That's it. Although I am an adventurous foodie, I tend to stick with my favorites when it comes to the drinking department.
I know that sounds like a double standard, and it completely is.  So that's why I was excited to be invited to Foundation Social Eatery's beer dinner and collaboration with Reformation Brewery.
Located outside of the Perimeter in Roswell, FSE offers hearty innovative American cuisine.  They have been open since March of 2012.  This beer dinner was a five-course, fall inspired prix fixe meal with Reformation Brewery's beer pairings for each course.  This dinner was curated by the talented Chef Mel Toledo.  After looking over the menu and Chef Mel's resume, I was excited to see this menu.  Not only is he the chef, he's also the owner.
Chef Mel has worked in some of the best kitchens in Atlanta: Century Tavern, Bacchanalia, and  Posh.  He has over 15 years of experience and formal culinary training culinary training from the California Culinary Academy.
I was certain that this dinner was going to be one for the books.  However, I was nervous about the relationship between the beer and I.  The few times I have had a brewski, it was a beer which I heard doesn't count as "real beer".  But I'm a huge fan of whatever you do make sure you do it right.  So of course I had to have the best craft beer by Reformation Brewery while embarking on the new found beer journey.  The dinner was served communal style.  It was about 20 to 25 people, and the group was very welcoming.  I didn't know anyone at the table, but it was great to share plenty of laughs with strangers.
While dining the menu consisted of:
First Course
Oyster Preserved Lemon Crispy Ginger
First course was one of my favorite things: oysters.  I could really eat oysters everyday.  These oysters were upper side oysters.  Lemon combined with the ginger and oysters was a robust treat. This dish was paired with a Union, which is a restored Belgian white beer.  It's abv is 4.8%.  This was one of my favorite beers of the evening.  This beer wasn't overpowering.  It was smooth, and the flavors of vanilla were enjoyable.  I would drink this beer again.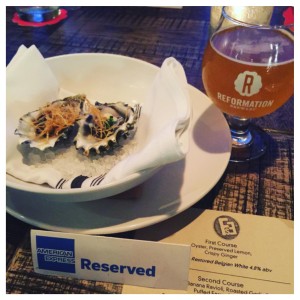 Second Course
Squash and Banana Ravioli, Roasted Garlic Broth, Puffed Farro and Scallion.
I'm loving the new fall squash trend.  Not only is this ravioli low in calories, but it's quite taste.  This ravioli stuffed with the banana and squash can best be described as a perfect compliment to each other.  This dish was very rich and definitely an autumn-styled dish.  This was served with a Providence-Reunited Beligan Triple.  9.2% abv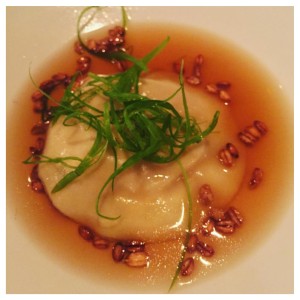 Third Course
Crispy pork belly juniper-braised cabbage apple and raisin chutney pork jus. The dinner went up on my Richter scale when my eyes came across the pork belly dish.  It's one of my new obsessions in the food world.  Pork belly,  in my opinion, is one of the best things created. The way this was prepared was just right with a hint of sweet.  And the pork belly was braised just right.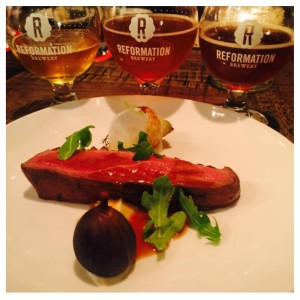 Fourth Course
Wood-fired Roasted Duck Breast, Turnip,Smoke Fig 5 spiced jus Arugula. This duck was moist and full of a smokey flavor.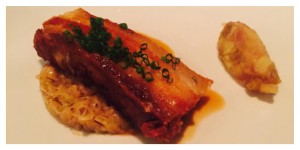 Fifth Course
Chocolate cappuccino
Declaration revolutionary imperial stout 9.7% abv.
The sweetest surprise of the evening  was the cappuccino.  Well, I thought it was the cappuccino.  But silly me, it was pudding served in a cappuccino cup.  It was sweet with rich chocolate.  It was the perfect combination.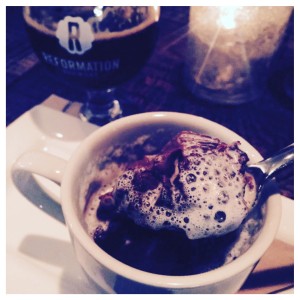 So at the end of the dinner I was surprised how much I enjoyed the beer with my dinner.  I was thinking to myself I can't wait to bring my friends to try this awesome menu.  Well, Chef Mel creates unique menus for the beer dinner, so you cannot get these items on the regular menu.  Sorry.  But make sure to attend one of their next beer dinners for another amazing menu.  I'll do a complete review on FSE, so stay tuned.
Please follow and like us: