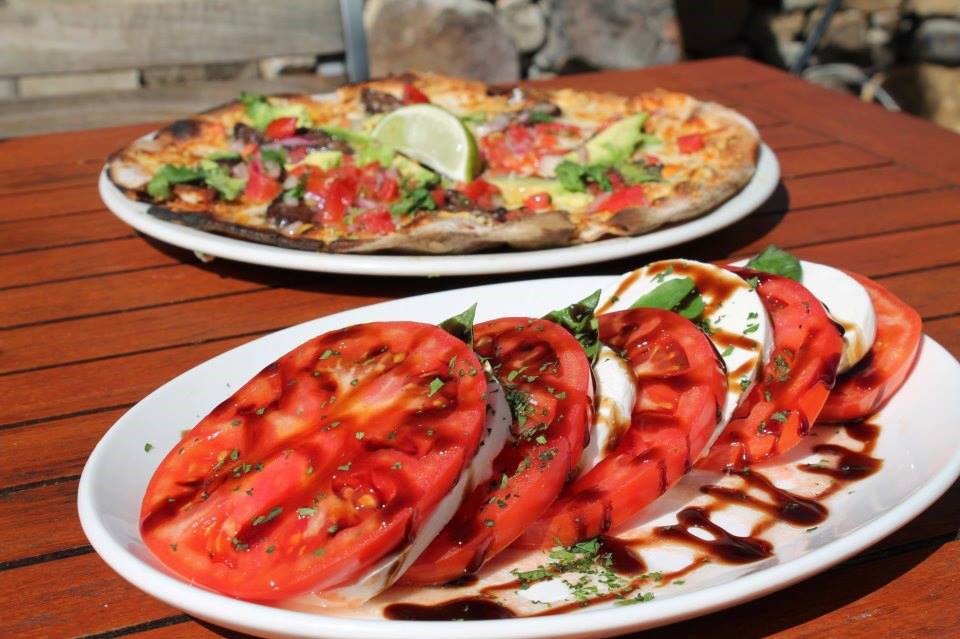 Fire Stone Wood Fired Pizza & Grill
Woodstock, Georgia – (678) 837-6836 Hours
120 Chambers St. Mon-Thur: 11:30am – 10pm
Woodstock, GA, 30188 Fri-Sat: 11:30am – 11:30pm
Dothan, Alabama – (334) 446-1234 Sunday: 11:30am – 9pm
250 S Oates St.
Dothan, AL 36301
Photo by Fire Stone Wood Fired Pizza and Grill Facebook
Grill has two locations in the United States in Alabama and Georgia.
I went to the Woodstock location for a Sunday night dinner with my boyfriend's mom!
Right when you walk in you will smell the White Oak wood fired pizzas baking fresh in the
ovens. A hostess greets and seats guests, but we chose to sit at their pizza bar, where you can
watch the pizzas made start to finish. On the left of the restaurant is the large rustic bar, where
they make specialty drinks and guests can sit to eat, drink and watch televisions.
We started our mand Grill Facebookeal with a small plate, the Burrata Mozzarella.
It features heirloom tomato slices, extra virgin olive oil, garnished with basil, lemon zest,
kalamata olive and drizzled with balsamic glaze. Pieces of grilled ciabatta are placed on the sides
to add a nice crunch. The juicy tomato went perfectly with the fresh mozzarella while the
balsamic glaze added a subtle sweet and sour taste to the grilled ciabatta bread.
Fire Stone Pizza Wood Fired Pizza and Grill offers fifteen signature wood fired pizzas. They are
personal pizzas made for 1-2 people and range from $15-18 per pizza. Gluten free crust options
are available for an upcharge of $3. Pizzas are taken out of the wood fired oven, sliced, plated
and brought fresh to your table soft and warm.
The Spicy Smoked Chicken Bacon Ranch Wood Fired Pizza features jalapeño sriracha ranch
sauce, smoked chicken, bacon, jalapeño, mozzarella, lime and cilantro. This is a spicy pizza
y'all. If you love all things jalapeno, then this is the pizza for you. The mozzarella, lime and
cilantro add a fresh taste and compliment the spicy.
The Pesto Wood Fired Pizza is based with a pesto sauce and topped with fresh mozzarella, baby
arugula, thin sliced prosciutto and drizzled with a balsamic glaze. The combination of baby
arugula, mozzarella, and balsamic is a refreshing sweet and tangy taste while the slices of
prosciutto add the perfect smoked ham flavor. The crust was soft and almost like a pita bread
thickness. If you aren't a big meat lover like me (but not a vegetarian either) I highly recommend
We concluded our Fire Stone experience with the Flourless Chocolate Cake, one of the 5 desserts
offered along with a seasonal dessert special.
The gluten-free and flour-free chocolate cake is delicious. Dark chocolate cake, raspberry
chocolate sauce, topped with fresh strawberries, blueberries and tangerine. I wouldn't exactly
call this cake. Although cake shaped, this dessert had more of a soft fudge consistency, if
anything a really thick brownie. According to the dessert chef, the gluten-free cake is made with
specialty chocolate, sugar and butter. Chocolate freaks need to try this. The fruit gives a nice
fresh and juicy taste. I was surprised by the placement of tangerines with chocolate, but the tangy
sweet fruit complimented the bittersweet dark chocolate in all the right ways. Share this dessert,
it might be too much chocolate for just one person.
When you're in the mood for pizza but don't want the greasy delivery stuff, try out Fire Stone
for delicious wood fired gourmet pizzas for lunch or dinner.
For more information, check out their website: http://firestonerestaurants.com/
Please follow and like us: