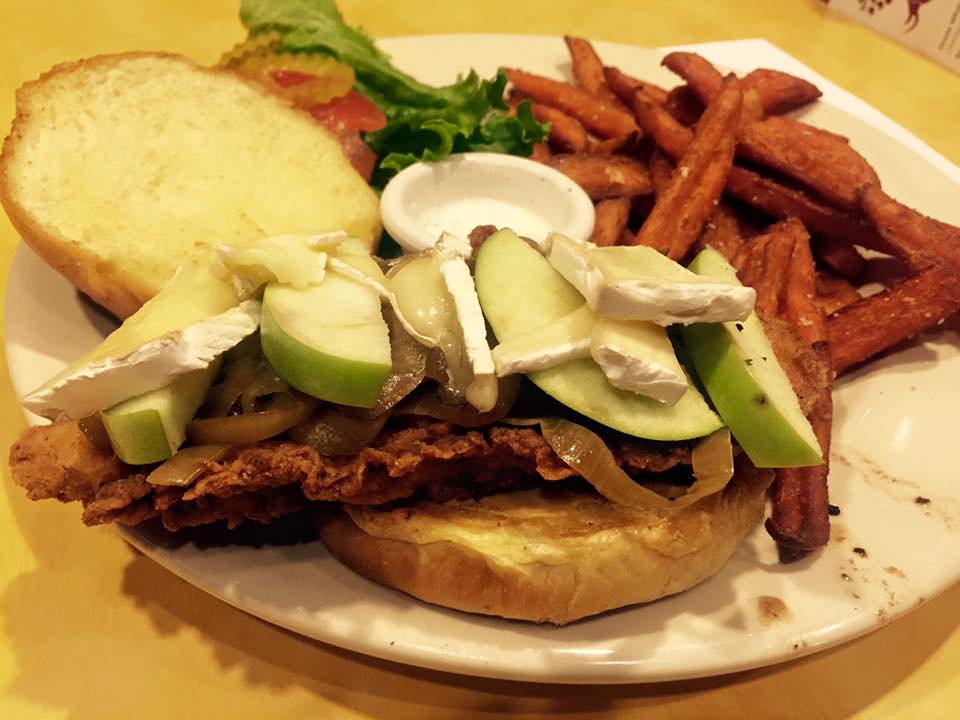 Today I had a chance to visit the winner of Budweiser's Bud 'n Burger recipient at burger joint, Lucky's.  I was excited to dine there.  I have been dieting lately, but  today was definitely a cheat day.  There is nothing more enjoyable to me than two beef patties, melted American cheese, topped with crispy hickory bacon, crisp lettuce, pickles, and tomatoes all on a toasted bun.  Sounds likr the perfect cheat meal, right?
Prior to dining, I had a chance to view the menu.  I was immediately tickled because of the cute names that the burgers had.  Names such as 'The Poodle Chaser', 'The Retriever', and 'The Boxer' are a few of the unique titles that the burgers had that were on the menu.  There was a wide variety of burgers and sandwiches to choose from no matter if you prefer chicken or beef.  Lucky's uses 80/20 ground beef, so you know that their burgers are full of juicy flavor.
I loved The Poodle Chaser.  This sandwich is a must-try. It's a fried chicken breast with brie, dijon  honey mustard, caramelized onions served on a challah bun.  It was the perfect combination of sweet and salty, and the portions are huge.  So make sure you go very hungry.  What I loved most about Lucky's is that it is a dog-friendly establishment.  In fact, the owners, Ernie and Diane, founded Lucky's because of their Golden Retriever named, of course, 'Lucky'.  Ernie and Diane wanted a place where locals could grab a cool brew and a mouthwatering burger all while enjoying their dogs.  On any given evening, you can see the patio full of pet parents.
The atmosphere is very laid back, and it gives a welcoming Cheers-like atmosphere.  If you are feeling adventurous and you want to channel your inner man versus food, the Grim Reaper Challenge is for you.  It's a 4 pound meat patty, eight slices of American cheese, 12 strips of Applewood smoked bacon, seven fried eggs, a mound of onion rings, with mayonnaise spread onto a specially made challah bun!  This challenge serves 4 to 10 people, and you have to give Lucky's a 24-hour notice before attempting it.  This challenge is $10 per person!
Lucky's has a location in Brookhaven, Roswell, and Decatur.  So no matter where you live, you're sure to find a location near you.
Please follow and like us: