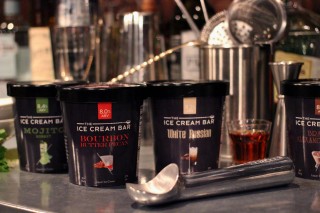 A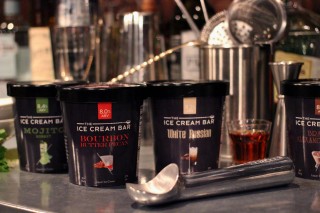 fter a long week, I decided to stop by my go-to liquor store.  And as I was browsing, I bumped into a freezer, and I looked inside.  To my surprise, it was ice cream, and I immediately thought that that was odd.  I opened the fridge and looked over the pint-sized container.  As I was reading, my eyes scrolled down to see the flavor "Bourbon Butter Pecan."  I couldn't believe that it was ice cream that has liquor as one of its ingredients.  Awesome sauce!
This pint of perfection is apart of a line called "The Ice Cream Bar."  Some say "The Ice Cream Bar" is the best thing to happen to alcohol since prohibition ended.  Of course this pint of awesome came home with me.  Hand churned in Atlanta, Georgia, this brand offers a variety of ice cream and sorbet made with alcohol.  I was extremely anxious to get home to try this new treasure that I had stumbled upon.  After three spoonfuls of the flavor "White Russian," it was clear to see that this ice cream packed a punch.  In each pint there are three shots. The ice cream was very creamy and rich with flavor.  It literally tasted like a shot of alcohol in a pint of ice cream. The White Russian flavor tastes just like the drink, but creamier.
The Ice Cream Bar offers many flavors from White Russian to Malted Milk Chocolate.  All of the flavors are inspired by classic cocktails, modern mix'ology, and craft beer.  I highly suggest that you add a little fun to your ice cream dream and try a pint!  Don't forget that you must be at least 21 years old to enjoy this tasty treat.  Eat this ice cream responsibly.
Please follow and like us: