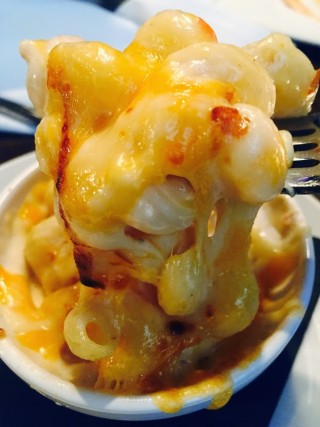 One any given weekend you can drive past Suite Lounge on Luckie Street and see the line for entry wrapped around the corner with anxious party goers attempting to get in.  This trendy spot is a go-to on Fridays and Saturdays, and you may never know who you may see.  On this particular Saturday, I ran into comedian and the star of the new ABC television comedy 'Black-ish,' Anthony Anderson, who is very sweet and extremely humble might I add.
Last week, I had the opportunity to celebrate a friend's birthday at Suite Lounge. And yesterday, I stopped by for dinner.  I had a chance to chat with executive chef, V. Harper, and he informed me that all the food that is served is all-natural.  The vegetables used in the dishes are grown and sourced locally, and all the chicken is organic with no GMO.  The pizza on the menu is made with dough that is made by hand every day.  Simply put, if it's not fresh, it does not make it to Suite Lounge.
When I attended for dinner, my tastebuds were blown away!  The menu has a wide variety of options.  I wrongly assumed the menu was going to be bland, but the menu was quite surprising!  Below are some of the items that I enjoyed while dining:
First Course
Lobster Mac and Cheese
All of the appetizers looked pretty scrumptious, but the lobster macaroni and cheese definitely caught my eye.  It was raining and gloomy outside, so this appetizer was perfect comfort food.  The lobster macaroni and cheese has over six different cheeses and the pasta used is capatavi.  I prefer my mac and cheese carb-filling, rich, cheesy, and creamy as possible.  As you see below, mission accomplished.  The picture does not do this lobster macaroni and cheese any justice.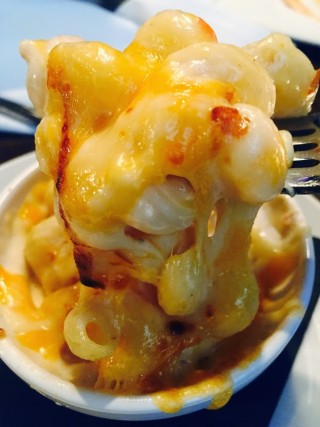 Chicken 'n Waffles with Peach Compote, Maple syrup, and Vanilla ice cream
This is one of my favorites.  Everyone loves an amazing chicken 'n waffle. It truly is a southern classic.  The chicken breast was fried to perfection, and the waffle was drizzled with peach compote, maple syrup, and vanilla cream!
Each little square on the waffle had the right amount sweetness.  The peaches used in the peach compote were locally grown and harvested.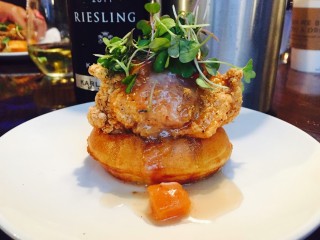 Jumbo Lump Crab Cake with House-Made Creole Remoulade
Erica's definition of a perfect crab cake:  Crab cakes must have minimal breading, tons of fresh crab meat, and a nice light flavoring.  The arugula salad was served with light dressing and fresh fruit.  The fried onions with it were an added bonus.  My crab cake was perfect with a glass of Riesling.  It was totally  scrumptious!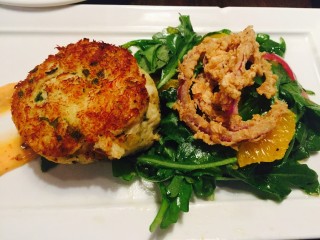 Second Course
Organic French Chicken Breast Stuffed with White Truffle Boursin Cheese, Seasonal Vegetables, Fingerling Potatoes, and Roasted Chicken Demi Glacé.
This chicken was extremely juicy, and the stuffing was a pleasant surprise.  I am a huge fan of Boursin cheese, so I definitely enjoyed this dish.  The veggies went perfect with the potatoes.  I simply loved the Brussels sprouts and the roasted Demi glacé.  Demi Glacé is a rich brown sauce in French cuisine used by itself or as a base for other sauces.  The Demi glacé was perfect because it made for a great sauce for the veggies.  It was very enjoyable.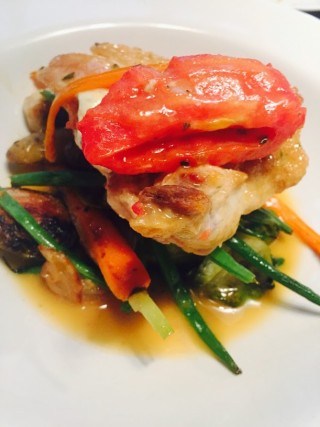 Orange Miso Salmon Japanese White Sweet Potatoes, and Sautéed Spinach
Have you ever tried Japanese white sweet potatoes?  If you haven't, you're missing out.  Initially, I thought they were Idaho potatoes when presented.  Nope.  I was completely fooled.  Japanese white sweet potatoes reminded me of a lighter version of sweet potatoes.  The salmon was delish, and the sautéed spinach was a perfect addition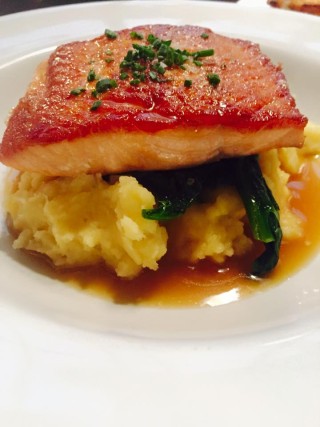 Third Course
Deep Fried Bread Pudding
When I saw this on the menu, my diet went out the door.  It was a must-try dessert that I just had to try.  I love bread pudding.  This fried bread pudding had a flaky exterior and was deep fried just right.  The inside was soft and sweet with nutmeg and cinnamon.  It wasn't fried too hard, and it was topped with a scoop of vanilla ice cream.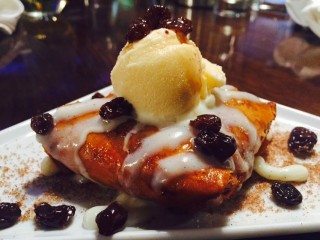 Suite Lounge also offers Happy Hour Tuesday through Friday from 5 p.m. till 8 p.m.  During that time, they also have appetizers that are half-off.  On Thursday evenings, they offer live jazz.  Make sure to mark your calendars for May 10th which is their Mother's Day Brunch.  Chef Harper will definitely be creating tasty creations for you and your mom.  If you missed the last brunch that SuiteLounge had, you're missing out.
The next time your friends mention that they want to go to a lounge that serves great food, make sure to mention Suite Lounge, because in addition to having great food created by Chef Harper, it also serves as a chill lounge.
Please follow and like us: