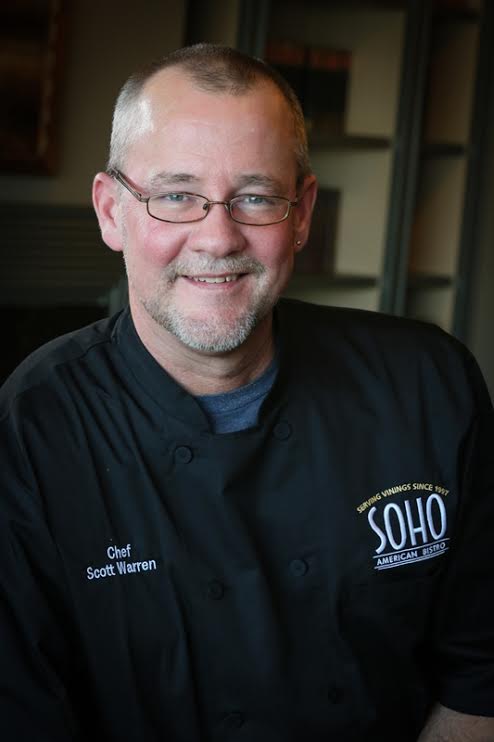 SOHO Atlanta Restaurant & Executive Chef Scott Warren
Scott Warren is the executive chef at SOHO Atlanta restaurant, an American bistro located in historic Vinings. Chef Warren took the reins of the SOHO kitchen in February 2014 after serving as the restaurant's sous chef for three years.
Brought up on a farm, fresh ingredients and a farm-to-table mentality are second nature to Chef Warren, who has long incorporated these influences in his cooking. Throughout his first year as executive chef, guests have raved about his tapas plates, which are updated weekly. Favorite small plates include lamb sliders with feta and tzatziki sauce, in addition to a mini-lasagna made with Andouille sausage. One of Chef Warren's signature dishes, Charleston-style Shrimp & Grits, featured on Thursday nights at SOHO, is always a crowd pleaser as well.
Chef Warren, a graduate of the University of Georgia and the Art Institute of Atlanta, has spent his culinary career in Atlanta, growing his repertoire. Warren served as market chef for the Corner Bakery Café before becoming Executive Chef at Wahoo! Grill in Decatur, Georgia. His recipes have been featured in publications such as Atlanta Kitchens, the Atlanta Journal Constitution, Cooking Light and The Atlantan. Warren says, "It was an exciting first year as Executive Chef at SOHO. The restaurant has been a neighborhood favorite for years and, after a record 2014, I look forward to seeing what we can achieve in 2015."
About SOHO: Serving fresh, seasonal food in a stylish environment, SOHO has been a neighborhood favorite for over 17 years. SOHO serves an all-American menu bursting with global flavors and offers a progressive wine list, creative cocktails, and wine and tapas pairings each week. Swift, attentive service, an award-winning wine bar and open kitchen all contribute to the high-energy buzz of SOHO.  Private dining areas are available for business functions and special events.
770-801-0069 or www.sohoatlanta.com.
Please follow and like us: