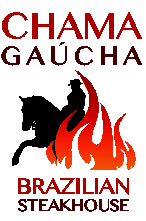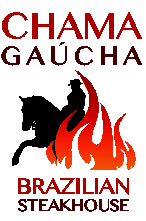 Chama Gaucha Opens in Buckhead Tomorrow Night
Authentic churrascaria joins the ranks of Atlanta's best steakhouses
ATLANTA (April 16, 2015) – Brazilian steakhouse Chama Gaucha opens for dinner in the heart of Buckhead tomorrow at 5 p.m., bringing a sophisticated atmosphere and dynamic dining experience to the neighborhood for lunch and dinner.
Reintroducing a bygone era of Brazilian cowboys, who ended days preparing dinner around a fire pit, Chama Gaucha embraces and elevates the fireside culture and rustic culinary traditions. With locations in Houston, San Antonio and Chicago, the Buckhead restaurant is the fourth to open and the first in the Southeast.
"We are delighted to join Atlanta's vibrant culinary market" said general manager Nelcir Muller. "The Chama Gaucha team is excited to introduce Atlantans to our unique offerings and an authentic Brazilian way of dining."
In the custom of Brazilian steakhouses, Chama Gaucha offers a varied selection of slow-roasted meats such as costela, a richly marbled beef rib, frango e linguica, marinated chicken drumsticks and pork sausage and the restaurant's specialty, picanha, the prime cut of the sirloin. The centerpiece of the restaurant, an internally-lit antipasto bar showcases a vast selection of charcuterie, cheese, smoked fish and signature salads such as chicken salad and southern Brazilian-style potato salad. Each guest is invited to visit the bar and select dishes to enjoy before meat service begins; traditional side dishes including Brazilian mashed potatoes, fried bananas and fried polenta are served family style and accompany the tableside-served meat.
An a la carte menu featuring selections from the full menu and salad bar as well as a variety of appetizers, such as grilled picanha thinly sliced and served with vinaigrette, a charcuterie and aged cheese plate, shrimp cocktail salad and grilled lamb chops served with a Brazilian mint sauce is offered at the bar and on the restaurant's patio. In addition to a wine and beer offerings, Chama Gaucha's bar boasts a list of signature cocktails and martinis including the "green tea martini," a blend of citrus vodka, Cointreau and chilled green tea, red and white "Chama sangria" crafted with seasonal fruit and "garden in Rio," a blend of pineapple rum, cucumber and fresh lime juice.
Drawing inspiration from the menu's Brazilian flavor and style, local design, construction and consulting agency Restaurant Consulting Group transformed the restaurant into an upscale, yet comfortable space that is simultaneously glamorous, intimate and bold. An organic palate of tans and browns, uniquely designed fabric panels and gold textured ceilings yield an upscale yet comfortable dining experience. Outside, a multilevel patio offers fire pits and casual seating invites guests to revel in the energy of Buckhead while amidst the relaxing white awnings and flowing draperies. From the patio, sliding windows open onto the indoor bar, allowing guests to enjoy the bar menu and beverages at the outdoor bar, as well as throughout the patio.
Chama Gaucha is located at 3365 Piedmont Road, NE, Suite 1350, Atlanta, GA 30305, and offers nightly dinner service beginning Friday, April 17; lunch service will begin Monday, April 20, at 11:30 a.m.
Weekday lunch is served from 11:30 a.m. to 2:30 p.m. and dinner from 5 to 10 p.m. Saturday dinner service is offered from 4 to 10:30 p.m. and the restaurant is open continuously from 1 to 9 p.m. on Sunday, serving both lunch and dinner. For more information or to make a reservation, visit www.chamagaucha.com or call404.842.0011.
Please follow and like us: